eToro Live Account Opening (Guide)
At InvestinGoal, we adhere to strict standards to ensure an unbiased review process. We conduct our reviews by examining each broker's offering and performance across 4 key categories. A final rating is produced for each forex broker based on a total of 187 data points. Learn more about our review process and methodology.
Below content does not apply to US users
Are you considering opening a live eToro account?
If you are thinking of this, and wondering about the best way to open you eToro live account in the fastest time, then you are in the correct place.
We can help you open an eToro live account with a step by step guide.
We have even included pictures in each step of the process. This means you do not have to worry about going wrong at any point of opening your live eToro account.
So, let's get started and have you eToro live account open as soon and easily as possible.
Open your Live Account with eToro
77% of retail investor accounts lose money when trading CFDs with this provider. You should consider whether you can afford to take the high risk of losing your money.
Tutorial: How to Open an eToro Live Account
Here are our steps to opening your eToro account explained in detail and with illustrations:
Consider Opening an eToro Demo Account First
Of course you want to start trading on your eToro live account right away. This is understandable. But, have you considered opening an eToro demo account first?
This process is also very simple and provides you with a free demo account to test out your trading skills. The trading environment replicates exactly what you will encounter with an eToro live account.
The only difference with an eToro demo account is that you are free to take all the risk you like. This all comes without the worry of losing any of you own money. It also means you can get a lot of useful trading practice before opening your live account.
Learning how to get the most out of your eToro demo account is a great starting step for your future in trading.
Things You Should Prepare Before Starting to Open an eToro Live Account
With eToro and every other major broker in fact, there are a few key items which you should prepare before even beginning to open your account. This ensures that you are best prepared when it's time to choose your eToro account types to open yours.
eToro is regulated in the EU by CySEC. They are one of the most well-respected regulators in the trading world and follow a strict set of compliance rules to protect you as a trader.
Much for that reason, the documents which you will need are the following:
Proof of identity (Passport or Driver's License would be great)
Proof of Residence (Bank statement or other official documents proving your residence)
Your Tax identification number (This will vary depending on your country, but it should be on your tax return on other social related correspondence)
These are standard documents required by almost all major brokers.
These will be quickly verified later in the process. Actually, we would say that if a broker does not require at least some proof of identity, they may not be the best choice for opening your account.
eToro Live Account Opening Tutorial
Step One – Completing Your Personal Information
This is the very first real step in opening your eToro live account. As eToro is a top broker in forex and other markets around the world, of course they want to make the process of registering very easy.
This is exactly what you will feel with the first steps.
As you can see from our picture, you will need to complete each field in this basic signup form to begin the process of opening a live eToro account.
It is important in this form that you complete it with an email address and telephone number that you have access to. This will need to be verified in later steps.
If you find it easier, you can click the Facebook or Google buttons to open your eToro live account using those channels. This will automatically direct you to your chosen site and automatically us the information from these services.
Step Two – Your eToro Live Account Dashboard
The very next screen you will be greeted with is your eToro live account dashboard.
Here you can look around and see all of the markets which you could trade in with eToro. You can also see all of the features of your eToro live account. These include the new eToro club.
Once you have finished this guide, you can check out our guide on how to benefit from the eToro Club tiers.
The next step you should take from here in order to get your eToro live account up and running, is to click on the "complete profile" button.
Step Three – Completing Your eToro Live Account Profile
You are getting closer!
There are not too many steps left before you can open your eToro live account with full trading capability and start trading.
When you first click the button to complete profile on your live account, you will be greeted with a pop-up window. This will explain to you the benefits of verifying your account now.
The benefits of verifying your eToro live account from the beginning include:
No deposit limit (you can deposit immediately before verification but this is limited to €2000).
Withdrawing from your eToro live account will also be a faster process since you have to confirm your information before withdrawing anyway.
From the beginning of the pop-up windows to completely verifying your account takes about 6-7 screens and around 10 minutes. In the first screens, you will be asked to confirm your basic name, address, and personal information. No problem!
You will then have to answer a few short questions about your job, salary, and financial position. This is standard with all conscientious major brokers. They want to make sure that you have the means to trade and this can also be used to determine your suitability for leverage.
Once this is done, you will be presented with a couple of short quiz questions.
Again, this is just to get basic idea of how much you know about trading forex and other products prior to opening your eToro live account. Do not worry about getting the answers wrong.
As you can notice, the progress bar at the bottom of the pictures charts how much process you have made in the verification steps.
These kinds of questions like your attitude to risk, also help eToro establish your trading profile.
This is helpful to both of you, since eToro can learn more and understand how best to fit your needs as a trader by asking these questions.
If there is something you do not understand or you have more questions, the eToro support team is just a click away.
Step Four: Uploading the Documents to Verify Your eToro Live Account
You are almost at the final steps of verifying your eToro live account. There are just a couple of verification steps left to complete. The first one of these is to verify your phone number. Simply input your phone number, and then enter the SMS code you receive to verify: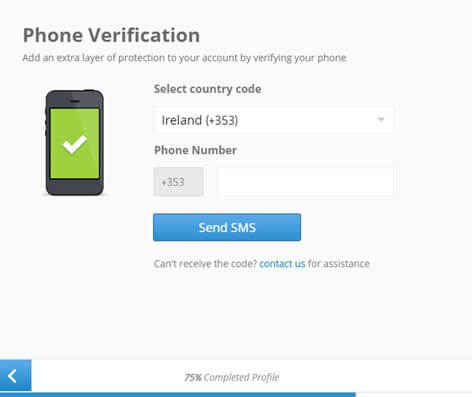 Once you have completed the eToro verification of your phone number, you will be ready for the final uploading of documents. This is your passport or ID card, and verification of your address and tax information.
This is also a very simple step which can be completed quickly to verify your eToro live account.
As the picture guide explains, you must make sure that the passport or ID card (passport is faster) which you upload is a CLEAR, COLORED version.
This should also include all of your important details such as full name, date of birth, document number, and expiration date.
In the case of you address verification, the document must include your full name, address, and the DATE OF ISSUE of the statement.
You must also be sure that the pictures are clear and that all four corners of the document can be seen. This should help to avoid any delays and speed up the process of opening you eToro live account as much as possible. The image should also be the original.
This means NO FILTERS.
Verification is an important step for the safety and security of both you and the broker.
The latest ESMA regulations are very stringent in their design to protect traders. This is why the broker has to be certain of your verification, even if it can seem like a slightly arduous task at that moment.
Step 5 – Verification Pending: Your eToro Live Account is Almost Ready!
So you have done every step to open your eToro live account.
You already submitted your eToro verification documents. Now you have been presented with the verification pending screen which looks something like this:
You may wonder why you eToro live account verification is pending. The answer is simple. It just takes some time to process.
During this period, you can still make your eToro first deposit from $200 to a maximum of €2000 and trade freely within your account. The verification in many cases will be processed within 24-hours. You will receive final confirmation of this by email.
Remember, if you need any support during the process, the eToro support team will always be there to help with your questions.
Getting Your eToro Live Account Verification Faster
Throughout the eToro live account verification process, you may have noticed a couple of times where it was stated that you could speed up your eToro account verification.
This is correct!
There are a couple of key ways in which you can help to verify your identity and speed up the process.
The first of these is, when you are submitting your ID verification document, it may be faster to submit your passport instead of another form of ID. This is likely due to the security level of your passport and the fact it is easier for systems or support to confirm.
The second way which you can speed up the process is by making a deposit on your account. This makes sense as it means connecting a payment method with your account. This would help the support team to quickly confirm your identity. This is also a great way, since you will be making a deposit anyway.
eToro Broker Review and More
Once you have verified your eToro live account, don't forget that we can help you with every other aspect of your e-Toro account. This includes our comprehensive eToro broker review.
This is one of the most in-depth reviews in the industry, taking a look at everything you need to know about eToro. Our eToro review should have you covered on all of your eToro live account questions and many more.
If you are a resident in the United States then you should consult our eToro USA app guide instead as trading conditions are slightly different.
eToro Live Account FAQs
Does eToro have live data?
Live data is provided by eToro.
Is eToro virtual account free?
The eToro demo account is free to open. It is an unlimited demo account and requires just basic personal information to get started.
Can you make a living on eToro?
It is not easy to make a living through eToro. Between 74-89% of retail investors lose money when trading. Most of the 11-26% of people that earn money won't make a living on eToro. Only a few, mostly professional or high-volume traders can do it.
Can you get scammed on eToro?
eToro client funds are held in segregated accounts. This means the broker can't physically take your funds to meet their own needs.
eToro is a multi-asset platform which offers both investing in stocks and cryptoassets, as well as trading CFDs.
Please note that CFDs are complex instruments and come with a high risk of losing money rapidly due to leverage. 77% of retail investor accounts lose money when trading CFDs with this provider. You should consider whether you understand how CFDs work, and whether you can afford to take the high risk of losing your money.
Past performance is not an indication of future results. Trading history presented is less than 5 complete years and may not suffice as basis for investment decision.
Copy trading is a portfolio management service, provided by eToro (Europe) Ltd., which is authorised and regulated by the Cyprus Securities and Exchange Commission.
Cryptoasset investing is highly volatile and unregulated in some EU countries. No consumer protection. Tax on profits may apply.
eToro USA LLC does not offer CFDs and makes no representation and assumes no liability as to the accuracy or completeness of the content of this publication, which has been prepared by our partner utilizing publicly available non-entity specific information about eToro.
---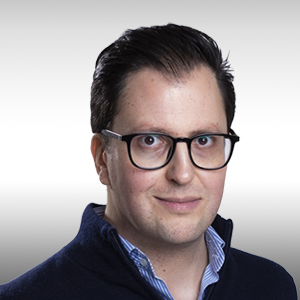 About The Author
Filippo Ucchino
Co-Founder - CEO - Broker Expert
Filippo is the co-founder and CEO of InvestinGoal.com. He has 15 years of experience in the financial sector and forex in particular. He started his career as a forex trader in 2005 and then became interested in the whole fintech and crypto sector.
Over this time, he has developed an almost scientific approach to the analysis of brokers, their services, and offerings. In addition, he is an expert in Compliance and Security Policies for consumers protection in this sector.
With InvestinGoal, Filippo's goal is to bring as much clarity as possible to help users navigate the world of online trading, forex, and cryptocurrencies.
---