FBS Live Account: Opening & Key Information (2023)
So, you have decided to take the next step in your trading career and open an FBS live account?
That is fantastic!
As we know that this can be a big moment for you personally and in terms of your trading future, we have decided to help you get started as much as possible.
That is why we have developed FBS live account opening tutorial. It will help you navigate some of the choices you have to make for opening your live account, and choosing one of the many FBS account types available.
Let's get right to it. Here is our FBS live account tutorial:
FBS Live Account Review – Things to consider first
Before getting started on anything, there are always a few points to consider. Thinking of these things ahead of the FBS account opening process is simply the best practice to make sure that everything runs as smoothly as possible.
Consider Opening a FBS Demo Account First
An FBS demo account really is the best way to get to know your trading environment better without taking any risk with your funds.
The FBS demo account perfectly replicates the live trading environment and provides the same account selection with all of the same excellent features.
FBS demo account opening absolutely is one of the best ways to hone your trading skills and knowledge prior to progressing through to an FBS live account. It is definitely a path which you should consider.
Things You Should Prepare Before Opening a FBS Live Account
As with any of the best forex brokers, FBS is well regulated. This comes in the form of both CySEC and IFSC regulation which helps to cover and protect all traders.
Part of that regulation and a positive mark for the transparency of FBS broker operations is that you do require a couple of documents in order to fully open and verify your account. Preparing these in advance can save you a lot of time.
You will need the following:
Proof of ID documentation (valid passport or driver's license would be perfect)
Proof of Residence documentation (dated utility bill or bank statement less than three-months old would be perfect)
A valid Bank Card (Pictures of front and back required)
Your National Client Identifier Number
With these documents prepared, you are in a great position to start the FBS live account opening process.
Where is FBS available?
FBS are a major forex broker and typically available in most countries around the world. There are a few exceptions to this, and so., FBS broker is not available in the following places:
USA
UK
Canada
Japan
Myanmar
Brazil
Malaysia
Israel
Iran
Traders located in any other country can trade freely with FBS.
European and International Market
Depending on your location, you will notice some differences in the services offered by FBS. This is because the company operates under two different areas. One of these being CySEC regulated for European traders, and the other being IFSC regulation for international traders.
The availability of services from FBS live accounts are not specifically determined by the prohibition of CySEC regulation (except in the case of bonuses and leverage), but simply because FBS has yet to implement its full range of options in both areas. This is something which they are working hard on and hope to have available very soon.
However some things will be impossible to implement within the EU, such as the FBS 1:3000 leverage (which makes FBS one of the best high leverage brokers), due to local regulatory restrictions.
Base Currencies
The base currencies available through your FBS live account will differ slightly depending upon if you are European or International based.
In the European case, you can only use Euro as your base currency. It is not possible to convert other currencies.
As an international trader using the IFSC account, you can have Euro or US Dollar as your base currency. You can also convert other currencies (with a fee) to one of these two.
If you are wondering about ZAR for FBS South Africa traders, you cannot trade directly in ZAR, but you can convert it to either USD or EUR.
Looking for an account suited for Indonesia?
If you are Indonesian, then FBS Indonesian account option is perfect for you. You must be Indonesian and living there to use this option and it allows you a fix-rate currency exchange of 1 USD-1,000 IDR for trading.
This option cannot be changed once activated.
FBS Live Account Opening Tutorial
Now that we have cleared some initial starting points, let's get down to business with the FBS live account opening tutorial:
Step 1 – Completing Your Personal Information
The very first step in the FBS account opening process which you will need to undertake is to head on over to the FBS homepage for your jurisdiction (.eu for Europe, .com for international). Once you have done this, just click on "open account". The first image is for the EU site:
And click here for the international site as shown:
Step 2 – Registration and Confirming Your Email
The very next thing you will do no matter where you are based is to complete a very simple registration form as shown below. This includes just your full name and email address. Make sure you can verify he email address which you enter.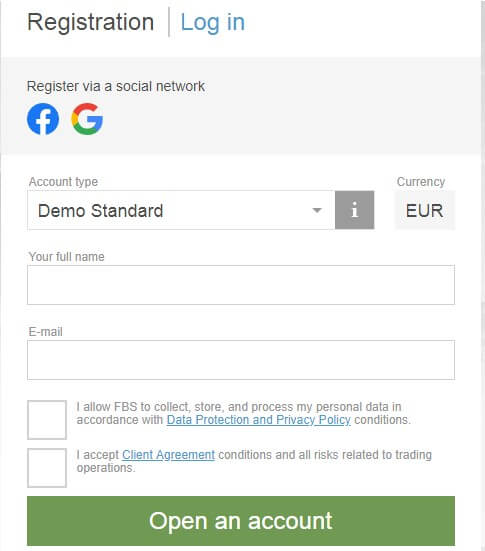 European Trader
If you are an European trader, your next stop will be to verify the email address you just entered. You should have received an email like the one below. Simply click the confirmation link and head back to log in to your account and complete the next step.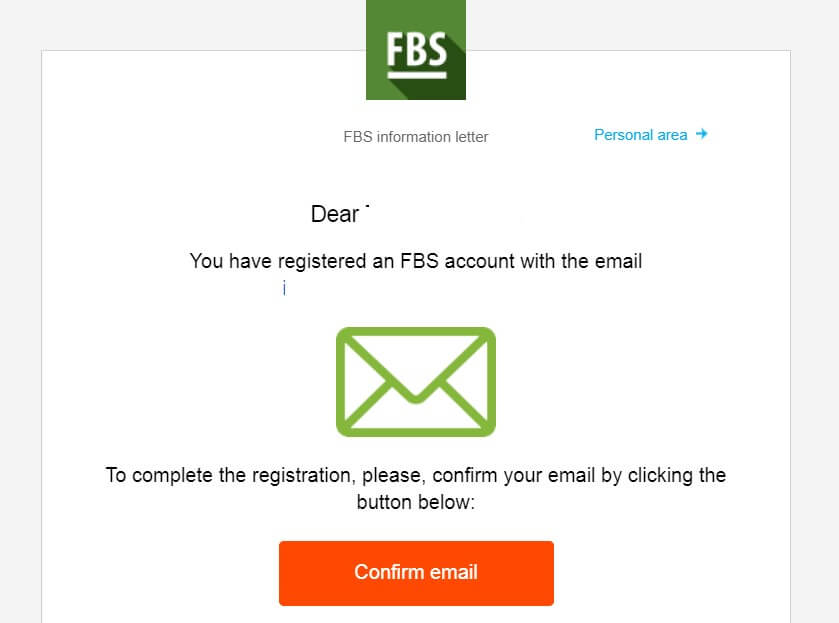 International Trader
You can simply proceed directly to the next step.
Step 3- Completing Your FBS Live Account Profile
The next step in the FBS live account creation process is to complete your live account profile. This is really only required in detail for European traders. If you are an international trader, it is not mandated for you to complete an in-depth personal profile and it is likely you can skip straight to choosing your trading platform and uploading your verification documents as outlined in the next steps.
For a European-based trader, the process of completing your live account profile is a three-step one. Having confirmed your email address and logged in to your FBS live account for the first time, you will be presented with the option to "Take Survey". This is your live account profile and has to be completed.
The first stage details your personal information a little more depth, including your address and telephone number as shown below. This number will also need to be verified.
The second and third stages of your live account profile completion detail around 10-15 questions related to your employment, trading experience, and a few simple quiz style questions related to trading. This all helps the broker both tailor services to best suit you, and comply with regulation. The images are shared below of each step for your reference.
Step 4 – Choose Your Trading Platform
With your live account profile completed you can move straight to selecting your trading platform. You will see this option on the left side of your account dashboard. Just click on "trading platform" and you will be met with the following screen:
Here you can choose your favored platform and proceed to download it, logging in with the details you will have already received on account creation.
Step 5 – Uploading Your Documents to Verify Your FBS Live Account
One of the last steps in the FBS live account opening process, and perhaps one of the most daunting for people even though it is relatively simple, is uploading your verification documents. Again we will branch into two sections to go through this one.
European Trader
As a European trader once you click the verification button, you will see a screen as below with three separate tabs detailing documents to be uploaded. These are your ID proof, residence proof, and bank card images. Complete one section upload before moving to the next.
The ID and residence documents are as mentioned above, with your passport and a utility bill being the best choice. Ensure to follow the quality rules listed too!
For your bank card, a picture of the front and back will also be required. This helps develop an extra layer of security.
International Trader
As an international trader, clicking the verification button will bring up the same screen, but with only one document required. That is your ID proof such as your passport.
Once the documents are uploaded, you are very close to the finish line.
Step 6 – Verification Pending: Your FBS Live Account is Almost Ready
Once your documents have been submitted, they will be checked by the FBS live account team. This should take no more than 24 hours in the majority of cases.
Once this is done, you are ready to rock!
Time to start trading on your new FBS live account.
Verifying Your FBS Live Account Faster
FBS verification should actually be quite a fast process anyway. With that said, there are always a couple of things you can do to try and speed things along. These include the following:
Make sure all your documents are valid and in-date.
Use your passport if possible
Take clear pictures and make sure the issue date is shown on your residence documents.
Ensure that these residence documents have been issued in the last 3 months where possible.
Check above for documents to prepare before starting to make sure you have everything ready.
Our opinions on FBS Live Account
Finally, now that we have hopefully helped you get your FBS live account up and running. Here is our opinion on some of the features and why you might want to trade with FBS.
Advantages of live trading at FBS
There are many great advantages to be had from trading with FBS. This applies whether you are EU or international based.
The European side is catching up fast and still offers an excellent range of markets and with all of the security and transparency which CySEC regulation provides.
As an international trader there are two particularly great points. One is the huge range of bonuses you can access. These even include winning real life prizes like cars, vacations, and Rolex watches. Amazing stuff!
The second top benefit is the access to truly massive leverage (1:3000 in many markets). This really can help provide a springboard for you to launch your trading career.
Highlights of FBS as a broker
FBS are well known in the industry as a top forex broker so there are many highlights which we could mention in this regard. Two that particularly stand out in our opinion though are the following:
FBS as a broker have worked really hard to provide the most accessible and yet one of the safest and best regulated brokers in the sector. This is exemplified with their provision of both CySEC and IFSC regulation.
The educational infrastructure provided by FBS is top-notch. This is an important aspect of the best forex brokers which can really help you to excel in your trading career.
FBS Live Account FAQs
How can I open an FBS real account?
A real live FBS account can be opened by verifying your account with proof of identity and address first. You then have to answer some KYC questions from the broker. With your account verified, you can complete the process by making a deposit.
Does FBS have a demo account?
An FBS demo account is available and free to use. This account is easy to open and valid for a period of 30-days.
Can I have 2 accounts in FBS?
It is possible for you to have 2 accounts with FBS.
What is the minimum deposit of FBS?
The minimum deposit will depend on the account type you choose. The lowest starts at $1 for the FBS Cent account or $10 for EU users.
---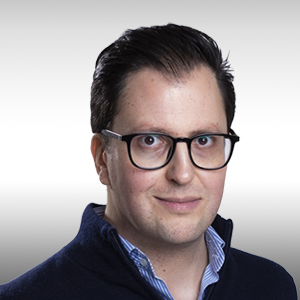 About The Author
Filippo Ucchino
Co-Founder - CEO - Broker Expert
Filippo is the co-founder and CEO of InvestinGoal.com. He has 15 years of experience in the financial sector and forex in particular. He started his career as a forex trader in 2005 and then became interested in the whole fintech and crypto sector.
Over this time, he has developed an almost scientific approach to the analysis of brokers, their services, and offerings. In addition, he is an expert in Compliance and Security Policies for consumers protection in this sector.
With InvestinGoal, Filippo's goal is to bring as much clarity as possible to help users navigate the world of online trading, forex, and cryptocurrencies.
FBS Live Account: Opening & Key Information (2023)
Related Guides
---