If buying and trading cryptocurrency seems like the next step for you in your trading journey then you have looked in the right place.
As a new or prospective trader with eToro, the best starting point for a comprehensive overview of the broker is our etoro review. If you have already looked at that and are interested in crypto and specifically how to buy Ethereum on eToro, then we have all the details.
Here we will guide you step by step on how to set up, buy and trade Ethereum with eToro and give you a complete view on everything you have to expect from storage to trading, fees, and more.
Let's get started!
Is it possible to buy Ethereum (ETH) on etoro?
With eToro you can trade Ethereum along with a number of other popular cryptocurrencies directly through their Trading Platform. Trade ETH as CFD by shorting it or using margin, or buy the real asset by going long without leverage. In both cases, with eToro is possible to trade ETH fractions investing as low as 25$.
How to buy ethereum on etoro in 3 simple steps
Getting started trading Ethereum (ETH) through eToro really could not be easier. Here are a few simple steps that can get you started in no time at all:
1. Open an eToro Live account and get verified
The starting point is that you will need to open an eToro live account for yourself and get verified by the broker. It really shouldn't take too long at all and does not require you to jump through any complex hoops.
We have put together a detailed guide on how to open an etoro live account. This will cover you on every step with the information you need to get your account open and verified.
2. Choose the Deposit methods to buy ETH
Once you have your eToro account open, the next step is to deposit some funds so you can start trading Ethereum. This is made easier by the variety of deposit methods you have available to you at eToro.
The eToro deposit methods available include making a bank wire transfer, using a major credit card like Visa or MasterCard, or using an eWallet like PayPal. All of these methods are accepted by the broker, but if you need a complete overview of every deposit fee, we suggest checking out our eToro minimum deposit review.
3. Trade or Buy Ethereum
With your account verified, and funds ready to use, trading or buying ETH is as easy as heading to your eToro profile and following a few simple steps.
Under the "Markets" tab in your portfolio select "Crypto" followed by "Ethereum". Once you are here you will need to select to buy your Ethereum non-leveraged if you want to own the real asset. You will then input the quantity you wish to purchase and press "buy".
It really is as simple as that. You will now own Ethereum you have bought through eToro and you can do as you wish with them including holding them, trading, or transferring them to your eToro wallet.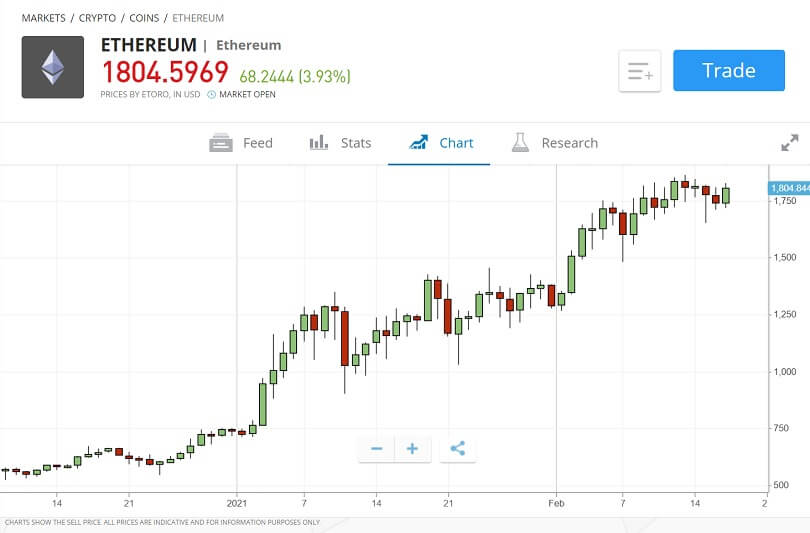 How to transfer Ethereum from/to eToro
If you have bought some ETH or another crypto through eToro chances are you may be interested in transferring it into the eToro wallet or elsewhere. For starting, you may find useful the eToro wallet guide written by us.
Here are details on exactly how you can do that:
How to open an eToro Ethereum (ETH) wallet
Opening your Ethereum wallet on eToro is easy. All you need to do is actually initiate an ETH transfer and the eToro ETH wallet will open for you.
Keep in mind here that while the fee environment on eToro is always kept highly competitive and of great value, you may be charged a small commission when opening the wallet.
How to send ETH from etoro to the eToro wallet
Sending Ethereum you have purchased on eToro to the eToro wallet you will need to do the following:
Head to your eToro portfolio page. From here you will select the Ethereum option and click on "edit trade". Your next step once you have done this is to click "Transfer to Wallet" where a pop-up window will show you exactly how many units of ETH you are sending, and any costs associated with the transfer.
Limitations when transferring ETH from/to eToro
While it is easy to make the transfer, there are a few areas to cover in terms of limitations that you may encounter along the way.
Making a transfer from eToro to the eToro wallet you will find the minimum transfer amount to be 0.26 ETH. The maximum you can send in a single transaction is 70 ETH, and the most in a single day period is 350 ETH.
If you wish to make a withdrawal from your eToro Ethereum wallet you will also find the minimum withdrawal figure to be the same. This is 0.26 ETH.
Finally, for cash transactions on all crypto from the eToro wallet a transaction limit of $50,000 is in place per single transaction, and a daily limit of $200,000 also applies.
eToro Fees and Commissions on Ethereum
As we mentioned above, eToro always do their best to provide a very competitive environment when it comes to fees and commissions. Still though, there are a few points to note when it comes to this. Here is everything to expect with ETH fees and commissions at the broker:
eToro Ethereum Transfer fees
In addition to the minimum ETH withdrawal amount, a withdrawal fee will apply. This fee is currently set at 0.006 ETH.
There are no other fees associated with sending or receiving crypto on eToro. The only other fees may come from the blockchain but these are outside the control of eToro or any broker.
ETH Trading fees with eToro
As with many eToro trading assets, you will find trading Ethereum is commission-free. The only trading fees to expect here is the spread which starts from 1.9% though this figure can vary depending on a number of factors including market volatility.
If you trade your ETH as a CFD you should also be aware of the overnight fees that apply on every CFD asset if you are holding the position for a longer period.
Why should you buy Ethereum on eToro?
Of course, if you have read our eToro review you will see that we have covered many positive points of the broker in great detail. This is the perfect place to start in getting to know more about the broker overall.
Focusing on buying Ethereum though, there are a number of key reasons why eToro is great. First off, they are an extremely well-regulated broker with a stellar reputation around the world for quality. As a new trader, you will also have access to an unlimited free demo account. This is perfect for trying out the broker and getting to know the industry risk-free.
Once you are in you will have access to some of the best analytical tools and insight from industry professionals as well as other top traders that can really help guide you in the right direction. eToro is also one of the most accessible brokers with an easy to use platform and many convenient deposit methods to choose from.
Finally, you will have access to the eToro wallet and their dedicated eToroX crypto exchange that can help you need all your crypto storage and trading needs.
Things to know if you plan to day trade ETH on eToro
Regardless of whether you plan to hold on to your eToro Ethereum for a long time or day trade, there are a few other useful things to note. Here is a look at the different assets you will have available and any other fees if you are thinking about trading often.
Discover every ETH Cross on eToro
There are a number of fiat currencies available besides the US Dollar that you can trade Ethereum with through eToro. The available pairs include ETH/EUR, ETH/GBP, ETH/JPY, ETH/AUD, ETH/NZD, ETH/CAD, ETH/CHF, and ETH/CNH.
Besides trading Ethereum with other fiat currencies through eToro, you can also trade it with other cryptos. ETH/EOS, ETH/XLM, ETH/BTC, and ZEC/ETH are all available for crypto to crypto trading on eToro.
An overview of ETH Trading with eToro
A few additional points to note when trading Ethereum with the broker is that there is no scalping allowed on eToro first of all. When it comes to leverage this can be used when trading crypto but you should remember that any leveraged trade will be executed as a CFD and CFDs cannot be transferred to an eToro wallet.
You can also trade short on crypto at eToro but again these trades will be as CFDs. The bottom line is that if you want to trade the real assets (non CFDs), then you need to open non-leveraged trades 1:1 and go long on the assets.
eToro ETH spreads and fees
When it comes to fees, there are only two to consider. These are the overnight fee if you are trading CFDs which you can access more information on through the trading platform, and the spread that starts from 1.90% on ETH.
If you're interested, we managed to create a dedicated post on eToro fees. Just visit our eToro fees and spreads guide.
Pros and Cons on buying Ethereum on eToro
Here is a summary of the best points we have found along with some areas for improvement with trading ETH on eToro:
Pros
eToro is an extremely well-regulated and trusted broker around the world for millions.
The minimum deposit is low enough to be accessible to all traders.
The set-up process is fast and easy as well as the trading platform being extremely user-friendly.
You need only a small amount of ETH (0.26) to be able to transfer it to your eToro Wallet.
Cons
The spreads can be a little high if you are trying to day trade.
Our opinion on buying ETH on eToro
Overall, we can say from our detailed look at trading Ethereum and crypto through eToro that they are an excellent choice if you would like to trade Ethereum.
Of course, they are backed by one of the strongest reputations in the industry and a very easy to use trading platform though what sets eToro apart for Ethereum trading is the accessibility of so many available assets for you to trade. This means you can fit your trading needs with ETH cross pairs on other cryptos, fiat currencies, and even gold. Having the ability to trade both as real or CFDs with leverage also provides great flexibility.
If you are planning to invest then, eToro is great as you can also use the trusted eToro Wallet to securely hold your cryptos and easily transfer them from eToro or other places. If you are thinking of trading more then the higher spreads may make it a little less attractive, but definitely for longer term holding and trading, eToro is a top choice.
How to buy ETH on eToro FAQ
What are the advantages of buying ETH on eToro?
Firstly, you'll get an unlimited demo account. Then, you can open a live account and have the opportunity to copy expert traders. Ethereum is a great choice for your crypto trading because it can be easily traded or exchanged for other cryptocurrencies.
How much commissions does eToro take for trading ETH?
eToro charges no hidden commission. The only fees you can incur are: overnight fees, if you're trading ETH as a CFD, and the spread, which starts from 1.90%
---
74-89% of retail CFD accounts lose money
About the Author
Filippo Ucchino
Co-Founder - CEO - Broker Expert
Filippo is the co-founder and CEO of InvestinGoal.com. He has 15 years of experience in the financial sector and forex in particular. He started his career as a forex trader in 2005 and then became interested in the whole fintech and crypto sector.
Over this time, he has developed an almost scientific approach to the analysis of brokers, their services, and offerings. In addition, he is an expert in Compliance and Security Policies for consumers protection in this sector.
With InvestinGoal, Filippo's goal is to bring as much clarity as possible to help users navigate the world of online trading, forex, and cryptocurrencies.
How to buy ETH on eToro
Related Guides
---
Keeping you better informed
Find and Compare the Best


Online Brokers for You