IC Markets Live Account: Opening & Key Information (2023)
If you plan on doing any type of trading you will obviously need a top-notch brokerage.
IC Markets certainly fits the bill and allows for you to trade a world of global assets.
In this tutorial, we will take a look at how to open a live trading account.
This should act as the perfect companion to our in-depth IC Markets account types post.
IC Markets has made it relatively straightforward and simple to do.
Beyond that, do not forget that you also have the ability to open up a free demo account in order to practice right along with your live trading.
Tutorial: How to Open an IC Markets Live Account
Here we will detail everything you need to know in order to open your IC Markets Live account and begin trading:
Consider Opening an IC Markets Demo Account First
Before you engage in trading through an IC Markets live account, you really should consider trying out an IC Markets demo account.
This will give the perfect feeling as to what it is like trading with a major broker like IC Markets. To help you along in this regard, we have also created a handy IC Markets demo account opening guide. Here you can follow exactly how to open your new and flexible demo account with a walkthrough guide of the process.
Step 1: Completing Your Personal Information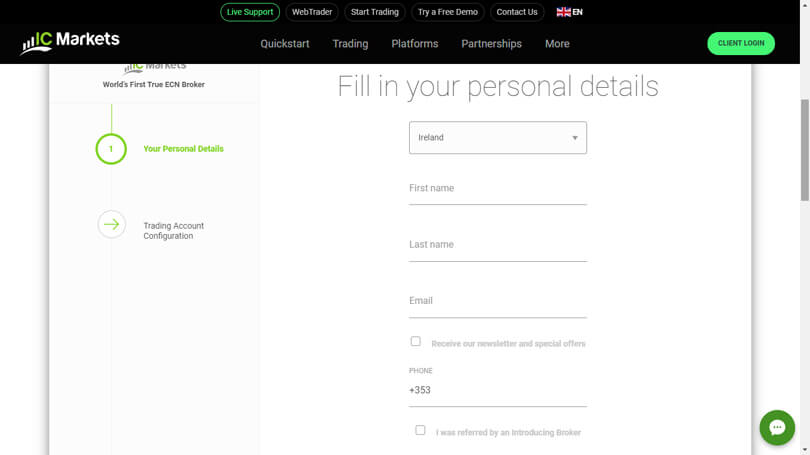 To facilitate your transition into live trading, head over to the IC Markets homepage to sign up for a live trading account. When you arrive at the homepage of the website, there are a couple of buttons to choose from. Simply click on the box that says "start trading."
After you click that button, you are then directed to a form that allows you to fill in the information to open the account as shown above. This should be the most basic of personal information.
Step 2: Completing Your IC Markets Live Account Profile
Along the way you will have to configure your trading account, with respect to base currency, leverage, and other basic parameters. Make sure to fill out all of the information. These include some relatively simple questions about your trading behavior and knowledge.
Step 3: Choose Your Trading Platform
The next thing you will do is decide which one of the trading platforms you wish to utilize. You have the choice of cTrader, MetaTrader 4, and MetaTrader 5. You can open up an account with any of these platforms. There is an effect on your trading conditions. The cTrader raw spread account has spreads starting from 0 pips, but does implement a commission of $3 per lot traded.
You should simply choose the platform which you prefer to trade with. Beyond that, you will need to choose the account type and base currency, as well as the leverage.
You can use a raw spread account or a Standard Account, with leverage amounts including 1:1, 1:25, 1:50, 1:100, 1:200, 1:400, and 1:500. You can choose how much to deposit, but keep in mind that there is a bare minimum of US$200 required to open the account.
The True ECN account differs from the others in a couple of ways. Firstly, it uses Metatrader. It also implements a commission of $3.50 per lot and spreads from 0 pips.
The standard account has no commission, and spreads from 1.0 pips.
Step 4: Uploading Your Documents to Verify Your IC Markets Live Account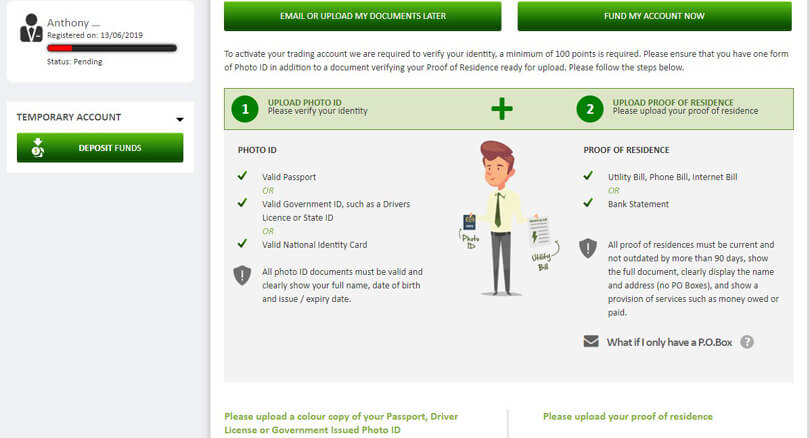 In order to fully activate your IC Markets live account, you will need to upload a couple of verification documents. This is very simple and can be done completely electronically.
The documents should be the following:
1 x ID document such as passport or drivers license
1 x residence document. This can be a bank statement, utility bill, or other document which proves your address. It must be within 90 days old.
These documents can be submitted electronically by pressing the upload button. Make sure your pictures are clear to avoid delays.
If you do not have them ready just yet, simply click the email or upload later button.
Step 5: Verification Pending – Your IC Markets Live Account is Almost Ready

Once you upload these documents, activation will be pending while your documents are confirmed by the team. It is usually a very fast process. While this is happening, you can still fund your account with any of the methods shown above. Once your verification is complete, you can begin unrestricted trading with your IC Markets live account.
IC Markets Live Account Review
Differences between live and demo trading
When looking at live trading, there is a huge difference between using a paper trading or demo account than trading with your real money. Obviously, there is much more attachment to real money than there is to a fake financial statement, so if you are just now starting to trade with live money, there are some things to pay attention to.
You may get slippage. Slippage is when there is a slight variation between the price that you expect, and the price that you get filled at. This is typically seen during erratic in volatile times, such as news announcements or geopolitical events. That being said, slippage is normally no more than a minor annoyance, and over the long term should have little effect on your failure or success as a trader.
Another thing that you should pay attention to is whether or not you are comfortable with your trading positions. If you find yourself a little too concerned about how a trade works out, perhaps you are trading with too large of a position.
One simple trick that I have used in the past is to pay attention to whether or not I can walk away from the computer for a few hours with my stop loss set and feel comfortable with what's going on when not paying attention to it.
Advantages of live trading at IC Markets
There are a lot of reasons that trading at IC Markets is so advantageous. The first thing of course is that they offer low latency execution in a true ECN environment, or a standard account if you choose so. The performance is extraordinarily quick and has years of backing when it comes to the technology.
Beyond that, you can open as many demo accounts as you would like as a customer. This allows you to perfect your strategy or perhaps even searched for new ones. The true ECN environment also offers no re-quotes.
Beyond that, IC Markets allows you to choose the leverage options that they offer, allowing you to take full control of your exposure to the financial markets. One of the biggest mistakes that newer traders make is to simply over lever everything, so once you are beyond that type of novice attitude, you can approach the markets as a professional or truly gear things up if that's part of your strategy. Having the ability to use three different platforms helps as well, giving you the ability to customize your workspace.
Highlights of IC Markets as a broker
There are highlights of trading at IC Markets that you should be aware of. Paramount is the fact that they are highly regulated, under the auspices of ASIC in Australia (Australian Financial Services License Number 335692).
This allows you to do your due diligence on the brokerage, as there are plenty of transparent and public records from which to search. Having a good standing in a highly regulatory environment adds extra safety for the retail trader.
Client accounts are segregated trust accounts with well-known Australian banks, including Westpac and NAB. This allows for safety of funds, as the brokerage firm does not have the ability to mix client funds with operational funds. You should never use a broker that doesn't do this.
Another major advantage is that IC Markets doesn't need to worry about the European Securities and Market Authority, which of course has recently cut back leverage to very low levels. This allows for traders to take full advantage of the leverage that they can find under Australian rules, offering a multitude of extra tools to benefit from the global market opportunities.
It should be noted that they do not accept US clients, as the US CTFC prohibits Americans from trading outside of their national borders. IC Markets compliance with international and Australian regulations.
To learn more, read our IC Markets review.
---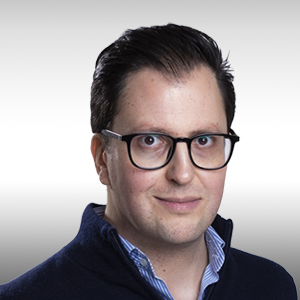 About The Author
Filippo Ucchino
Co-Founder - CEO - Broker Expert
Filippo is the co-founder and CEO of InvestinGoal.com. He has 15 years of experience in the financial sector and forex in particular. He started his career as a forex trader in 2005 and then became interested in the whole fintech and crypto sector.
Over this time, he has developed an almost scientific approach to the analysis of brokers, their services, and offerings. In addition, he is an expert in Compliance and Security Policies for consumers protection in this sector.
With InvestinGoal, Filippo's goal is to bring as much clarity as possible to help users navigate the world of online trading, forex, and cryptocurrencies.
IC Markets Live Account: Opening & Key Information (2023)
Related Guides
---