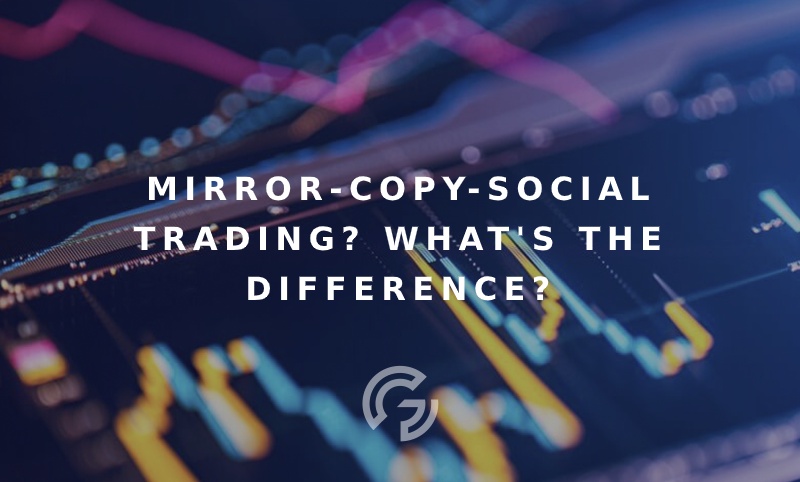 Once there was only Mirror Trading, then Copy Trading joined, and finally came Social Trading, and today we tend to call everything Social Trading.
Result? A great confusion.
"But, aren't they all the same?"
No, even though the trend today is to use the term Social Trading for all, as we did ourselves in our course.
The truth is that each of these terms represents a specific sector with precise rules, and to avoid confusion and to misuse a term instead of another, you must know at least their basic functioning.
More than anything else, knowing their differences, you may find that you definitely prefer a sector over another.
In this post we will discuss precisely the differences of these three modes of investment, citing the major companies in each of them. We'll also talk of the possible risks, and of the future of this industry.
View Contents
How do these three sectors work?
Let's start by saying that these sectors are so new that their explanation on Wikipedia took shape and evolved only in the last three to four years, whereas before you could only find generic references without any insight.
Furthermore, given the evolution and constant changes made by these companies, which were, and still are, literally building a new market from scratch, it took some time to clearly delineate the boundaries of a sector or a specific service compared to another.
Now, a few years from their creation, we can say we have reached a conclusion and each piece has found its place on the board.
Before explaining these three elements in very simple terms, however, we must talk about a fourth: Autotrading.
Autotrading is when a trader, rather than carrying out orders manually, uses a computer program that acts on his or her behalf.
The rules that determine when to buy, sell, and why, are included in the codes of the program, which constantly monitors the market and, at the occurrence of certain conditions, acts automatically as expected.
Autotrading implies either being a programmer and knowing how to build these programs in their language, or buying and installing them on your own personal trading platform.
MIRROR TRADING
With Mirror Trading, you use Autotrading strategies, but these are not installed on the investor's platform—instead, they are hosted and run on the servers of the Mirror Trading company.
The user, after having assessed the performance, can then choose the automatic strategies he or she prefers and replicate them automatically on his trading account. When the strategy sends a signal to perform a transaction, the same signal is sent and replicated on the user's trading account, which replicates (like a mirror) the operational orders of the strategy.
This system therefore presupposes that there is a trader who submits his Autotrading computer program to the Mirror Trading company, who then make it available to other traders for mirror replication.
COPY TRADING
Copy Trading is very similar to Mirror Trading, but with one major difference. The trader who decides to share his signals does not have to submit an automatic program to the Copy Trading company; instead, he simply needs to connect to his personal account.
In practice, the trader connects the trading account to the Copy Trading company, which from that moment onward will record each transaction occurred. The investor can then view these operations in order to evaluate his or her performance and, as with the Mirror Trading, if he or she wants to, may decide to copy everything done by that trader.
The trader that sends the signals (also called the Signal Provider) can operate manually, or even use Autotrading programs—but the difference with Mirror Trading is that the programs "run" on his personal account, and the orders are simply sent to the Copy Trading company that automatically "forwards" them to the user who wants to copy them, while with Mirror Trading it is the company itself who has the strategy and sends the order.
SOCIAL TRADING
Social Trading is the largest among these three sectors, or rather, the one with the wider and, until recently, less-defined boundaries.
Today, this term can mean two things:
It can be interpreted, on the one hand, as a "Social" extension of Mirror Trading and Copy Trading (i.e., the ability to interact with other users and with the same trader in a social context, to get advice from the trade, to comment and vote on their work, and to see the opinions of other users). In this case, we tend to use this term to indicate bot Mirror and Copy Trading together.
On the other hand, Social Trading also means the simple exchange of opinions and ideas about markets and trading; it is the sharing of operational ideas. Users can create their own profile, and they can share the operations they intend to do or have done, comment on those of others, offer their interpretation of economic events and their implications, explain the same in simple terms and, in general, generate discussions in which everyone can participate.
Basically, with these three new sectors, what we are witnessing is the birth and evolution of People-Based Portfolios.
Before the advent of these systems, traders basically chose one of two investment methods, which were:
You could take your money, give it to an investment company (bank, mutual fund, etc.) that, against a payment of commissions, would build a portfolio of financial products that would reflect the risk profile and performance of the customer;
Through the use of a broker, you could go directly in the market to build your own investment portfolio. If the aim of the investment was speculative, then you were talking of "Retail Trading."
Now, in addition to the two methods just mentioned, an investor can also create a portfolio not of financial products, but of people.
The investment is done only through traders who have already proven to be profitable, and who provide the possibility of automatically replicating their performance on their own trading account.
What type of trader are you?
74-89% of retail CFD accounts lose money
What do they gain from this?
"No, traders or Signal Providers obviously do not do it for free," if that's what you think.
It would be strange to see someone with a profitable trading strategy share it with no self-interest, and, in fact, this is not the case.
"So, how does it work?"
When you have a trading account, whenever you ask your broker to open an operation, you pay a commission, in some areas also called a spread.
Almost all of the revenues of these sectors are derived primarily from commissions and spreads.
When the investor uses Mirror or Copy Trading, he or she is obviously opening operations on the trading account he owns to the broker, the only difference being that the orders to "buy or sell" do not come from the investor himself, but from the society through which he's following the chosen Signal Providers.
When the broker gains, part of that gain is shared with the Mirror or Copy Trading company, who in turn shares the profit with the Signal Provider that generated the signal.
There are three things to keep in mind:
The spread or the commission to the broker is always paid, whether the operation is profitable or not. That is, you pay for the simple fact that it has been opened;
The commissions or spreads paid in these areas are slightly higher than global standards, precisely to ensure these remuneration;
The Mirror or Copy Trading company, and the Signal Provider that generated the signal, gain only if on the other side the investor has replicated the signal using real money.
The main variation of this system involves the payment of a monthly fee.
Instead of charging a very small piece of every commission and spread paid by the investor on each transaction, the Mirror or Copy Trading company asks for a simple monthly fee to follow the Signal Provider and replicate their signals.
In both cases, at an ideal level, this should create a win-win situation.
The investor, even without any experience, can rely on those who have already proven to be experienced and profitable in replicating their performance. The trader instead, together with those arising from trading, may obtain further gains thanks to spreads or monthly fees, as long as someone replicates or pays for his trades.
Did you know that thanks to Social Trading you don't have to be a Trader to earn like one? OPEN AN NAGA ACCOUNT AND TRY!

79.67% of retail CFD accounts lose money
What are the main risks?
Despite good intentions, each objective must then confront the harsh reality. The premise of getting a win-win situation is valid, but, unfortunately, the Signal Providers' remuneration system has created many problems.
To put it in simple terms: the more operations that are performed, the more they earn commissions and, as mentioned before, this is regardless of whether the transactions ended up with a win or a loss. It didn't take much for several "fake" traders to begin exploiting this condition to get easy money at the expense of inexperienced investors.
Behind the performance of these alleged traders, there was no serious trading strategy. Behind the scenes was just an attempt to generate stratospheric performance (bearing stratospheric risks) in the short term in order to quickly get followers and make cash through commissions or monthly fees.
It's definitely less than before, but these practices still exist.
Usually these scammers make use of well-known approaches, such as the averaging down or the martingale—very risky techniques that, if not handled to perfection, can lead to catastrophe. Just ask Nick Leeson, the trader who caused Barings Bank to fail—the second oldest merchant bank in the world (they even made a beautiful movie about that, with Ewan McGregor, and here's the precise point in which he says those "fateful" words).
However, for an average expert, it is easy to notice these risks and avoid them, and here is where we come to the second problem.
Despite the premises to be able to start investing without any experience, without having to study to become a trader, the fact remains that the investor who wants to invest in these areas at least needs to have a basic knowledge of finance, and the market in which he's investing (including its rules).
It's true that investors are not required to become a traders, but at the least they have to know what a trader is, how a trader operates, and especially what an absolutely serious trader would never do in order to be able to recognize the real traders and get away from the fake ones.
Also, do not forget we are talking about the derivatives markets, and that "Derivative" is associated with "Leverage." As we know, financial leverage is what lets you invest with large capital even if you have little to work with—but it can crush you in an instant if you cannot control it or you overuse it.
An investor unaware of these concepts could get hurt even if they choose excellent Signal Providers.
So, it's true that investing with Mirror, Copy and Social Trading is easier than Retail Trading, but it's also true that it still requires a certain level of knowledge.
Told in simple terms: you need to have a smattering of what trading means, a good understanding of what investing means, and an even better knowledge of what money management means.
That said, each company has its own peculiarities and its strengths and weaknesses, so, in addition to knowing what we just said, you should also be familiar with the functioning of the company with which you decide to invest.
Who are the key players?
New companies operating in these three areas are emerging all the time. Famous, well-established companies and brokers are adapting their services and integrating these capabilities.
However, to date, there are three companies that became masters in their respective sectors.
MIRROR TRADING
It's the Tradency company that must be credited with having given rise to mirror trading, ushering in the new field of Mirror Trading when in 2005 (we can blow out a candle to celebrate the first 10 years of its existence) it launched a new platform called Mirror Trader.
COPY TRADING
Two years later, in 2007, ZuluTrade was born. Being that this company is an intermediary between the trader providing the signal and the investor who receives it, or, better yet, between the respective brokers, ZuluTrade has evolved this way to support about 60 brokers worldwide. This firm decided to focus on pure Copy Trading and thorough performance analysis, with the addition of functionality to allow social votes and comments.
SOCIAL TRADING
Also created in 2007, eToro is an atypical forex broker (you can see why in our eToro review), and is in a sense the opposite of ZuluTrade. This company began in 2010 with its first Social Trading function thanks to its innovative OpenBook, and it continued focusing on this very sector, adding then also a basic Copy Trading function. eToro is among the first companies to have also expanded in trading on the most famous index, and trading equities and commodities with the use of CFD. You can see all the assets available with this broker in our eToro trading section.
How is the entire industry changing?
No doubt Mirror, Copy and Social Trading are among the most interesting innovations of recent years in the field of capital investment and trading.
There are increasingly insistent rumors that the global banking establishment is trying to curb the rise of these systems, for the simple fact that this way of investing "takes away" money from the old instruments and classic investment companies.
Indeed, the user who decides to invest in these sectors maintains possession of their account and money, and they simply move it according to what others do. This means not delivering money to those third parties (which in essence belong all to the investment banks) who run it on behalf of their investors, adding expensive commissions.
We'll see what will happen in the coming years.
However, we can already see how important institutions have begun to take an official stand towards these new areas, in particular with regard to the investor protection.
We are talking in particular of the European Union that, with the upgrade to the MiFID II, has basically equated Mirror Trading and Copy Trading to Asset Management. Little has changed on a practical level; the functioning has remained almost the same as before, but companies have had to update their regulations and some services. As a matter of fact, now users are a little bit less free then before, but they are definitely more protected.
From the point of view of an "old style broker" instead, these systems facilitate the acquisition of new customers and the retention of old ones, since both can access profitable strategies even without any experience, and that's why more and more Forex and CFDs brokers are integrating Mirror, Copy and Social Trading functionalities as a part of their offers.
Many are the skeptical as to whether sharing information in a social way cannot do much, if anything, in an area as complicated as Retail Trading. However, important studies have been conducted showing that the Wisdom of the Crowd (if used in the right way) can be a valuable ally when trading and investing.
From the media's point of view, there's no doubt that the entire industry is generating more and more interest. The main industry websites are devoting more and more articles to the topic. Looking on Google, there's a growing demand for "Reviews" about the companies and their services; more and more blogs are dedicating posts to these topics and "someone" has even decided to create the first guided Social Trading course.
Where are we going next?
Looking at the latest moves of the major companies, we can define on what fronts we will see the greatest effort in the coming years.
SAFETY
Important steps have been taken to try to identify and remove the traders or Signal Providers only interested in commissions. But the problem is still not resolved, and companies are continuing to improve controls and stiffen certain parameters to skim more and more of the thousands of available traders, so as to leave space and enhance only the most deserving.
Among the major maneuvers taken, we can mention paying commissions to Signal Providers only in the case of profitable operations, or only after a month closed in profit, as well as having stiffened the performance parameters (in particular of the Drawdown) within which the trader can operate to prevent excessively risky situations.
That said, in an environment as difficult and sometimes as extreme as that of the derivatives market, even good traders can sometimes suffer bad shots. Companies are working to make sure that there are safety systems designed to protect their investors' capital in case of emergency.
TECHNOLOGY
In a system in which the replication is the basis of everything, there is no doubt that speed has a major role. The prices of financial instruments are constantly changing, so the more orders are replicated quickly, the thinner the difference is in prices between orders that are sent and orders that are received, allowing a better replication.
Companies have already improved significantly in this regard, and the phenomenon, called Slippage, has been greatly reduced.
However, companies are continuing to work to further increase the speed, the ease of use (see the API integration), and the robustness of the entire system, especially in times of extreme volatility that sometimes strike the markets (see this past January 15, when the Swiss National Bank decided to abandon its policy of maintaining the floor at 1.20 of Eur / Chf).
OFFER
Although in the beginning users were restricted to trading on the Forex market (meaning you could only replicate traders operating on the currency market), now there are a wide variety of financial products to choose from.
As mentioned before about eToro, some companies are beginning to offer the opportunity to copy traders operating using other instruments, such as indices, equities, or commodities.
Even the controversial Binary Options have made their appearance in some companies, including ZuluTrade.
It appears very probable that in the coming years we will see an increase in supply and diversification of the products on which traders can operate.
From options (not binary but classic) to the increased possibilities with CFDs, to also arriving on the bond market, the possibilities are still many—and it's very likely that we will see more and more companies, old and new, undertaking these new challenges.
Conclusions
I think I've explained very clearly the differences about these three "new" sectors: Mirror Trading, Copy Trading and, we can say, the newest, Social Trading.
Social Trading is certainly what you will hear about the most lately, but it is often used to talk (sometimes wrongly) about those that you now know to be Mirror or Copy Trading.
In the coming years, we will definitely see a wildfire expansion of these concepts in all areas of global finance and, translated in other words, through a surge in advertisements and offers.
The world changes. It is increasingly connected and more and more "social"—and your next big investment could be right in the midst of Social Trading.
Now at least you know where to start.
---
Mirror-Copy-Social Trading? Find out the differences
Related Guides
Keeping you better informed
Find and compare the best


Online brokers for you