Is it possible to trade through EA with Pepperstone?
If you are thinking about trading at Pepperstone, you should definitely check out our Pepperstone review for the most up-to-date information and details. There you will find out that Pepperstone EA trading is supported.
This is among some of the Pepperstone professional account exclusive services offered, and that is exactly what we will cover in more detail here. Loading your EA in Pepperstone, which trading platforms it is acceptable with, and other supports the broker offers to algo-traders.
Read all about it below.
Is it possible to trade through EAs with Pepperstone?
It is possible to utilize EAs with Pepperstone. The broker allows the use of this feature for algorithmic trading across their service and all trading platforms they have.
You can build your EAs using MetaQuotes Language 4 (MQL4) or MQL5 if you're on MT5 or import them from others in the trading community if you wish. You are free to make your own trading decisions entirely, but Pepperstone does advise a few things.
This includes that you build specific EAs for certain conditions, take into account adverse market conditions, add sufficient diversity to your EAs, and more such as trading less when in a drawdown, managing your risk effectively when trading, using a VPS, and backtesting your EAs when possible.
These are all good pieces of advice and ultimately serve the purpose of trying to keep you as safe and secure as possible.
How do I load an Expert Advisor on Pepperstone?
Here is our step-by-step guide to follow if you are not sure how to load an EA on Pepperstone.
1. Open a Pepperstone Account
The very first step in what is actually an easy process, is to open a Pepperstone account if you don't already have one (74-89% of retail investor accounts lose money when trading CFDs). You can also start a demo account if you are new and want some practice risk-free before live trading.
2. Login into your client area
With your trading account now open, simply login to the client area for the first time to get acclimatized. You can do this by hitting "login" in the top right corner of the homepage as shown below and inputting your login details.
3. Install your trading platform
When applying for an account you will have selected the trading platform you would like to use. Pepperstone offers MT4, MT5, and cTrader with the EAs feature available on MT4 and MT5. We would suggest using the desktop version of the platform for the most detailed experience if loading EAs.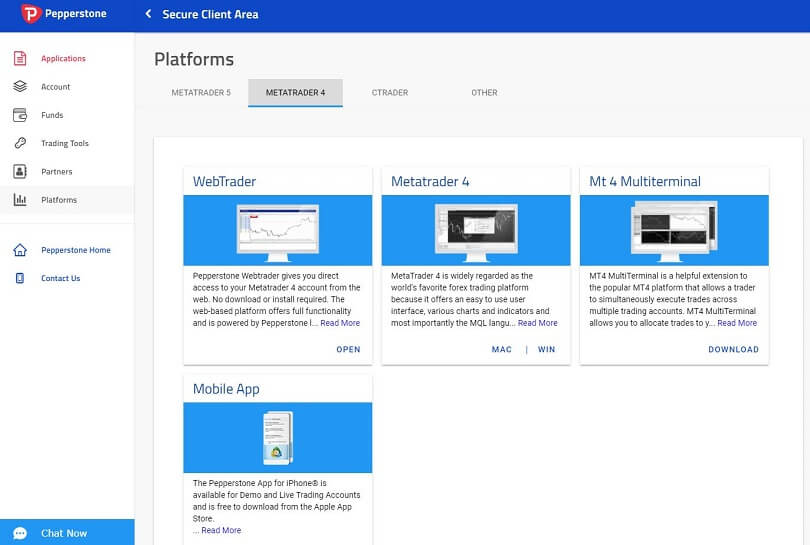 4. Load your EA
To load your EA into the platform, simply download it as a file to your computer. From there, enter your trading platform whether it is MT4 or MT5, and select "file". Next, you will open the "data" folder before entering MQL4 or MQL5. This will then allow you to drag and drop the correct file into the "'Expert Advisors" folder as needed.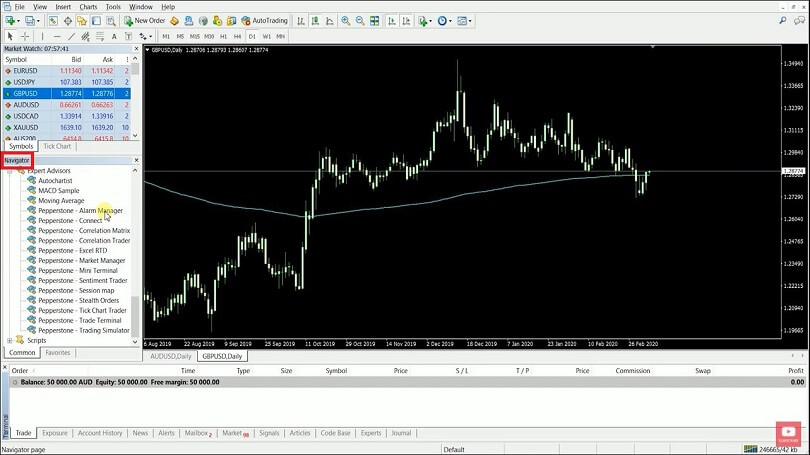 5. Restart your trading platform
With this done, you just need to restart your trading platform and your EA will appear in your Navigator list. You will then be ready to trade with it.
Pepperstone Smart Trader Tool: What is it?
At Pepperstone you will also find their smart trader tool. This provides access to the full range of tools and indicators they offer with the trading platforms. There are more than 28 in total and they can be very useful to help you in trading.
From here you can even control all your trades from a single terminal which makes the whole experience extremely efficient, and you will also find additional features like an alarm manager to notify you of trading opportunities, a market manager to control your entry points into trades, and open orders, and even a session map providing real-time data on your session. These features are all unique to the Metatrader platforms on offer.
What can EAs do with Pepperstone?
EAs have a broad range of capabilities that depend on how they are set up, but they can range from the basic, like analyzing movements according to some key indicators, to the more advanced notifying you or performing actions with your authorization, based on a number of preset criteria.
An EA can also help you collect data and gain insight based on your trading account risk, setting up stop losses, and reviewing your trades. They can overall be a very helpful tool.
Pepperstone EA FAQs
What are Expert Advisors (EA)?
An Experts Advisor (EA) is an automated system designed for trading. By following predetermined rules it can spot trade opportunities but it cannot trade without your authorization. It is good to keep you from making emotional trading decisions.
How do EAs work?
An EA will follow your preset rules to spot and identify trading opportunities. In order to trade in your place it will require your authorization. It is similar to a forex bot in auto trading though a bot often does not require your authorization.
---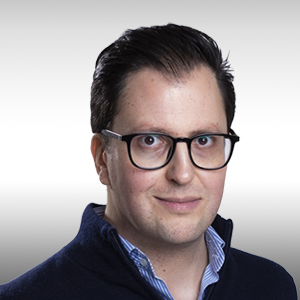 About The Author
Filippo Ucchino
Co-Founder - CEO - Broker Expert
Filippo is the co-founder and CEO of InvestinGoal.com. He has 15 years of experience in the financial sector and forex in particular. He started his career as a forex trader in 2005 and then became interested in the whole fintech and crypto sector.
Over this time, he has developed an almost scientific approach to the analysis of brokers, their services, and offerings. In addition, he is an expert in Compliance and Security Policies for consumers protection in this sector.
With InvestinGoal, Filippo's goal is to bring as much clarity as possible to help users navigate the world of online trading, forex, and cryptocurrencies.
Is it possible to trade through EA with Pepperstone?
Related Guides
---