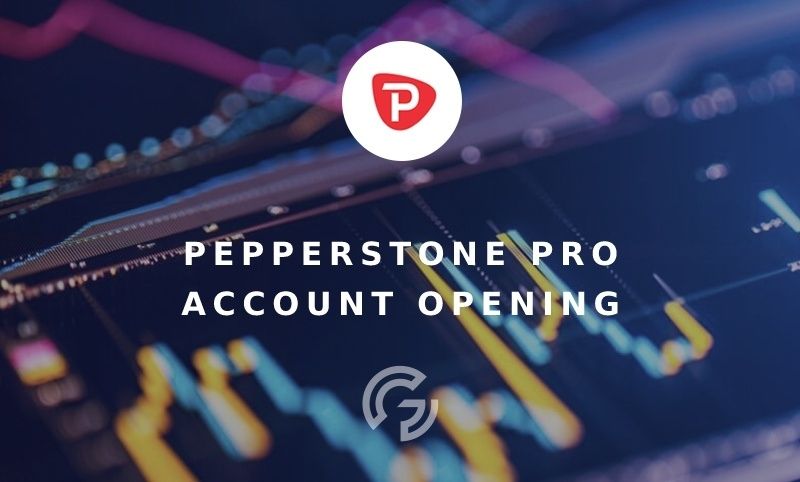 Connect with us
If you have taken a look at our Pepperstone review you will know that the broker offers some hugely popular account types including the Pepperstone Razor account. What if you want to register as a Pepperstone professional client though and open a professional account.
This is certainly possible. In just a few easy steps below we will show you exactly how you can open your professional account in the most efficient way.
How to Register as a Pepperstone Professional Client: Requirements and steps to follow
Below is a complete look at all the steps you will need to follow if you want to sign up and start trading as a Pepperstone professional client.
STEP 1 – Open a retail trading account with Pepperstone
No matter what, your first step will always be to open a retail trading account. In fact, this can be beneficial to you in a number of ways.
You will have the chance to try out the different trading features of the broker like testing out their spreads, ECN liquidity, and other important aspects of trading. You will also be able to gain an understanding of their deposit and withdrawal processes. This can be key as a professional, high-volume trader. Finally, you will have the opportunity to possibly earn rebates and other types of bonuses with the Pepperstone active trader program.
With retail accounts, you will find there are two main types of accounts offered. Professional traders typically opt to open a Pepperstone Razor Account thanks to the low spread and flexibility this account type offers, other than the Pepperstone razor account minimum deposit.
STEP 2 – Check your Eligibility requirements
Now that you likely already have your retail account open, you will want to make sure you are actually eligible for a professional account. This process differs depending on the regulator you are working under.
If you are trading under ASIC regulation in Australia then you will have to complete a detailed knowledge test as well as having traded FX or CFDs at least 20 times per quarter for at least 4 quarters in the preceding 2 years. The notional value of these must also be AUD$50,000 or more. Without this trading experience, you could still be eligible if you have worked in a financial field for at least 1 year in a position that required FX and CFD knowledge.
Secondly, under ASIC you will need to pass a wealth test. This means having at least AUD$2.5 million in net assets available, or, having a gross income of AUD$250.000 for each of the previous 2 years.
For ESMA traders in Europe, you must have an average of 10 transactions of significant size per quarter in the past year. You must also maintain a portfolio value of over €500,000. This can be in your bank or trading account. Finally, you must also possess relevant experience in the financial services sector.
With these requirements met you will be well on your way to opening a professional account at Pepperstone.
STEP 3 – Send the request to Pepperstone
With the requirements checked, you will be ready to request your professional account from the broker. Once you have logged in you will simply need to click "Pepperstone Pro" on the top-right corner. From here you can select the option to "Start Sophisticated Investor Application".
Once you have done that then you can complete the process by sending through the proof of eligibility documents to Pepperstone.
STEP 4 – Wait for Pepperstone to process the request
On average your wait time should not be too long at all. The typical average is just 1-hour to be approved. Once the status of your account has changed you will receive an email from your relationship manager to let you know.
Even though it does only take an hour to process, it is still important that you have a retail account open as you will need to apply through this account. In order to open one follow this link to the Pepperstone Website.
Pepperstone Professional Account Opening Tutorial FAQs
What is a pro trading account?
A professional trading account provides features that can't be accessed by all traders, only those who qualify for this account type.
What is the Pepperstone razor account?
The Razor account offers very low spreads combined with deep forex liquidity. For these reasons, it is a preferred choice of experienced traders and scalpers.
What is Pepperstone leverage?
Available leverage depends on the account type you have, and the Peppersone entity you are trading under. Leverage for pro traders is up to 1:500 with a 1:30 maximum for retail traders in the EU, Australia, and the UK.
---
Visit Broker
74-89% of retail investor accounts lose money when trading CFDs
About the Author
Luca Puddu
Broker Expert
Always full of different interests, Luca started to get interested in the field of personal finance in 2014.
His self-taught studies led him year by year to become increasingly interested in the investment field.
To date, Luca actively invests in the stock market and cryptocurrencies, focusing on rising markets and the industries of the future.
His main role at InvestinGoal.com is to analyze and study in the smallest detail the brokers and their platforms, while checking carefully that the information shown by them is genuine.
In this way, he provides readers with a complete and truthful overview of the broker they might be interested in.
---
Keeping you better informed
Find and Compare the Best


Online Brokers for You