Connect with us
Today we will cover a very important change related to the Zulutrade ranking page.
Zulutrade has decided to order, by default, the Signal Providers' ranking no longer according to the Zulurank position, but to the LIVE FOLLOWERS PROFIT obtained in the last month.
This means that, every time you'll come back to ZuluTrade, on the Traders page, having lost the previous settings, the ranking will be proposed in this new way, no longer in the Zulurank order.
The Live Followers Profit is a value expressed in dollars, determined by the sum of the profits of all the follower investors who follow or have followed that Signal Provider. In practice, it shows how much that Signal Provider has made the ZuluTrade investors earn.
The Zulurank instead is a numerical value calculated automatically by the Zulutrade system, according to a formula of its property, which takes into account and mixes, without human interaction, many parameters of the Signal Providers performance, such as:
Maturity (how long the Signal Provider has been active)
Exposure (how many positions he opens at once)
Drawdown
What we're going to see is how you can still order the ranking according to ZuluRank and, if wanted, to return to the new system in Live Followers Profit.
How to order Signal Provider according to the Zulurank
First we need to open the ZuluTrade ranking page.
The numerical references (circled in red) remain the same even if the parameters for which the list is sorted change. They are simply a list numerical reference.
Signal Providers are initially placed from the highest value of Live Followers Profit (highlighted in green) to the lowest.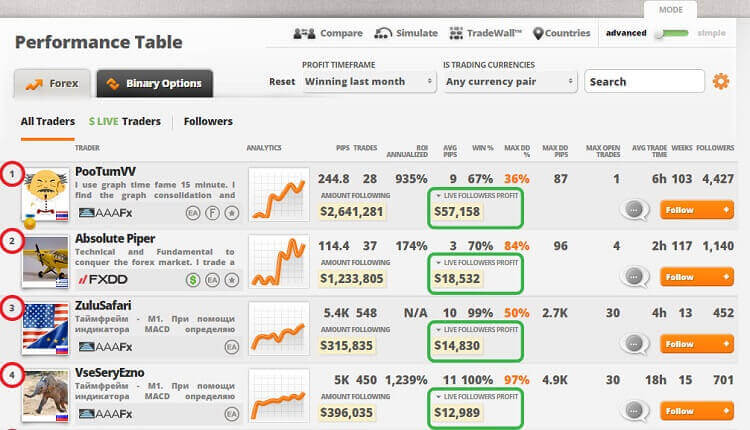 To sort the ranking according to Zulurank, simply click the RESET button (indicated by the blue arrow).
Now the values on the left (circled in red) indicate the Zulurank positioning of the Signal Provider (you can check it by opening some Signal Providers and see if the numbers are identical).
To return to the original ranking, ordered by Live Followers Profit, just select Winning Last Month from the PROFIT TIMEFRAME menu as shown, obviously having also removed any other filter added in the research.
---
About the Author
Filippo Ucchino
Co-Founder - CEO - Broker Expert
Filippo is the co-founder and CEO of InvestinGoal.com. He has 15 years of experience in the financial sector and forex in particular. He started his career as a forex trader in 2005 and then became interested in the whole fintech and crypto sector.
Over this time, he has developed an almost scientific approach to the analysis of brokers, their services, and offerings. In addition, he is an expert in Compliance and Security Policies for consumers protection in this sector.
With InvestinGoal, Filippo's goal is to bring as much clarity as possible to help users navigate the world of online trading, forex, and cryptocurrencies.
How to sort the signal providers by the ZuluRank?
Related Guides
---
Keeping you better informed
Find and compare the best


Online brokers for you