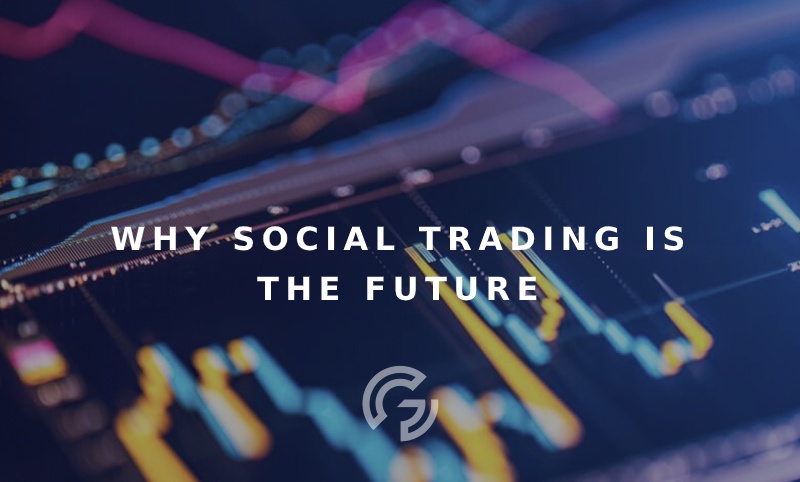 Connect with us
After witnessing the success of social media, asking questions such as "why social trading is the future of financial trading" can seem a bit pointless because judging by how much people rely on the social media for their daily lives, professions, business, etc., social trading has a long and successful future in financial trading.
Before jumping into the details of why social trading is the future of financial trading, let's explore the question of what is social trading?
What is Social Trading?
Social trading, also known as copy trading, refers to the phenomenon where experienced traders share automated copies of their trades called signal service with new and less experienced traders who lack the experience to make profit in the financial trading markets.
How does it work?
Let's use this illustration to explain Social trading. Mr. A is an experienced forex trader with extensive knowledge about the forex trading market. He is also used to trading and making profits and has a high success rate to his trades. Mr. A is also up to date with current news and can read charts, analytics reports and understand trends thoroughly.
Mr. B, on the other hand, just learned about how profitable financial trading is and is very interested in making money in the market. He also happens to have money to invest. However, he doesn't have Mr. A's experience and on his first attempt in the market, he lost half of his money. In his second attempt, he lost all his money. After this experience, Mr. B is disillusioned and unwilling to go near the financial trading market again.
This ugly scenario could have been avoided if Mr. B had a way to reach an experienced forex trader whom he could have learnt from. It would have also stopped him from losing money because of lack of experience.
You can learn more about social trading here.
Benefits of Social Trading
Social trading curbs unpleasant experiences and allows the influx of investors into financial trading because newbies don't have to lose any money even if they're just learning how financial trading works. They can simply rely on the financial content collected from various reliable platforms by skilled investors and once they are able to identify a successful trader with the help of social trading or copy trading platforms, they can follow them and copy their well-informed trade decisions.
Just like Twitter where individuals build a network of people in their niche, social trading platforms such as ZuluTrade, eToro, and Naga Trader allow newbie traders to follow the trading practices of successful traders and build a network of traders with the added advantage of a copy trading functionality which most social trading platforms have.
What Do The Successful Traders Stand to Gain?
We have thoroughly explored what newbie traders and less experienced traders stand to gain from social trading but we haven't explored what successful traders being copied stand to gain. Successful traders are usually paid by social trading platforms based on their number of copiers and number of trades copied, and they also have the opportunity to build prestige for themselves.
For example, eToro has a leader board listing successful traders from the most successful to the least successful. Getting into lists like this can make a trader an influencer in the financial trading markets.
Why Success Rate is Higher via Social Trading
It provides newbies with the opportunity to earn without learning. In this contemporary age where life is so busy and people seem to have more responsibilities, social trading allows newbies to take their time learning financial trading skills even as they earn money. It also simplifies the social trading process such that newbies don't have to learn through trial and error.
Investment opportunities: For those with money to invest and no desire or interest in financial trading, social trading affords them with the opportunity to invest their funds wisely even as they continue going about their busy lives.
Access to trading tools: Social trading platforms use the content and information generated by their users to create effective trading tools with very high success rates.
Access to reliable trading information: Instead of fumbling around in the dark, social trading platforms cut down the process of searching for reliable trading information by providing their users with easy access to professional trading information curated from skilled traders all over the world.
Conclusion
Now that you are fully aware of the two kinds of situations you can find yourself after your first trade and you have been enlightened on how you can minimize risk as a newbie. The next time you are asked why social trading is the future of financial trading, you know exactly why.
eToro is a multi-asset platform which offers both investing in stocks and cryptoassets, as well as trading CFDs.
Please note that CFDs are complex instruments and come with a high risk of losing money rapidly due to leverage. 68% of retail investor accounts lose money when trading CFDs with this provider. You should consider whether you understand how CFDs work, and whether you can afford to take the high risk of losing your money.
Past performance is not an indication of future results.
Cryptoassets are volatile instruments which can fluctuate widely in a very short timeframe and therefore are not appropriate for all investors. Other than via CFDs, trading cryptoassets is unregulated and therefore is not supervised by any EU regulatory framework.
eToro USA LLC does not offer CFDs and makes no representation and assumes no liability as to the accuracy or completeness of the content of this publication, which has been prepared by our partner utilizing publicly available non-entity specific information about eToro.
---
About the Author
Anthony Gallagher
Broker Expert
Anthony is a financial journalist and business advisor with several years' experience writing for some of the most well-known sites in the Forex world.
A trader turned industry writer, he is currently based in Shanghai with a finger on the pulse of Asia's biggest markets.
He is a keen golfer with a very high handicap so when not helping you find the best broker for your needs, you may find him on the course or just as likely following any number of sports from the comfort of his sofa.
Is Social Trading is the future of Financial Trading?
Related Guides
---
Keeping you better informed
Find and compare the best


Online brokers for you