An Axiory Demo Account bridges the gap between trading as an amateur and doing the same as a pro. It is a training ground for potential traders who want to hone their trading skills before trading with real money.
Our Axiory Review gives comprehensive information about this account trading type. You can go through the write-up to understand the Axiory Demo Account better.
Axiory Demo Account Opening Tutorial
Opening an Axiory Demo Account isn't rocket science. This step-by-step guide will take you through the process in no time:
1. Getting Started with Axiory Demo Account
The first step towards opening an Axiory Demo Account is to visit the broker's website. On the website, click "Open a Free Demo" to launch the Demo trading account.
New traders can take advantage of the Demo Account to hone their trading skills. It is noteworthy that this offer isn't available to traders in some countries such as Japan, Canada, North Korea, EU, USA, Islamic Republic of Iran, Indonesia, and Belize.
2. Information/Documents Needed
Opening an Axiory Demo Account requires that you provide personal details such as your first name, surname, password, country, phone number, and email address. If you have an affiliate code, you must provide the code also.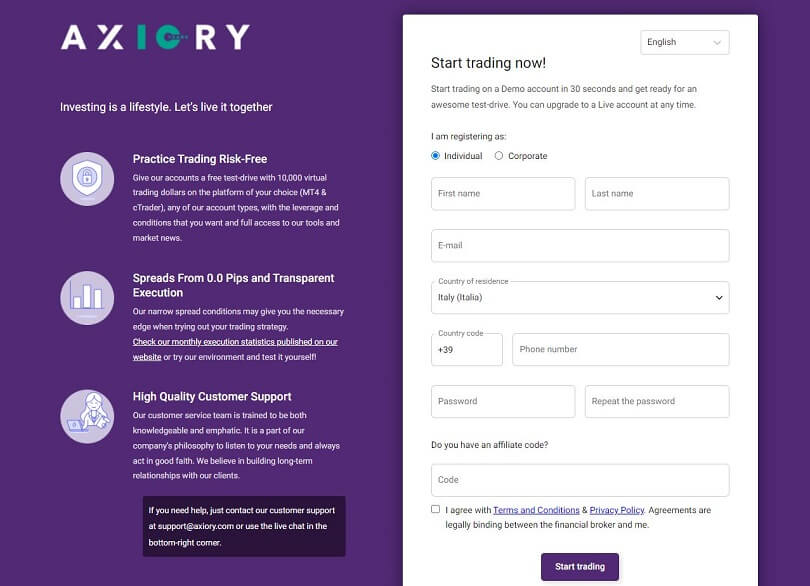 To open a Live Account, however, you must upload two colored scans of extra documents for identity confirmation. The documents include your driver's license or passport and an ID. In addition to these documents, you must provide proof of residence too. Your utility bill or bank account is enough proof of residence. You must provide these documents in PDF.
3. Fill the Registration Form
The next step is to fill out the registration form and compile all the necessary information. Then, accept the Privacy Policy. Without accepting the broker's policy, you can't proceed. After accepting the policy, click "Start Trading."
After you are prompted to start trading, select the Demo Mode and fill in the last pieces of information needed for trading. These are platform, leverage, account type, and currency.
4. Confirm the Account via Email/Telephone
Next is account confirmation. Axiory makes it mandatory for all newly-registered members to confirm their account before trading on the platform. The confirmation is necessary to ensure that only people with real identities patronize the brokerage and ensure its users' security.
After submitting your registration form, Axiory will send a confirmation email to you with your login details. Click the confirmation link to confirm your account. Axiory will activate your Demo Account as soon as you are done with the confirmation.
5.  First Login into Axiory Demo Account
As earlier stated, the confirmation email contains your login details as well. After confirming your account, make your first login into the platform with your login details: email and password. Once you enter the correct login details, you are ready to start trading.
Axiory Demo Account Review
Besides learning how to open an Axiory Demo Account, it's profitable to know a thing or two about the account type. This review furnishes you with some other important information about the account.
Axiory Demo Account Features, Restrictions, Differences with Live Account
Many traders have little or no knowledge of Demo Account's features and its differences with other account types, majorly, Live Account. Here are Axiory Demo Account's features and restrictions as well as its differences with Live Account:
Axiory Demo Account provides a great experience that shares some similarities with Live Account. However, while traders trade with real money on Live Account, they trade with virtual money on Demo Account.
However, the main difference between the two is slippage. While trading in the demo environment, traders don't have to worry over slippage because the market is simulated and isn't subjected to real market volatility that is the trademark of trading in the real environment.
You can open a Live trading account on Axiory at any time. For more details about the Live trading accounts, check our list of Axiory Account Types.
Advantages of Trading with Demo Account
It is a great thing that the Axiory Demo Account is unlimited. Traders can open multiple demo accounts and keep the accounts even after opening a Live Account.
The Demo version offers both cTrader and MT4 platforms. You can also use Max, Nano, or Standard account types on the demo version. While using the Axiory Demo Account, you will have full access to EAs, tools, and indicators. These are valuable resources that will have a significant effect on your trading experience and outcome.
Demo Account Management
Trading on a broker goes beyond creating an account, funding it with the minimum deposit amount, and trading. It is equally important that you understand how the broker manages its trading accounts.
Does the Axiory Demo Account Expire?
Axiory Demo Account is unlimited and doesn't expire. Thus, you don't need to keep reactivating the account to use it. Don't forget, too, that you can open multiple demo accounts if necessary.
Axiory Demo Account FAQ
Over the years, Axiory has received tons of questions from potential users who wish to deepen their knowledge of the trading platform. Some of the frequently asked questions are answered for the users' benefit. You may find satisfying answers to some of the questions you have about the trading platform in this section.
Can I keep a Demo Account after Opening a Live Account?
Opening a Live Account doesn't imply that you'll no longer have access to your Demo Account. So, you can keep the Demo Account for as long as possible while trading on your Live Account.
How Much Virtual Money Does the Axiory Demo Account Provide at the Opening?
Axiory provides 10,000 virtual trading dollars at the opening- or the equivalent in other currencies.
---
74-89% of retail CFD accounts lose money
About the Author
Filippo Ucchino
Co-Founder - CEO - Broker Expert
Filippo is the co-founder and CEO of InvestinGoal.com. He has 15 years of experience in the financial sector and forex in particular. He started his career as a forex trader in 2005 and then became interested in the whole fintech and crypto sector.
Over this time, he has developed an almost scientific approach to the analysis of brokers, their services, and offerings. In addition, he is an expert in Compliance and Security Policies for consumers protection in this sector.
With InvestinGoal, Filippo's goal is to bring as much clarity as possible to help users navigate the world of online trading, forex, and cryptocurrencies.
---
Keeping you better informed
Find and Compare the Best


Online Brokers for You