Do you want to open a Darwinex Demo Account?
It's extremely easy. Here's how to do it.
You can open two types of Demo Accounts on Darwinex.
Trader Demo Account, if you want to try out the features Darwinex offers for retail trading, i.e. First hand trading;
Investor Demo Account, if you want to try out the particular type of Copy Trading Darwinex has developed, creating your own Darwinex portfolio.
Darwinex Investors Demo Account Features
The Darwinex demo account, like many other forex demo account, comes with 10,000$.
The account is exclusively in dollars, so it can't be tested with other currencies.
All the features, tools functions, and values in your demo account are the same you would have in a real Live Account.
Resetting the Darwinex Demo Account
In case you have spent your 10,000$ but would like to keep on testing the platform, there's no need to open a new demo account, you can simply reset the one you have.
To do so, click on the bottom black bar with the main portfolio data.
A control panel of your Darwinex Portfolio will be displayed.
Click on the reset button, confirm the action, and it's done.
In this tutorial we'll see how to open a simple Darwinex Demo Account for Investors.
If, on the other hand, you'd like to register as a trader, you might be interested in our tutorial for opening a Darwinex Demo Account with MT4 or MT5.
Opening a Darwinex Demo Account Tutorial
First, you should open the investor's registration page.
You'll get to a page prompting you to choose whether you want to open a Trader or Investor account.
Click on the bottom choice, Investor.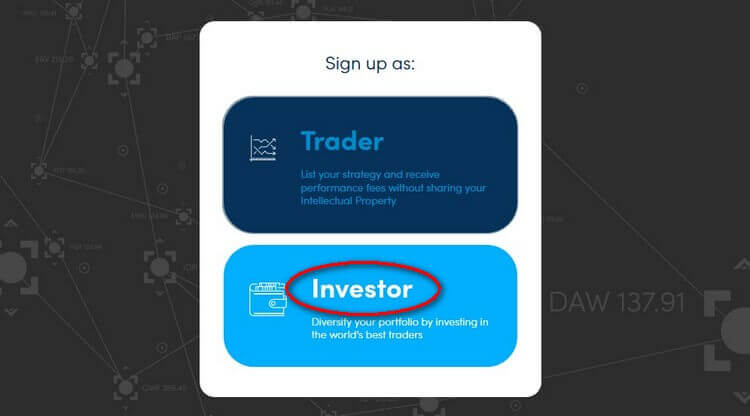 Fill in the form choosing a Username and providing your email address and a password.
WARNING: as mentioned, be careful when choosing your username, changing it later isn't possible.
Then, click on Sign Up.
You'll be sent to your new Darwinex Demo Account for Investors, but you'll have to verify your email address first.
Open the email address you have provided and check your mail to find the verification email Darwinex sent you, look through the Spam folder as well if you can't find it right away.
Open the email and click on the link to verify your email address.
Your Darwinex Demo Account is now ready.
Would you like to find out how to use it at its best? Read our complete guide for Darwinex and our Darwinex review.
To sign back in after you've logged out, just login from this page: Darwinex demo login.
---
How to Open a Darwinex Demo Account
Related Guides
Keeping you better informed
Find and compare the best


Online brokers for you