Are you trying to understand when eToro USA will finally be available for US clients?
Well done.
Here you can find all the answers, including an eToro USA review and all the differences from the EU version (which you can discover and compare in our original eToro UK review).
Keep reading.
… and if you are a US client, you can already sign up with eToro.
eToro USA LLC; Investments are subject to market risk, including the possible loss of principal.
Virtual currencies are highly volatile. Your capital is at risk.
eToro is the worlds leading social trading platform. The multi-asset brokerage, formed in 2007 now offers social trading and brokerage service to millions of traders, across a diverse range of markets including forex, stocks, commodities, and cryptocurrencies. The company has operations across 140 countries worldwide, and is now adding the United States to that list of countries.
The introduction of such a globally respected name in the social and copy trading industry represents exciting times for the millions of customers in the U.S. market who are eager to begin trading with this new investment platform.
Here we will review what you have to look forward to as eToro takes on the stateside market.
eToro USA App for Social Trading USA
eToro is a global power within the social trading sector.
This is exemplified through the sheer number of markets within which they offer trading to users in other countries. The platform takes on a very user-friendly look of a social network, enabling users to easily view the trading statistics and data of other traders. Using the proprietary CopyTrader technology also enables users to measure the performance of other traders and replicate their trade moves in real time.
Having this detailed insight into the performances of those around you and knowing which traders to copy, gives a huge boost to users on eToro and almost entirely removes the need for prior knowledge in trading. This is an ideal scenario for first time introduction to the United States with the barriers to entry completely removed.
As well as ease of accessibility, eToro USA will offer the same high levels of transparency which it does all over the world to ensure the most secure trading activity and sense of security to its user base.
eToro USA review
The introduction of eToro to the United States market is one which many traders have been anticipating with a sense of excitement.
So, what does eToro have to offer its American traders?
From the outset, although this broker offers one of the most diverse ranges of trading options in CFDs, forex, commodities, stocks, and indices through the eToro UK entity, eToro USA will begin with its focus solely on cryptocurrencies.
eToro USA LLC; Investments are subject to market risk, including the possible loss of principal.
Virtual currencies are highly volatile. Your capital is at risk.
Available Cryptocurrencies on eToro USA
To begin, the social trading platform will offer a total of 14 digital currencies for trading.
These will include the major market crypto assets such as Bitcoin, and Ethereum, together with a host of other market leading cryptocurrencies.
The Introduction of Managed Portfolios
Although the initial focus will be on cryptocurrencies at eToro USA, this provides the team a chance to perfect the most comprehensive offering possible for users from the very beginning. This offering will include access to the eToro Crypto CopyPortfolio.
This is a portfolio of cryptocurrencies which are chosen and managed by the professional at eToro as opposed to other traders on the platform. This service has been very popular with users in other countries and features no additional management fee, making it the ideal investment vehicle for those who are new to cryptocurrencies and trading in general.
Many Features to be Made Available
Beyond the initial practice account which makes a virtual $100,000 available for trading on the platform, many of the features such as copy trading and use of real accounts remain closed until the firm's final launch has been completed.
eToro USA users though can expect the same simple, safe, and social investment platform for trading that has mad the company one of the world leaders in social trading for more than a decade.
eToro Fees
Presuming that eToro follows the same structure as it does in other markets, there will be a minimum deposit amount of $200.
In relation to spreads, these range from 0.45% up to 2.90% on the cryptocurrency markets offered by eToro. There is also a minimum withdrawal amount of $50 and a withdrawal fee of $5, although much of this is yet to be confirmed for the U.S. offering of the platform.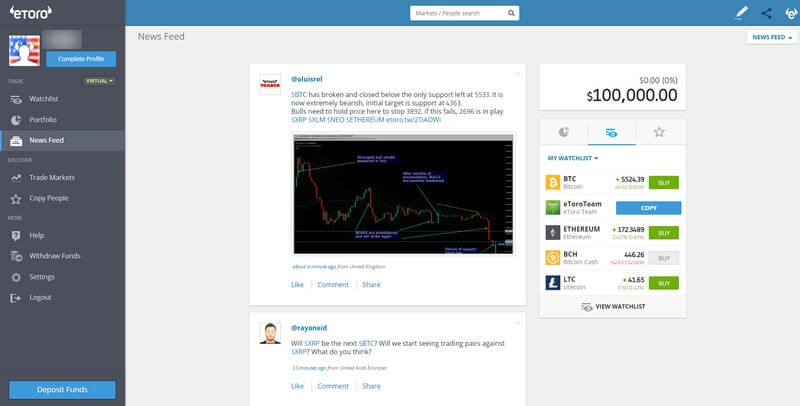 eToro USA FAQ
With eToro introducing social trading to the United States, there are many questions about their offering. This represent an excellent learning opportunity and a chance for many traders to accumulate a more diversified portfolio.
eToro USA LLC; Investments are subject to market risk, including the possible loss of principal.
Virtual currencies are highly volatile. Your capital is at risk.
Here are a few key questions and answers on the company and its big move:
– Why eToro is not available in USA? Why Can't I use eToro in USA?
eToro is currently unavailable in the United States together with a number of other broker platforms due to strict SEC regulations in the country. These regulations include a block on retail clients trading in CFD instruments.
Because the landscape is always changing though, eToro is working hard to comply with all of the regulatory issues and launch its platform in the U.S. very soon.
– When will eToro be available in USA?
It is not precisely clear when the platform will be available for use with real accounts, although CEO Yoni Assia has worked to assure users the platform will be made available soon, one the company have managed to become perfectly compliant with all of the SEC regulatory requirements.
In the meantime, traders can join the waiting list and use the eToro practice account in its full capacity to trade in 14 cryptocurrency markets with a virtual $100,000 at their disposal.
– Can I use eToro in USA? How to use eToro in USA?
Using eToro in the USA could not be easier. To get started, visit the eToro website and complete the very simple sign-up process. This requires just a few of your basic personal details.
Once you have confirmed your email address, you are free to start trading within the virtual eToro account whilst the fully functioning real money social trading account is preparing for launch. Once the real money platform is fully launched, you can begin trading with your own funds after confirmation of some documents for AML purposes. These will include your ID, SSN, and proof of address documents.
eToro USA iPhone App and Android App
As in the other 140 nation where eToro operates, American traders will have the opportunity to download the eToro application for both Android and iOS enabled smart devices.
These apps are both very intuitive to use, receiving mostly positive reviews within both app stores, and allow the traders complete control over the functionality and trading within their accounts.
From the Applications, traders can monitor the markets of the crypto assets which the platform offers, as well as being able to action trades and enable copy trading from their mobile devices.
eToro for Cryptocurrency USA
eToro has been involved in cryptocurrency globally for many years, helping its traders invest in cryptocurrency to enhance their portfolios. In the USA, from the outset, the company will focus primarily on cryptocurrency trading. They will offer 14 major cryptocurrencies for trading to compete with any of the biggest cryptocurrency exchanges in terms of fees and commissions.
They also plan to offer a range of managed Crypto CopyPoryfolios which will be made up of the best performing market cryptocurrencies, overseen and managed for maximum return by the professional team at eToro.
eToro USA Practice Account
To download the eToro app to your mobile or smart device, simply follow the links to the relevant app store for your device and the download is both fast and easy with minimal personal information required on sign-up.eToro iOS App
Signing up online to use eToro and begin trading your virtual $100,000 on the markets top cryptocurrencies whilst joining the waiting list to become part of one of the world's thriving social trading platforms also could not be easier.
Head to the eToro website.
Register via your Facebook, Google, or by inputting your name, username, email address, and password as requested.
Verify the link which is sent to your email address.
It really is as simple as that. From there, you can login to your new account, join the waiting list for a real $USD account, and begin trading in $100,000 of virtual currency whilst personalizing all of your settings.
eToro USA alternative
When it comes to alternative means of social trading for those located in the United States who cannot wait for the launch of eToro, then ZuluTrade presents the best option.
Although the Zulutrade service in the United States is still heavily restricted, it is one of the only social trading platforms available to mainstream traders, at least until the launch of eToro, and sign-up is free.
eToro USA LLC; Investments are subject to market risk, including the possible loss of principal.
Virtual currencies are highly volatile. Your capital is at risk.
---
---
Keeping you better informed
Find and compare the best


Online brokers for you