Interactive Brokers Demo Account: Opening & Key Information (2023)
Interactive Brokers offers a demo account for risk-free trading and the InvestinGoal team will guide you through the opening and features of the demo account.
We have examined every detail of the Interactive Brokers demo account offered to its traders.
Main features of the Interactive Brokers demo account:
Unlimited
Free to open
Easy to open
Good range of trading platforms to try
Round-up
| Interactive Brokers demo account | Characteristics |
| --- | --- |
| Demo available | Yes |
| Trial duration | Unlimited |
| Demo platforms | IBKR GlobalTrader, Client Portal, IBKR Mobile, Trader WorkStation, IBKR API |
| Virtual money amount | $1.000.000 |
| Customizable features | Yes |
Visit Interactive Brokers
(74-89% of retail CFD accounts lose money)
Interactive Brokers demo account opening tutorial: step by step procedure
Here is a complete step-by-step look at how to get your Interactive Brokers demo account up and running.
Step 1: Visit the Interactive Brokers' website
A demo account, also known as a 'Paper Trading Account' is an ideal place to get started whether you are new to a broker or to trading. With IB, simply head to the broker's website to get started.
Once you are there you will find a "free trial" button at the top of the page. Once clicked, you will be taken to the demo account information page. Click "free trial" again here to move on to the next step.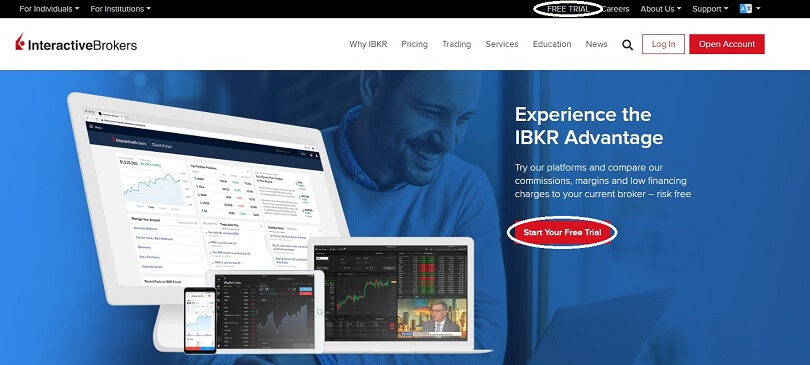 Visit Interactive Brokers
(74-89% of retail CFD accounts lose money)
Step 2: Fill the registration form
Opening a demo account you will not need much information at all. Just enter your email address and a valid telephone number to get going.
With a live account of course you will need a passport or ID, and a bank statement or utility bill to verify your account.
The next step is to complete the registration form. To do this, you will need to fill in your email address, name, choose a password, and select your country of residence.
You will also choose your marketing preferences at this point.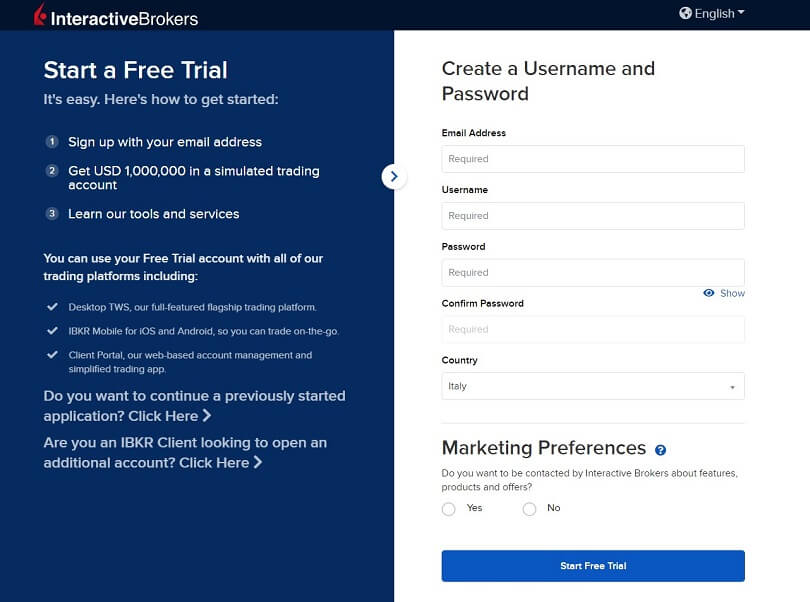 Step 3: Customize the demo account
With your information entered and the registration form complete, on the next page, you will be able to download the TWS platform. The platform is available for Windows, Mac, and Linux.
When you have it installed, the TWS icon will be on your desktop. If you have any issues then a tutorial page will open that you can follow to finish downloading.
Besides being able to choose the Desktop TWS, the full-featured trading platform, which you can download directly from the site, you can also choose the Client Portal, web trader trading app, and account management. You will not need to complete a download for these.
On mobile, you will have access to IBKR Mobile, available both for iOS and Android, and the IBKR APIs, a platform where you automate your trading or create your own custom trading solution using their own APIs.
Step 4: Verify your profile
You will receive an email from Interactive Brokers with your login details. You will also find a link to confirm your trading account.
Click on the link to verify your account and start trading.
Step 5: login into the demo account
In the Login box that appears, click the link in the top right corner that says "No username? Try the demo" and enter your email address.
Interactive Brokers' demo account features
With your demo account opening complete, here is a closer look at the key features and questions you may have about the account itself.
The free trial demo account offered is a margin account by default. You can learn more about this by reading our Interactive Brokers account types guide.
A demo account with Interactive Brokers has several benefits. First off, you will be trading risk-free. You will have a large amount, $1,000,000 in virtual funds to try out trading and the broker features.
This gives you access to all trading tools and platforms. IB provides top-notch trading tools and platforms, so you'll be trading within an excellent environment and have access to market data on all products too.
When you are ready, you will then easily be able to transition to live trading.
IB is also one of the most highly-regulated brokers in the industry. They have top-tier regulations in place from several bodies including the FCA, ASIC, FSSC, and also SEC and CFTC in the USA.
Differences between live and demo Interactive Brokers accounts
The main difference between this demo account and a live account, as with any broker demo account, is that the funds traded are virtual and essentially without risk of real financial loss.
Another key difference is that slippage does not occur on a demo account, though it can happen at volatile or high-volume times on a live account.
The demo account trial is fully unlimited. The only time the account may expire is if you have not used it in a very long time.
Live accounts are unlimited and there are no inactivity fees to worry about, even if you don't open positions for a long time.
How to switch to a live account
When switching to a live account, you will still get the possibility to use your Interactive Brokers demo.
To open a live account you will need to provide a proof of your identity (Passport, ID or Driver License) and a proof of your residence (Bill utility or bank statement) to get verified.
Depending on the country, the broker may ask you to fill a questionnaire about your trading experience.
As soon as your account gets verified, you can make the first minimum deposit into your Interactive Brokers account.
How to best use your Interactive Brokers demo account
Here is a look at some helpful tips on getting the best from your Interactive Brokers demo account:
Set up your Interactive Brokers demo account as you would set up a real account with platform, account currency, balance, account type and leverage
Do not open large positions if you are not planning to trade with large amounts of money
Treat money as if it were real, just like you were in a live environment
Practice daily
Interactive Brokers provides educational tools for their traders. Ensure to use these materials
Pros and cons of the Interactive Brokers demo account
Pros
Unlimited trial
Easy to open
Cons
Only one Paper Trading Account per IBKR account
---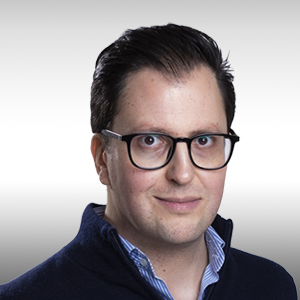 About The Author
Filippo Ucchino
Co-Founder - CEO - Broker Expert
Filippo is the co-founder and CEO of InvestinGoal.com. He has 15 years of experience in the financial sector and forex in particular. He started his career as a forex trader in 2005 and then became interested in the whole fintech and crypto sector.
Over this time, he has developed an almost scientific approach to the analysis of brokers, their services, and offerings. In addition, he is an expert in Compliance and Security Policies for consumers protection in this sector.
With InvestinGoal, Filippo's goal is to bring as much clarity as possible to help users navigate the world of online trading, forex, and cryptocurrencies.
Interactive Brokers Demo Account: Opening & Key Information (2023)
Related Guides
---