Oanda is an online private broker that provides financial trading services to traders and gives them access to sophisticated trading platforms and tools for speculating on price movements. This brokerage firm provides trading materials in form of videos, research materials, e-library, a demo account, and webinars.
Oanda demo offers many demo accounts, one for each type. If you're unsure which one to choose, we have written an in-depth Oanda Account Types guide where we suggest you check where each one is well-discussed. If you need an even wider overview of the broker's security features and more, check out our Oanda Review.
Oanda Demo Account Opening Tutorial
Step 1 – Getting Started with Your Oanda Demo Account
To operate an Oanda demo account, you need to register and sign up which is quite straightforward. Just log on to the Oanda homepage from your smartphone or PC and you will find a top menu bar where you will see CFD trading. From there, click on "Try demo", in the top right corner of the page and you will be asked for some information which you will provide to complete the registration.
Step 2 – Oanda Demo Account – What Documents/Information do you need?
The demo account requires very little information since it is a practice account and not a live account where real money is used for trading. As such you will need to provide only the following information:
A valid email address
A valid phone number
Basic personal information such as your full name, age, and gender. Once you have supplied this basic information, you are on your way to having an Oanda demo account.
If along the way, you feel you have learned enough as a result of practicing with the demo account and wish to open a real account, then some additional documents will be required such as an ID card or passport to prove your identity and confirm your name. Another important document that will be required for you to open an Oanda live account is a bank statement which is needed to confirm your address or place of residence.
Step 3 – Fill in the registration form
This is the next step as you will be taken to a page with the registration form which has to be filled. Start by selecting the country you live in and then input your email, a new password, and a username. Then fill in your name and phone number as well as any other required information to complete the rest of the form.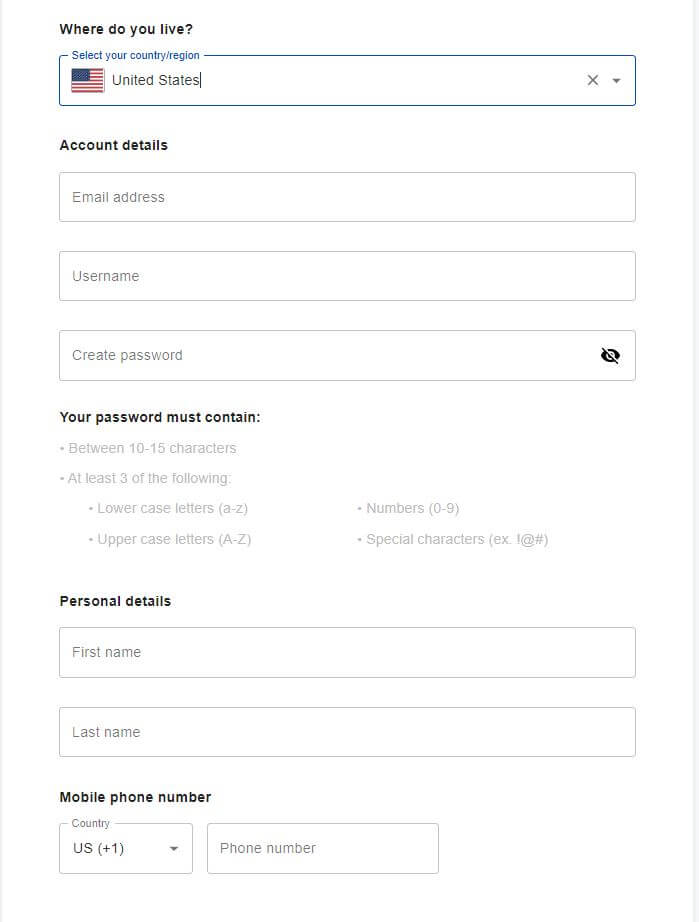 Step 4 – Confirm the account via email/telephone
Once the form has been filled, the next thing is to submit it after which you will get a confirmation mail with your account details. Click on the confirmation link and log into your account.
Step 5 – Logging into the demo account for the first time
Once you log into the demo account for the first time, you'll see different options that you can use to start demo trading such as opening the Oanda web trader, downloading MT4, or Oanda's proprietary platform. Any of the options is good enough to get you started and you can always manage your account from the homepage of your profile. You can check the progress of the trades, account balance, and other necessary information about your account from the homepage.
Step 6 – Choosing Your Oanda Demo Account Platform
Oanda offers the following trading platforms:
MetaTrader 4 (web trader is not provided) which can be used to trading Fx currency pairs.
Oanda Trade Platform (available in both desktop and web trader version) and one advantage of this particular platform is that it allows you to manage your Oanda demo account with ease from your browser.
Oanda Mobile Platform which can be accessed from your smartphone anytime and anywhere
Oanda Demo Account Review
What Types of Oanda Demo Account are Available?
With Oanda you'll be able to demo trade with the Standard account; it has all the markets and assets Oanda offers. This will help enhance your feel of the real market and boost your understanding of the relationship between market conditions and margin of profit or loss.
Oanda also offers the following accounts listed below, but there's no demo available for them:
Oanda Premium Account (targeted at experienced traders and corporations)
Oanda Core Account (exclusive to traders based in Australia and it is regulated by the ASIC
Oanda Spread Betting Account (reserved for traders located in the United Kingdom and Ireland)
Oanda Demo Account Features, Restrictions, and Differences with Live Account
The demo account provides the same experience as real accounts, but risk-free, since the money traded in demo accounts is virtual. This way, the trader gets real knowledge without having to lose their money for it. The lessons and skills needed to be a successful trader are acquired by practicing diligently with a demo account.
While slippage can happen during live trading, it cannot occur while trading with a demo account. Slippage is the difference between the expected price of a trade and the actual price at which the trade gets executed which can occur due to varying market conditions.
With the experience gained from trading with a demo account, along with the skills and knowledge acquired, you can then decide the kind of live account that suits you depending on your location and the kind of assets you want to trade in.
Advantages of Trading with an Oanda Demo Account
With Oanda you will be trading with a regulated and trusted broker. This regulation helps to maintain the integrity of the broker while building your trust in them as a trader.
Of course, you can test your abilities and strategies before using them in live trading, without any lutely no risk involved as you don't have to invest any real money just yet. It is just a practice account. Moreover, Oanda is one of the brokers offering unlimited demo accounts.
Oanda Demo Account Management
Oanda Demo Account Expiring time
The demo account never expires, even in case of inactivity. No matter how long the period of inactivity, there is no expiration date on the demo account which means you, as a trader can come back to it anytime to test new strategies that you might come across in your forex trading journey.
Oanda Demo account reactivation
If you happen to lose or forget your login credentials, you can click on "forgot username or password?" at the login page after which you will be sent an email with instructions to recover your password or username. And once that is done, you can get back to using the demo account again.
---
74-89% of retail CFD accounts lose money
About the Author
Filippo Ucchino
Co-Founder - CEO - Broker Expert
Filippo is the co-founder and CEO of InvestinGoal.com. He has 15 years of experience in the financial sector and forex in particular. He started his career as a forex trader in 2005 and then became interested in the whole fintech and crypto sector.
Over this time, he has developed an almost scientific approach to the analysis of brokers, their services, and offerings. In addition, he is an expert in Compliance and Security Policies for consumers protection in this sector.
With InvestinGoal, Filippo's goal is to bring as much clarity as possible to help users navigate the world of online trading, forex, and cryptocurrencies.
---
Keeping you better informed
Find and Compare the Best


Online Brokers for You