ZuluTrade Live Account: Opening & Key Information (2023)
Ready to finally take the final step, and upgrade from a demo to a live ZuluTrade account?
Here is a simple and detailed tutorial to open a Live ZuluTrade Account:
Making no mistakes, one step after the other, with illustrations
Getting a bonus on your first deposit
And choosing the best broker for your needs
How to open a ZuluTrade Account Tutorial
First of all, let's get something straight. ZuluTrade is not a broker.
ZuluTrade is a platform which stands in the middle between Broker Followers, and Signal Providers, connecting them (this is all explained better in our detailed ZuluTrade guide). So, you won't be opening a live account with ZuluTrade, you will be opening one with a true and proper Broker, then you'll choose to use ZuluTrade as your Trading and Copy Trading platform.
This also means that ZuluTrade won't be keeping your money, a separate broker will.
Options when opening a ZuluTrade Live Account
There are several options and modes you can use to open a real ZuluTrade account. The main choices are:
The broker
The type of account, either Classic or Profit Sharing.
It should also be pointed out that if you want to use the Profit Sharing account type, the only available choice as broker will be AAAFX. If, on the other hand, you prefer the Classic account type, then you'll be able to choose among several other brokers.
WAIT!!!
Don't go open an AAAFX account just yet, in a while I'll give you a promo code, explaining how to get a BONUS on your first deposit.
What are the difference between the different account types on ZuluTrade?
In simple terms, the difference is in the way you want to reward the Signal Providers from which you receive the automatic signals:
With the ZuluTrade Classic Account you will pay the Signal Provider with a small fee for each copied operation, and the payment will be taken from the spread you pay when opening each transaction. As a result, the spreads applied to your trades will be a little higher than average;
With the Profit Sharing Account, you will not pay for each transaction, decreasing the spreads. The Signal Provider will be rewarded monthly with 20% of the profits you have earned, only if you have actually earned profits during that month (the High Water Mark method).
Our preferred choice is the Profit Sharing account, as it offers a better situation to invest in. We discuss this better in our ZuluTrade Profit Sharing analysis.
What is the best broker for ZuluTrade
The best broker to open a ZuluTrade live account with is definitely AAAFX.
WAIT!!!
Don't go open an AAAFX account just yet, in a while I'll give you a promo code, explaining how to get a BONUS on your first deposit.
However, why is AAAFX the best broker for ZuluTrade?
There's a simple explanation. ZuluTrade is the direct owner of AAAFX. Therefore, it's clear that operating ZuluTrade with AAAFX is substantially better than using other brokers, however valid they may be.
We've talked about this topic in a dedicated post. You can find the post here is you want more details. Click here: Best ZuluTrade Brokers
ZuluTrade Live Account – The two main paths
There are to main options to start working with a ZuluTrade live account:
you can check if the forex broker you already have is a ZuluTrade partner, and in case connect it to the platform
or you can start from scratch, opening a new account with one of the supported brokers, including AAAFX
Let's see both options
Do you already have an account with a broker which accepts ZuluTrade?
You can find the complete list of ZuluTrade broker partners here: ZuluTrade Complete Brokers List If your broker is on the list, then you wouldn't need to open another account, as you can use the account you already have.
On the top, click on Classic Account
Click on the Select button corresponding to your broker, for instance FXCM UK
On the next screen, when prompted with the question "Do you have an account with FXCM UK?" Select Yes, enter your account number, and click Continue
Continue following the instructions according to your broker
Don't have an account with ZuluTrade or any other broker, and need to start from scratch?
If you don't have an account and need to open your ZuluTrade Live Account from scratch, then you can follow this tutorial. As mentioned earlier, if you want to choose the Profit Sharing mode, the only Broker you can choose is AAAFX, which is the best broker for ZuluTrade anyway.
If you want a Classic mode account, then you can choose AAAFX or any other broker as well. We prepared a tutorial based on your choice:
Profit Sharing Mode
AAAFX Broker account
Tutorial: Opening a ZuluTrade Account with AAAFX
Here is how to open a ZuluTrade Live account with AAAFX, explained step by step.
PHASE 1 – Entering the email address and creating the account
To begin the procedure to open a ZuluTrade Live Account (Your capital is at risk when trading CFDs), follow these steps.
At the bottom of the page, you'll find the form to fill in with the first data to start the procedure. Be sure to select Live Account and not Demo Account.
If you already have a Demo account and want to turn that one into a Live account, then all you have to do is enter your demo account and click the Open a Live Account button on the home screen. You will be prompted with the form to confirm your data to open the Live account. Fill it in and continue.
PHASE 2 – Confirming the email address
After having filled in the form, you will receive an email to confirm your email address. Open the email and click on the link.
PHASE 3 – Opening the account and AAAFX PROMO CODE
Once the email address will have been confirmed, and once you have logged in to your account, ZuluTrade will report a missing passage to open a live account.
That is, the selection of the Type of Account (whether Classic or Profit Sharing), and then the creation of the account with AAAFX. Click where indicated to continue with the procedure.
Set up as shown in the image and click "Select".
You will be redirected as per picture. Accept the terms and continue to switch to account opening with AAAFX.
You will be redirected to the account opening page at AAAFX. The main data will already be displayed. What you need to do, is click on "Do you have a promotional code?" and enter it.
Here is your promo code: 1288530
Copy and paste it inside the box. Then, click on RECEIVE THE VERIFICATION CODE. You will immediately receive an email from ZuluTrade with a small code to copy and paste on the page to confirm it.
Make sure to check the box at the bottom of the page to accept all the Terms and Conditions, then click CONTINUE.
PHASE 4 – AAAFX Trading Account Information
You will reach the page where you will have to choose the technical features of your account.
ACCOUNT CURRENCY: your choice. We always prefer using dollars for the accounts, as trading forex they make several calculations run much faster. However, make sure you can receive payments in dollars. Otherwise choose Euro, especially if you are an EU resident, or other currencies, as you are most comfortable.
ACCESS PLATFORM: If you want to use ZuluTrade to invest in copy trading, like most people do, simply select "ZuluTrade". The other options are mostly for Signal Providers.
AUTO-TRADING PROGRAM: this choice is important and changing it won't be possible later. As mentioned earlier, ZuluTrade supports two methods of compensation for Signal Providers. Our favourite method is Profit Sharing, which allows you to manage your entire investment activity as if it were a sort of real investment fund.
ISLAMIC ACCOUNT: in case you are Islamic, here you can choose to request an Islamic account, without Swap.
Once you have entered this data, you can decide whether to go deposit funds, or to fill in the questionnaire
PHASE 5 – AAAFX Questionnaire
It is extremely important to properly fill in the questionnaire. Some users sometimes "complain" about the questions of financial nature, such as their annual income.
To clarify the issue, brokers are obliged by European regulations to ask all those questions, with the aim of increasing the safety of users themselves. Questions are asked in your interest and for your safety.
In any case, for the same regulations, your sensitive data is protected, and the broker cannot transfer it to anyone under any circumstances.
So, take your time and complete the questionnaire, giving true and correct answers. Once finished, check the necessary boxes and click "Send".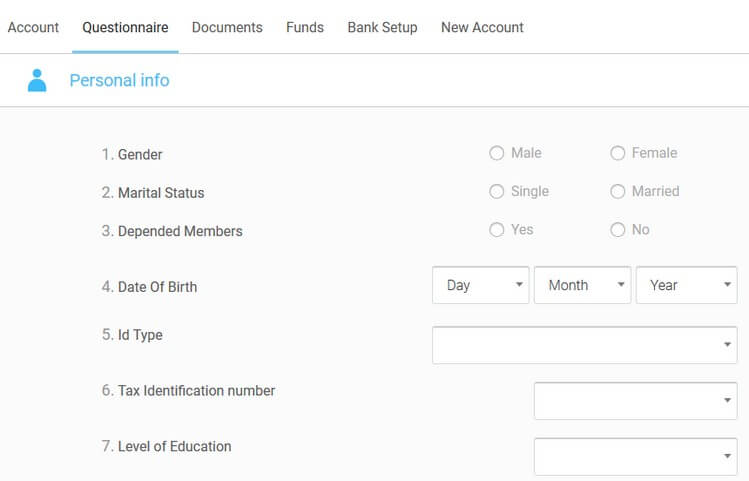 PHASE 6 – Uploading Documents
To open a live AAAFX account you must also upload some documents (as with all regulated brokers). In this case they will need two documents:
Proof of identity, front and back (ID card or passport)
Proof of residence (bank or card statement, bill, etc.)
All uploaded files should be 4MB maximum. The accepted formats are PDF, JPEG, JPG, GIF and PNG. TIP: you do not need a scanner, just use your smartphone's camera.
PHASE 7 – Depositing Funds on AAAFX
The last part concerns depositing funds. Once the deposit has been made, AAAFX will begin the complete verification procedure and, if everything is in order, you should have your account ready and operational within 1 or 2 days (depending on the chosen deposit method).
At that point, your ZuluTrade Account will be 100% operational as well.
ZuluTrade Minimum Deposit with AAAFX
The ZuluTrade minimum deposit to open an account with AAAFX depends on the currency chosen for the account. The minimum deposit can be of $300, €250, ¥35,000, £200, Fr250, AUD 370 and BGN 500.
Deposit Methods with AAAFX for the ZuluTrade Live Account
There are several deposit methods to open an account with AAAFX:
Credit card
Bank wire
eWallet (Skrill, Neteller)
ePayments (Giropay, EPS, DirectPay24, Teleingreso, iDeal, Przelewy24, QIWI)
…And even BITCOIN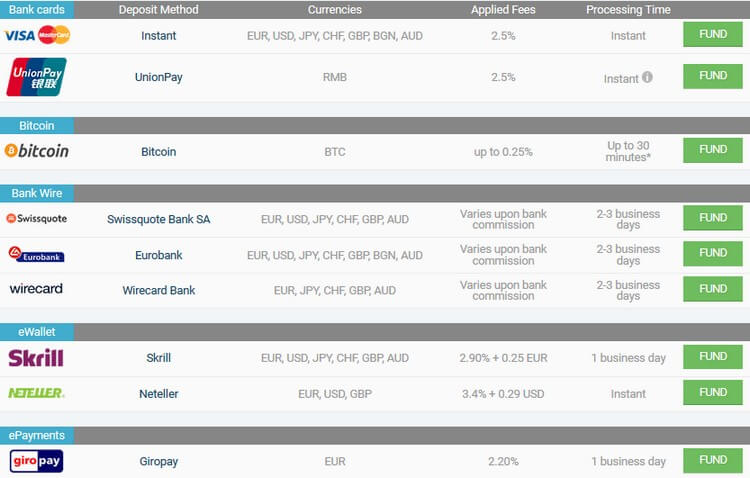 AAAFX Islamic Accounts
Yes, AAAFX allows the opening of Islamic accounts that respect Islamic jurisprudence (Faqih).
10% ZuluTrade Bonus on the first deposit with AAAFX
By opening a ZuluTrade live account with AAAFX you can also get a 10% bonus on the first deposit, for up to a maximum of 3,000 USD. The promotions are unfortunately not always available, even if they are repeated several times during the year.
You can check here: AAAFX Bonus Info. The image below represents the bonus brackets.
NOTE: Users are often confused and do not fully understand what a first deposit bonus is and how it can be used. Many users thought they could deposit the money, receive the bonus, and then immediately withdraw everything, including the bonus, getting an effortless profit.
It's not how this works. The bonus will be reserved on the user's account once the deposit has been made, but it will actually be released and credited to the account only when the user has reached a milestone. The milestone is simply a total volume of performed live operations.
UNBLOCKING BONUS EXAMPLE: to reach a volume of 10 lots with EUR/USD operations you must open (or copy) 10 trades from one lot each, or 100 trades from 1 mini lot each, or 1000 trades from 1 micro lot each. Only then, will the bonus be unlocked.
---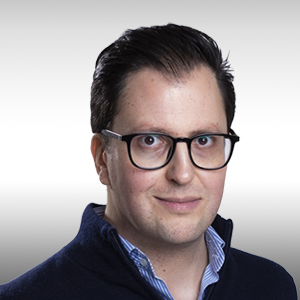 About The Author
Filippo Ucchino
Co-Founder - CEO - Broker Expert
Filippo is the co-founder and CEO of InvestinGoal.com. He has 15 years of experience in the financial sector and forex in particular. He started his career as a forex trader in 2005 and then became interested in the whole fintech and crypto sector.
Over this time, he has developed an almost scientific approach to the analysis of brokers, their services, and offerings. In addition, he is an expert in Compliance and Security Policies for consumers protection in this sector.
With InvestinGoal, Filippo's goal is to bring as much clarity as possible to help users navigate the world of online trading, forex, and cryptocurrencies.
ZuluTrade Live Account: Opening & Key Information (2023)
Related Guides
---