Looking for a new top forex broker?
There are many AvaTrade account types and categories for you to choose from.
This, along with their reputation as a well-regulated, top forex broker, should help you consider them among your choices for your first or even next forex demo account.
Anyway, regardless of whether it is your first time to trade or not, one of the best places you can start with AvaTrade, as with any other broker, is opening an AvaTrade demo account.
Now opening a demo account with AvaTrade (maybe after reading our AvaTrade review) is not a complex or difficult task by any stretch of the imagination. Nevertheless, we have compiled a thorough AvaTrade demo account opening tutorial to help you along.
AvaTrade Demo Account Opening Tutorial
This should cover you in each step of the process and make it a total breeze to get your demo account up and running, so here we go:
Step 1 – Getting Started With Your AvaTrade Demo Account
Getting started with your AvaTrade demo account is similar to that of any of the other best forex brokers demo account, and the first steps are rather elementary, particularly if you have prior experience with similar demo account opening procedures. Our AvaTrade review also covers everything in depth.
The very first thing you should do is head on over to the AvaTrade homepage. (AvaTrade.co.uk for UK based traders, and AvaTrade.com for others). Anyway this should direct you to the relevant homepage for your jurisdiction.
Here you should be greeted with a landing screen as you can see below. Simply click on the "demo account" button to get started.
Step 2 – AvaTrade Demo Account – What Documents/Information do you Need?
Signing up for an AvaTrade demo account requires relatively little by way of information. The only things which you will need in the early stages are as follows:
A valid email address which you can confirm.
A valid telephone number which you can also confirm if required.
When you move to opening an AvaTrade live account, you will require more information in the form of documents like a valid identity and proof of address document. For the moment though all you will need is your very basic personal information to get started with the AvaTrade demo account.
Step 3 – Fill in registration form
Once you have clicked the "Open Demo Account" button on the homepage, you will next be directed to a popup screen with a short and simple registration form as shown below.
You have the option on this screen of signing up automatically through your Facebook or Google accounts using your registered information with these accounts.
Step 4 – Confirm the account via email/telephone
When opening an AvaTrade demo account, it is no always necessary to confirm your email address right away. Once you have completed the quick signup process, you will be directed automatically to your demo account dashboard.
Your login information will be emailed to the address you provide though and this information includes you password which will be needed for future login. It is therefore vital that you provide a valid email address. It is also likely that you will receive a call from one of the AvaTrade team soon after registration to welcome you on board.
Step 5 – First login into the demo account
On your first login to the broker, you will be greeted by your account dashboard as we have shown in the image below.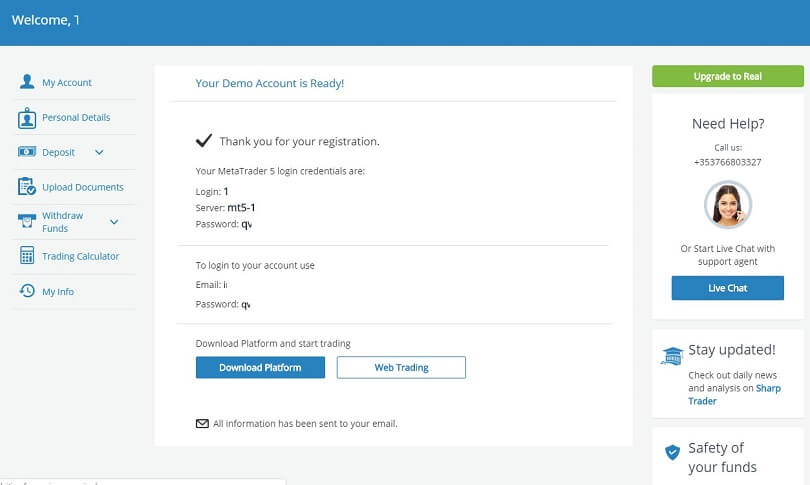 Here you will note a range of choices available to you through your AvaTrade demo account. This includes options available in the left side bar to view your personal information, deposit funds (real account upgrade required), and others.
Ultimately, the next button you will likely click is to download your AvaTrade demo platform, or launch the Webtrader and start placing demo trades.
Step 6 – Choosing Your AvaTrade Demo Account Platform
The final step toward really getting started trading with your AvaTrade demo account is to select your trading platform. This can be done through your account dashboard as shown above. Here you can select and download and of the available AvaTrade platforms in your region.
This includes AvaTrade MT5 and the AvaOptions platform where available as well as MT4 and the Webtrader which can also be accessed in the same location. You should have also received an email like the one below which confirms your registration and provides you with your platform login details.
From this point, once you have downloaded or accessed your AvaTrade demo platform, you should be good to go in-terms of trading.
AvaTrade Demo Account Review
Now that you have registered your AvaTrade demo account, downloaded your chosen trading platform, and hopefully gotten to grips with how the platform works, let's take a look at some of the finer details and features which you can access through your AvaTrade demo account.
What Types of AvaTrade Demo Account are Available?
Through completing the AvaTrade demo account opening process, you will have access to a slightly different account type depending on your region. This is a necessity since the broker is regulated in 6 jurisdictions overall, and within the EU they must remain compliant with ESMA regulations.
If you are based in the EU you will be able to access the AvaTrade retail account. This account features a leverage of 30:1 and negative balance protection although you do not have to worry about it in this case, since your AvaTrade demo account is funded with $100,000 in virtual funds only.
If you are located outside the EU and ASIC overseen areas, when you complete AvaTrade demo registration, you will have access to an AvaTrade standard account which has an increased leverage of 400:1.
AvaTrade Demo Account Features, Restrictions and Differences with Live Account
The features of an AvaTrade demo account are much the same as you would find with an AvaTrade live account (for a broader look you might want to check out our AvaTrade reviews article). With a demo account, you can still trade all of the same assets, including stocks, commodities, major, minor, and exotic currency pairs, as well as indexes and ETFs under genuine market conditions. The only difference being that you are trading with virtual currency.
Each available feature with the AvaTrade demo account is also like for like with an AvaTrade live account. This is with the exception of special features within the professional or AvaTrade VIP accounts.
The AvaTrade demo account also remains available through every trading platform offered by the broker. It should be noted that if you are based in the UK, you can engage with AvaTrade Spread Betting and the DupliTrade platform.
The one difference which may occur when trading through a demo account instead of an AvaTrade live account is where slippage is concerned. This is the changing in an asset price within the period between order and execution. This can sometimes happen when the markets are moving during live trading, though it will not occur during demo trading.
Advantages of Trading with an AvaTrade Demo Account
There are a couple of major advantages you can feel when trading with an AvaTrade demo account.
Firstly, you will be trading with one of the best forex brokers. They are recognized and regulated around the world.
Secondly, you will have the advantage of choosing between all of the available trading platforms and webtrader of AvaTrade. Utilizing Metatrader platforms in this way not only helps to prepare you for trading with AvaTrade, but also a number of other forex brokers who use these well-known and respected trading platforms.
Ultimately, trading through an AvaTrade demo helps you to learn and improve your skills as a forex trader in a safe environment where you can experiment and develop prior to moving to an AvaTrade live account.
AvaTrade Demo Account Management
Now that you are all set up, there are a couple of remaining issues you may wonder about through the course of your demo account period with AvaTrade. Here we will help you address these points.
Expiring time
This is something which you have to be mindful of with many demo accounts. The AvaTrade demo account is no different. You will be under no pressure to trade during your demo period since there is no expiration time for inactivity. The account does however run out after 21-days. This period can be extended by contacting AvaTrade customer support or you can simply open another demo account.
If you are using the Duplitrade platform then the expiration period is 30-days.
Account and Password Restoring
There are two reasons why you may need to restore your account or password. In the case of your password, you may simply have forgotten it. This is more common than we like to admit, and absolutely no problem with the AvaTrade demo account. Simply click the button at log-in to say you have forgotten your password. You will then receive a link to your registered email which will allow you to create a new password and log-in.
If you cannot access your account, another reason may be that you AvaTrade demo account period has expired. This happens after 21 days (30 days for Duplitrade). In this case, you can contact AvaTrade customer support to extend the period, or simply create a new demo account.
---
74-89% of retail CFD accounts lose money
About the Author
Filippo Ucchino
Co-Founder - CEO - Broker Expert
Filippo is the co-founder and CEO of InvestinGoal.com. He has 15 years of experience in the financial sector and forex in particular. He started his career as a forex trader in 2005 and then became interested in the whole fintech and crypto sector.
Over this time, he has developed an almost scientific approach to the analysis of brokers, their services, and offerings. In addition, he is an expert in Compliance and Security Policies for consumers protection in this sector.
With InvestinGoal, Filippo's goal is to bring as much clarity as possible to help users navigate the world of online trading, forex, and cryptocurrencies.
How To Open an AvaTrade Demo Account
Related Guides
---
Keeping you better informed
Find and Compare the Best


Online Brokers for You