Making your choice as to which top broker you wish to trade with can be challenging.
For this reason, starting with a forex demo account is always a great first step.
So, you have decided to open an FxPro Demo account.
This is a great idea.
Opening an FxPro demo account will help you get to grips with all of the features the broker offers.
This is one of the many FxPro account types and categories available to you.
In order to help you get the smoothest start possible, we have created this complete FxPro demo account tutorial.
Together with our FxPro review, it should assist you in every step with how to open an FxPro demo account.
FxPro Demo Account Opening Tutorial
Here's the step by step procedure.
Step 1 – Getting Started With Your FxPro Demo Account
The very first place you need to visit when trying to open your FxPro demo account is the FxPro homepage. This should direct you to the relevant homepage for your region.
It can be a bit tricky to find the FxPro demo account opening buttons, but if you scroll about halfway down the page you will find them. They are located just below the heading, "Choose a platform that suits your needs."
From here, all you need to do is choose a platform type with which you would like to open your demo account. These choices are FxPro MT4, MT5, cTrader, or Edge account.
Once you have clicked the button for the platform type you want to open a demo account with as shown below, you will be directed to the next page to complete some simple registration information. We will show you more about this in step 3.
Step 2 – FxPro Demo Account – What Documents/Information do you Need?
As with opening any demo account with a top broker, you will need some basic information prepared in order to get started. With FxPro, they do place an emphasis on verifying your documents even during the opening of a demo account, though this is not absolutely required.
All you will need in order to open your FxPro demo account is your basic personal information together with your valid email address and phone number.
Step 3 – Fill in registration form
The next window you will see after clicking through from step one is the registration form. On the first screen, you will need just your basic personal information as is shown in the following image:
Once you have entered your country of residence, full name, email address, and created a safe password, you will go to the next step of the FxPro demo account registration.
Next you will be greeted with the first page of a multi-step registration form to complete.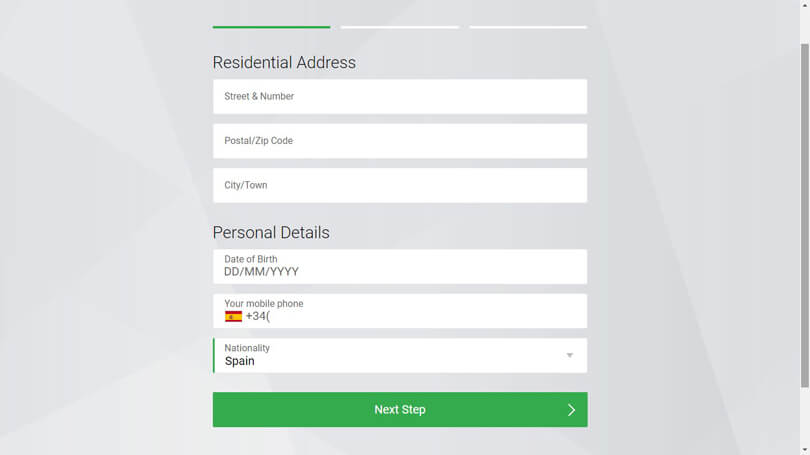 Enter the details requested here including a valid telephone number before clicking the green "Next Step" button to proceed.
The information you require becomes progressively more detailed and on the next screens you should enter the details as accurately as possible.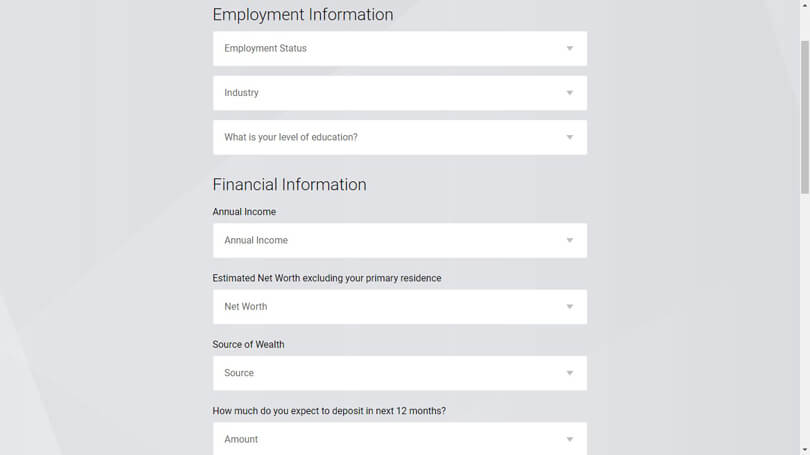 This information about your employment and income should be as close as possible to reality. Do not worry though, providing this information will simply help FxPro tailor their support and services to best meet your needs.
You will then proceed to answering a few questions about your trading experience if any, and to complete a few simple questions in relation to trading.
As a regulated and conscientious broker who are compliant with CySEC and other bodies rules and regulations, FxPro just want to ensure you are aware of all of the risks and issues which come with trading forex and other instruments.
Finally, you will have reached the final page of the registration form. Although it may seem a little long, this process really only takes a few minutes to complete.
Now you will have to select your preferred language and also check the boxes to confirm you have read and understand the terms and conditions of the broker. Once you have done this you can click complete and you are very close to being finished.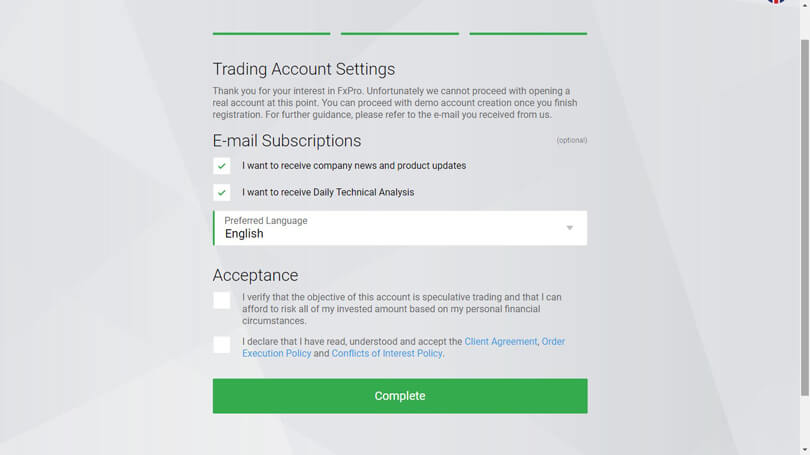 Step 4 – Confirm the account via email/telephone
The next step is to confirm your account with your email or telephone number. In fact, with the FxPro demo account, things are even easier.
You will receive the following email with your trading platform login information, but you do not need to confirm your email address to access your account dashboard with FxPro at all.
With this information you should be ready to login to your demo account on your chosen trading platform. You can then go ahead back to the homepage to perform your first demo account login.
Step 5 – First login into the demo account
On your first login with your new FXPro demo account, all you have to do is click login on the broker homepage and enter the email address you registered with, and the password which you created during the process.
Doing this should see you greeted with the following screen: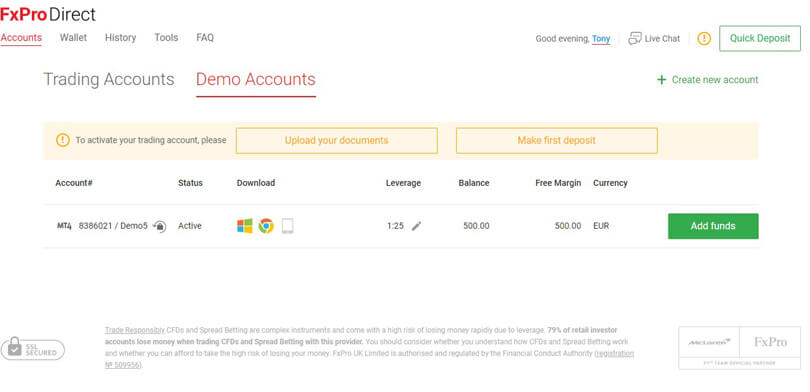 This is your dashboard. Here, as it is your first login, you should click on the "Demo Accounts" tab shown above.
You will then need to click "create new account". Once you do this, you will be presented with a screen which will lead you to platform selection and the final step.
Step 6 – Choosing Your Demo Account Platform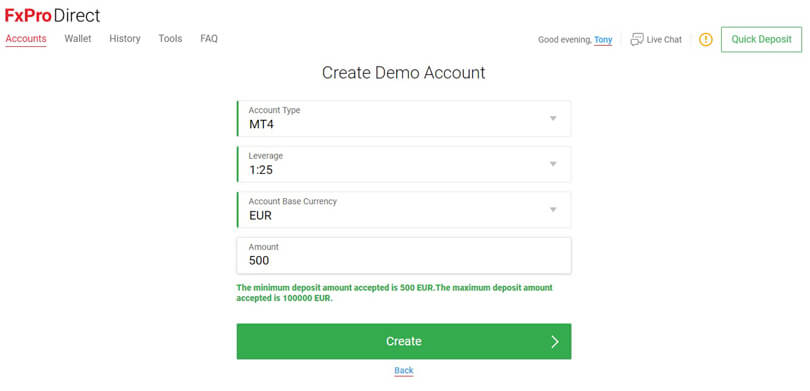 This is the screen you will be presented with after clicking "Create new account" in the previous step.
Here, you can select from the options of platform type between FxPro MT4, MT5, or cTrader as well as your leverage, base currency, and the amount of virtual funds to add to your account.
Once you are satisfied, click "Create". You will then see this demo account listed on your FxPro dashboard and you can proceed to platform download, and you are completely ready to start trading on your FxPro demo account.
FxPro Demo Account Review
Now that you have completed the process of opening your FxPro demo account, let's take a look at some of the demo account types and features which you can look forward to experiencing.
What Types of FxPro Demo Account are Available?
As we noted in step one of the tutorial, the first major choice which you have to make when opening an FxPro demo account is between an FxPro MT4, MT5, cTrader demo account, or an FxPro Edge demo account.
The important thing to note here broadly is that while FxPro MT4, MT5, and cTrader demo accounts are just as you imagine a typical trading account to be, with multiple asset classes to choose from, and a variety of ways to trade and execute order types, the FxPro Edge platform is focused on a single tap, spread betting form of trading.
The FxPro Edge platform is still in Beta stages and while it is available to all demo account users, it is only available in live format to those residing in the United Kingdom.
FxPro Demo Account Features, Restrictions and Differences with Live Account
It should be noted right away that this one with FxPro is among the best free demo trading account with a forex company you can get. You can definitely understand why by carefully reading our FxPro reviews article.
The FxPro demo account functions in a like for like manner with a live account. This means that all of the features which are present within a live account should also be available for you to experience within your demo account.
The obvious restriction and difference with having a demo account is that you are always trading with virtual currency. Therefore, even though realistic conditions are replicated and the data should remain the same, you will not be able to bank any real profits from your demo account.
Another difference you will notice between the FxPro demo account and a live account is related to slippage. This is the difference in the intended and actual execution price of a trade. Typically with demo accounts as with the FxPro demo account, there will be no slippage. This can however occur during live trading, particularly when the market is experiencing periods of fluctuation.
The FxPro demo account is also unlimited in the amount of time you can keep using it, and you can open multiple FxPro demo accounts (as many as 70 with MT4/MT5/cTrader).
Advantages of Trading with an FxPro Demo Account
There are a few major advantages to trading with an FxPro demo account before you move on to live trading with the broker.
Trading with virtual funds through an FxPro demo account means there is no-risk to your capital.
This demo account experience gives you a chance to become acquainted with the various trading platforms and available features of FxPro.
Thanks to the unlimited nature of the FxPro demo account, you can use them to test a variety of strategies prior to implementation within a live account setting.
FxPro Demo Account Management
These are a couple of points which may occur with your FxPro demo account, or generally when you open a demo account with many major brokers.
FxPro Demo Account Expiring Time
With some brokers you will notice that their demo account expires within a certain limited time period. Luckily this is not the case with FxPro. The FxPro demo account remains open for an unlimited period of time so long as you are actively trading. If you are inactive with the FxPro demo account for a period of 30-days though, it will be disabled.
Restoring Expired Demo Account
If your FxPro demo account was disabled for exceeding the 30-day period of inactivity, it cannot be restored. If this happens, you will need to open a new demo account with the broker.
Perhaps you may have accidentally deleted or closed your FxPro demo account?
If that is the case, then you can simply reopen a new demo account since the broker allows for multiple demo accounts to be open by each user.
---
74-89% of retail CFD accounts lose money
About the Author
Filippo Ucchino
Co-Founder - CEO - Broker Expert
Filippo is the co-founder and CEO of InvestinGoal.com. He has 15 years of experience in the financial sector and forex in particular. He started his career as a forex trader in 2005 and then became interested in the whole fintech and crypto sector.
Over this time, he has developed an almost scientific approach to the analysis of brokers, their services, and offerings. In addition, he is an expert in Compliance and Security Policies for consumers protection in this sector.
With InvestinGoal, Filippo's goal is to bring as much clarity as possible to help users navigate the world of online trading, forex, and cryptocurrencies.
---
Keeping you better informed
Find and Compare the Best


Online Brokers for You