In the following article we will be discussing how to open a CMC Markets demo account.
If you have already read our CMC Markets Review or any other in-depth guide on the broker, such as the CMC Market Account Types article, you may already know that this CFD provider offers a demo account.
But here, in this post, we will take a look at in from every point of view.
CMC Markets Demo Account Opening Tutorial
Step 1 – Getting Started With Your CMC Markets Demo Account
Firstly, you need to go to the CMC Markets homepage and once you are on the home page you need click the "Create account" or "Start trading" button. Following on from that, you will get different options to choose from, but it should be noted that these options are different for every country. For people who reside in the U.K. and Ireland you will be given an option to choose between spread betting or CFD trading. For those of you who are in Australia, you will be given an option to choose either stockbroking or CFDs. For people in the EU, you will be given an option between a CFD live account or a CFD demo account. These are some of the options that you may find when trying to open an account.
The spread betting option is only available in the U.K., Ireland and other other jurisdictions that allow it, but it is not available within the EU. However, in Australia, CMC Markets only offers the stockbroking account. When you join the platform you will be able to choose the demo or live version of your account right away.
Step 2 – CMC Markets Demo Account – What Documents/Information do you Need?
To open a demo account, it actually requires very little information. The only things you'll need are an email address, a valid telephone number and some basic information. Then whenever you feel like you are ready to open a real account, you will need to provide the following documents. An ID, such as a passport, and something to prove your address like a bank statement or utility bill.
Step 3 – Fill in registration form
The next step is filling in the registration form where you must choose your country and language. Once you have done that then you need to input your email and choose a strong password.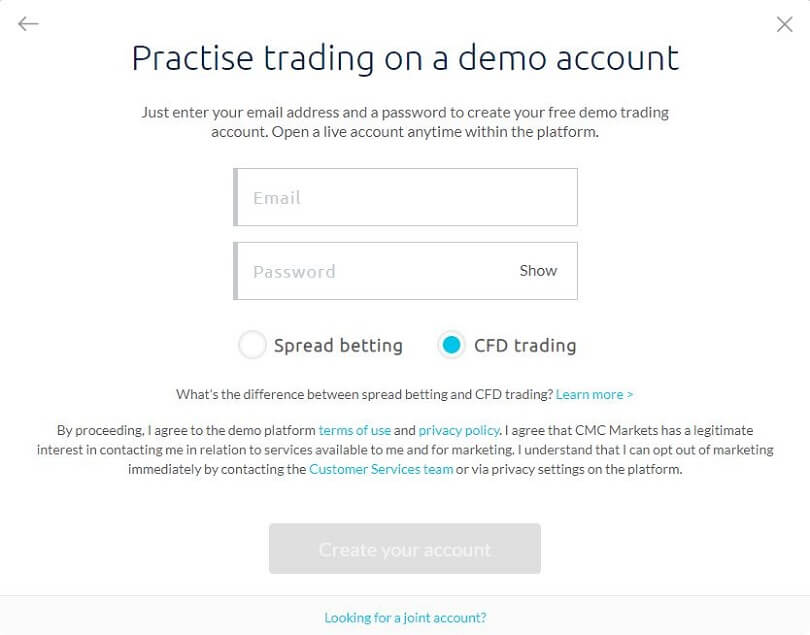 Step 4 – Confirm the account via email/telephone
Once you submit the registration form, you will get an email with your account information on it. Then you will be sent a code to verify your email address.
Step 5 – First login into the demo account
If you already have it or if you have just signed up on the platform, you can now actually start trading. If you don't, you can download the platform that you feel most comfortable to trade in. You can even open the web version.
Step 6 – Choosing Your CMC Markets Demo Account Platform
CMC Markets offer the following platforms for you to trade on:
MT4
CMC Markets CFD Next Generation Platform (webtrader)
CMC Markets Stockbroking Platform (webtrader)
CMC Markets Stockbroking Pro Platform
CMC Markets Mobile Platform
You can decide which platform you want to trade on.
CMC Markets Demo Account Review
What Types of CMC Markets Demo Account are Available?
CMC Markets offers demo accounts for CFD and spread betting, but the spread betting might not be available in your country so you should check first. Unfortunately there is no demo account option for stockbroking, there is only a live version.
CMC Markets Demo Account Features, Restrictions and Differences with Live Account
The CMC Markets demo account will give you exactly the same experience as a real account, but it is totally risk free since you are only trading with virtual money. With the demo account you can test your strategies and hone your skills to become a better and more profitable trader. The features are at your disposal so you can use whatever you want in order to build your strategy. The only difference between the demo account and live account, apart from the virtual money is the fact that you won't experience any slippage on the demo account.
Advantages of Trading with a CMC Markets Demo Account
One of the most important things to consider when trading is whether the broker is trusted and regulated. CMC Markets IS a trusted and regulated platform, and it allows you to try all the different platforms and accounts that they provide before opening a live account. The CMC Markets demo account is there to help you learn more about trading, as well as helping you test strategies and your abilities with no risk.
CMC Markets Demo Account Management
Does the CMC Markets demo account expire?
You'll be pleased to know that the CMC Markets demo account doesn't expire. You can also check other forex unlimited demo accounts.
CMC Markets Demo Account FAQs
Does CMC Markets have a demo account?
CMC Markets offers a demo account. This account is free to open and can be used for an unlimited period of time.
How do I open a CMC Markets demo account?
You will need a valid email address and password to open a CMC Markets brokerage account.
---
74-89% of retail CFD accounts lose money
About the Author
Filippo Ucchino
Co-Founder - CEO - Broker Expert
Filippo is the co-founder and CEO of InvestinGoal.com. He has 15 years of experience in the financial sector and forex in particular. He started his career as a forex trader in 2005 and then became interested in the whole fintech and crypto sector.
Over this time, he has developed an almost scientific approach to the analysis of brokers, their services, and offerings. In addition, he is an expert in Compliance and Security Policies for consumers protection in this sector.
With InvestinGoal, Filippo's goal is to bring as much clarity as possible to help users navigate the world of online trading, forex, and cryptocurrencies.
CMC Markets Demo Account Review
Related Guides
---
Keeping you better informed
Find and Compare the Best


Online Brokers for You