Have you read our eToro review and just decided to open an eToro live account for the first time?
Maybe you are an old customer who is returning to eToro and wondering how to verify your live account so you can begin trading right away.
Whatever your situation, we have you covered.
Following our useful information and guidance, you should be able to complete you eToro account verification in no time.
The process is really quite easy, and only takes a few steps to complete. You can then look forward to trading with one of the top brokers in the industry across a wide range of markets.
View Contents
How to Complete Your eToro Account Verification
Here is our comprehensive guide to getting your eToro live account verified for trading. We will aim to cover every aspect of opening your eToro live account with full verification.

Before Starting – Why do you Need to Verify Your eToro Account?
This is a question which surprisingly few people ask, but maybe you would often wonder while you are going through the verification process.
Everybody wants to trade in a safe, secure environment. This means using a trusted and well-respected broker like eToro. This position of trust is not gifted or established overnight though. In order to gain this position of respect, eToro must commit to being regulated by a similarly well-respected financial body.
eToro is regulated and compliant with several of the world's top regulatory bodies as follows:
All of these bodies are very strict and require a high level of compliance from brokers. In fact, these requirements became even stricter with the implementation of new ESMA regulations recently.
Ultimately, this regulation is all a positive thing for you as a trader. It means that eToro broker operations are completely transparent and you are fully protected. So, while we know it can be a minor inconvenience getting the documents together, it really is in your best interest for a great and safe trading experience.

What type of trader are you?
62% of retail CFD accounts lose money
What Documents Do You Need for eToro Account Verification?
Perhaps you are stepping up after learning from your eToro demo account, or you are jumping straight into trading with a live account. Either way, there are a few key documents you will need.
The documents which you will need in order to verify your eToro live account are as follows:
Proof of identification – This can be in the form of your passport, driver's license, or national identity card, although a passport is reported to be the fastest method.
Proof of Residence- This can be something like a recent bank statement, utility bill, or tax certificate. Any type of official document which must feature your full name as on your account, address, and date of issue.
National Tax Number- This is a government issued number which you should have to identify how much tax you are paying. If you do not have this, or any other questions regarding tax issues with your eToro live account, the eToro support team can help you quickly.
These are the standard documents which you will need in order to process your eToro account verification. Now that you have all of the documents you need, let's get started on your eToro account verification.
eToro Account Verification: The First Steps
Before getting to submit your verification documents, there are a few initial steps you will have to follow. These should take no more than 10-minutes in total to complete.
The first step on the road to your eToro account verification is confirming your personal information. This includes you basic data such as name, address, and date of birth.
Your progress will be charted screen by screen with a percentage bar at the bottom so you can see how far along the verification process you are.
Next you will see some questions related to your job, personal earnings, and other financial information. You should try to complete this as accurately as you can. Not only will this possibly help speed up the verification process, it will also allow the eToro team to better understand your trading profile.
A short trading knowledge quiz with some simple multiple choice answers will be next in the process. This is just 3-4 questions to establish your level of knowledge in regard to trading. Do not worry about this. It will not determine whether your account is verified or not.
It is important to remember that all of these questions are simply going to help create the best trading environment possible for you. eToro will use these answers to tailor their service toward your trading needs. This information is also highly protected, both by the CySEC regulations and particularly within Europe where GDPR regulations have hugely tightened up data protection for consumers.
Uploading Documents When Verifying Your eToro Account
Once you have completed the initial stages of the process, you will be ready to start uploading your documents. There are two things that you will need to do here. The first is confirm your phone number, and the next is to upload your actual documents to the system for the eToro team to review.

Did you know that thanks to Social Trading you don't have to be a Trader to earn like one? OPEN AN ETORO ACCOUNT AND TRY!

62% of retail CFD accounts lose money
Confirming Your Phone Number for eToro Account Verification
This should be a very simple procedure to verify your telephone number. It will also help to speed up the process. Simply enter your current telephone number when prompted by the pop-up screen.
This will allow you to select your own country code and input your number. Within a few seconds (1-2mins maximum), you should receive a text message. Within this message will be a 5 digit code. Simply enter this code on the next screen in order to verify your telephone number.
Once you have completed this step, you will be directed to the final step for your eToro account verification. This is where you can upload your passport and residence confirmation.
Uploading Your Passport or ID for eToro Account Verification
In just a few moments, you will have reached the final stages of account verification for eToro. This is where you will need to have your passport or ID card, and other documents ready to upload.
If you are using an ID card such as driver's license or other form of national identity card (check with support team to make sure the document is acceptable before uploading) then you will need a clear photo of both front and back of the card.
eToro themselves say that the fastest way to verify your eToro account is by uploading a picture of your passports. In this instance again you should make sure that your picture follos the prescribed guidelines to avoid any delay.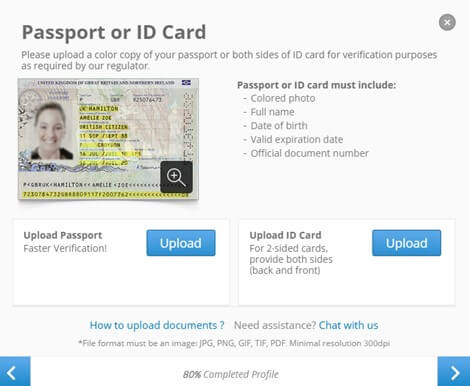 As you can see from the image, your passport should be a clear, colored photo which displays your full name, date of birth, expiration date, and the document number. This must fit the file types and resolution requested by eToro.
Uploading Your Address Verification and Tax Number
The other documents which you will need to upload in order to verify your eToro account are you address verification and your tax number.
For you address verification, a bank statement or utility bill works just fine. These are probably the easiest and most accessible documents which you have around. Just make sure that it includes your full name and address as you used to register with eToro, and a date of issue.
Some bank statements may not have an exact date of issue, so please try to make sure you have one before verifying your eToro account. Also make sure the image you upload is clear, and that all four corners of the page can be seen.
Your tax number is something which you probably know. If not, then it would most likely be noted on some tax returns or other form of employment documentation. Simply enter the number when prompted.

eToro Account Verification Complete but Pending Verification
Once you have submitted all of you documents, your eToro account verification process should be complete. This is a very fast process to finish, though you will likely be me with a final screen which displays like this:
This pending verification notice is perfectly normal and should be confirmed quickly within 24 hours in most cases, although you should allow up to 3 working days. In the meantime you are completely free to enjoy your account.
Prior to verification, you can deposit up to €2,000 to use for trading. This should be enough to keep you trading in the interim period while your account is being confirmed. Our full eToro review discusses the comprehensive features on offer as well as the huge number of markets available for trading.
Within a few days at the most, you should receive an email from eToro. This email should confirm that your eToro account is verified, although if they have any questions or require further information, this is also how you will likely be notified. Similarly, if you have any difficulties or questions during the process, the eToro support team is always on hand to help.
eToro is a multi-asset platform which offers both investing in stocks and cryptoassets, as well as trading CFDs.
Please note that CFDs are complex instruments and come with a high risk of losing money rapidly due to leverage. 62% of retail investor accounts lose money when trading CFDs with this provider. You should consider whether you understand how CFDs work, and whether you can afford to take the high risk of losing your money.
Past performance is not an indication of future results.
Cryptoassets are volatile instruments which can fluctuate widely in a very short timeframe and therefore are not appropriate for all investors. Other than via CFDs, trading cryptoassets is unregulated and therefore is not supervised by any EU regulatory framework.
---
eToro Account Verification: Getting Your eToro Live Account Verified [Fully Explained]
Related Guides
Keeping you better informed
Find and compare the best


Online brokers for you