One of the most important tools for any respectable trader or evolved investor who wants to trade forex is definitely a forex demo account.
The eToro demo account, better known as eToro Practice Account, with free and unlimited access and the possibility to use $ 100,000 of eToro virtual money, is one of the most popular.
Visit eToro
(68% of retail CFD accounts lose money)
But most of all, discover how to best exploit it in this post and in this whole eToro Guide.
Does eToro have a Demo Account?
eToro is aware that trading is a risky business, so the trader has to be experienced enough before doing that with real money.
In fact, eToro offer a free demo account that can be opened with ease providing a few basic information like an username, an email, and of course a password.
In the demo account eToro will provide 100.000 virtual USD for you to virtually invest in their platform that simulates every real market fluctuation.
If you wish to open one and try it by yourself, you can follow the link to the eToro demo account registration form.
Visit eToro
(68% of retail CFD accounts lose money)
eToro Sign Up – Getting the eToro Practice Account
The eToro Sign Up procedure for a practice eToro account is really easy, because you'll get one automatically as soon as you register your details in the eToro Registration page, even just with a simple Facebook or Google login registration.
As soon as you sign up, a practice account in your name is activated automatically.
Do not worry, the practice account is free of charge and it is not binding. Also, it has no time limitation, in fact we even included eToro in our list of the best forex brokers with no limit demo account.
Let's see the steps you will need to sign up and log in to your eToro Practice Account. Once your eToro demo account will be ready, it will be a good idea to read our eToro reviews with the actual platform under you nose, to make it clear once and for all if eToro is legit or not.
eToro Demo Account Opening Tutorial: Step by step procedure
In order to open a free demo account with eToro, first you have to go to the eToro webpage and find the demo registration section of the website.
Visit eToro
(68% of retail CFD accounts lose money)
We recommend using true and accurate data. eToro is a broker that must comply with the strictest European regulations regarding the protection of your personal data, so you can rest assured that your data will be safe and you'll be able to unsubscribe at any time (we also created a tutorial to cancel the eToro account if you need to).
From this page, here's what you have to do in order to open an eToro practice account.
Step 1: Enter your full name and username
This is the very first step. Here you are free to choose any username you wish since it doesn't have to match with your real name. Keep in mind though that it can be seen by the eToro community though!
When you will be feeling ready for a live account (here you can find all the best way to deposit with etoro in order to open a live account), then it's the moment when you have to provide your real name to eToro. But don't worry: it won't be featured in your account.
Step 2: Enter your email address
Next you will need to enter your email address. This is needed for routine communications but also for receiving important news and updates of changes from eToro alongside any other important news about your account.
Step 3: Enter a password
You will need to enter a valid password.
If you want, once you complete the registration process, you will be able to link a telephone number to your eToro demo account.
This will be needed in case you wanted to activate the 2 step verification for improving your account security.
Keep also in mind that the telephone number will be mandatory in order to upgrade your eToro demo account to a live account
Step 4: Accept the eToro T&C
Accepting the terms and conditions is mandatory. This should give you a good level of knowledge about everything you will find at eToro and how it works. We recommend you read these fully.
Step 5: Confirm your email and login
eToro will send you a confirmation email to the address you've provided during the step 2 of the registration. All you have to do is to click on the link they've provided.
The click will both verify your identity, and will also redirect you to the eToro webtrader platform.
eToro will send this email instantly, so if you do not receive it, you may want to look at the spam or junk mail folders, since your provider may mistake if for an unwanted communication
If eToro asks you the login username and password, just use the info you've provided, flag "stay signed in", and click on the button.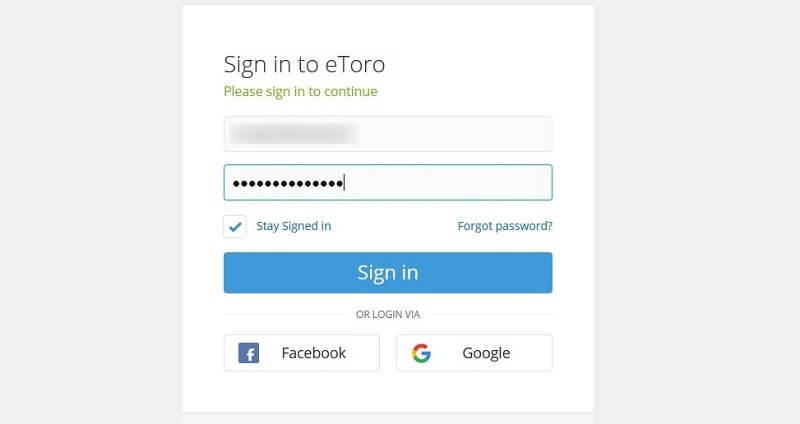 Once you have logged in for the first time, you will finally land in your new eToro profile.
You will notice that your Balance will be 0$.
This is because you landed in the Live section of your profile.
Yes because, with the same login data you can manage both your eToro Demo profile and your Live eToro profile.
Switching to the demo profile or vice versa is very simple.
How to switch from Live Account to

eToro

Demo Trading Account and vice versa
Click on "switch to virtual" below the blue "deposit button" (see the image below to find it immediately).
eToro will notify you are about to switch to the virtual portfolio.
Confirm by clicking the blue "Go to Virtual Portfolio" button.
That's it, now you've finally arrived at your new eToro Virtual Account, with $ 100,000 to try out all the features.
First eToro Log in – How to start practicing with the eToro virtual account
You can start trying eToro by discovering its main features:
Trade Markets: to access all the assets you can trade from the eToro Markets section
Copy People: to access the eToro community and discover all the traders you can copy manually or automatically (here is a tutorial on how to find the best eToro traders)
Invest in CopyPortofolios: to invest in an alternative way and diversify quickly and easily with the eToro CopyPortfolios.
However, your best first step is always to start from our eToro review.
What is the eToro Demo Account good for?
The eToro Demo account is the most useful tool this company could make available. With the practice account you can use all the functions and services to which you may access by having a real money account.
Needless to underline how this is useful!
You will learn quickly and safely:
How to interact with an eToro Professional Investor;
How to activate the Copy Trading function to automatically replicate the operations of one or more investors;
How to set the trade replication parameters;
How all thet eToro features work
In short, how to best use all the tools eToro provides you for copy trading.
The practice account, however, is not a useful tool only in the first stage of learning, it's useful also in the next step, when you will do transactions with real money. Trading with real money does not exclude the possibility and the advantage of being able to study and demo test new trading strategies and/or new investors.
Even when, through your real account, you'll be replicating for real the operations of some eToro investors, you will have the opportunity to try others in the full security of your practice account.
Your Real and eToro Virtual Account
We must clarify the relationship between your real and virtual profile.
When you sign up at eToro you are creating a real and public profile, what once was known as eToro OpenBook profile. Together with that you also have a virtual but private profile.
The eToro community users can only see your public profile and your real portfolio. So, until you open a real account, you deposited your capital, and you begin to open or replicate trades, in your statistics there will be no publicly viewable data.
Privately, you only, you'll see some data and the performance of your virtual portfolio.
In addition, you must always remember that when you interact with other users of the community, you do it through your public profile, even if devoid of funds, and from your social activities are then created feeds which are public and visible to all. You cannot do social things privately in demo. If you do interact with the community, you do it always publicly, exposing your username and your public profile.
Now that you have the control of your demo account, we can move on to really discover the world of eToro.
Visit eToro
(68% of retail CFD accounts lose money)
eToro Demo Account FAQs
Does eToro have a demo account?
Yes, eToro has a free demo account; but most importantly it is unlimited, and that means you won't have to worry about the account expiration while learning about trading or testing strategies.
How do I open an eToro demo account?
You should visit the eToro website; on the homepage you'll find a "Join Me" button. Click it, input the information required and you're basically done.
How do I start trading on eToro?
A demo account can be a very useful tool so that should be your first step. Then, try to experiment on the demo account, learn about trading, engage in the community if you want; when you're ready, you can open a real account.
eToro is a multi-asset platform which offers both investing in stocks and cryptoassets, as well as trading CFDs.
Please note that CFDs are complex instruments and come with a high risk of losing money rapidly due to leverage. 68% of retail investor accounts lose money when trading CFDs with this provider. You should consider whether you understand how CFDs work, and whether you can afford to take the high risk of losing your money.
Past performance is not an indication of future results.
Cryptoassets are volatile instruments which can fluctuate widely in a very short timeframe and therefore are not appropriate for all investors. Other than via CFDs, trading cryptoassets is unregulated and therefore is not supervised by any EU regulatory framework.
eToro USA LLC does not offer CFDs and makes no representation and assumes no liability as to the accuracy or completeness of the content of this publication, which has been prepared by our partner utilizing publicly available non-entity specific information about eToro.
---
74-89% of retail CFD accounts lose money
About the Author
Filippo Ucchino
Co-Founder - CEO - Broker Expert
Filippo is the co-founder and CEO of InvestinGoal.com. He has 15 years of experience in the financial sector and forex in particular. He started his career as a forex trader in 2005 and then became interested in the whole fintech and crypto sector.
Over this time, he has developed an almost scientific approach to the analysis of brokers, their services, and offerings. In addition, he is an expert in Compliance and Security Policies for consumers protection in this sector.
With InvestinGoal, Filippo's goal is to bring as much clarity as possible to help users navigate the world of online trading, forex, and cryptocurrencies.
How To Open an eToro Demo Account
Related Guides
---
Keeping you better informed
Find and Compare the Best


Online Brokers for You