Stocks trading is, of course, one of the most popular assets and markets which many traders select.
At eToro, there is a very large range of stocks to choose from when trading.
Among these is also a range of eToro penny stocks where you can potentially receive maximum value for your investment.
Here we will guide you through the basics on stock trading as an eToro user, and how you can get access to them.
For a more detailed guide on what you can do with this broker you can have a look at our in depth eToro review.
Stocks trading on eToro
As mentioned, eToro does offer extensive choices when it comes to stock trading. Unlike many other top forex platforms, eToro stock trading is offered as both CFDs and as real stockbroking where you also own the underlying asset. The choice will be up to you.
If you are trading the eToro stocks as real and with ownership, then this will be in a circumstance where no leverage has been activated and you will be trading on a 1:1 basis long position. With this kind of eToro stock portfolio, you would not be charged any markups or overnight fees as the investment type is different given that you would completely own the underlying asset without leverage. This can represent a good deal if you want to get into stock trading through eToro.
What's the definition of Penny Stock?
Penny stocks are traditionally known as low-priced, value stocks. These prices are typically well below $5 per stock and as the name suggests, they can sometimes be available for as little as 1 penny.
This low price can also be correlated with low risk in many cases due to the reduced investment amount. This often leads to both new and experienced traders seeing a lot of value and enjoyment from trading penny stocks.
Did you know that thanks to Social Trading you don't have to be a Trader to earn like one? OPEN AN ETORO ACCOUNT AND TRY!

62% of retail CFD accounts lose money
Are Penny Stock safe?
This is an interesting question which you may be uncertain of, particularly as a new trader if that is the case ("is eToro safe?" might be another one).
As we mentioned above, penny stocks represent an excellent value proposition if you are on a limited budget. In terms of risk, objectively speaking the risk in penny stocks are the same as any other stock in that they may lose value.
The only areas where you should be extra vigilant with penny stocks are in the case of new companies, These could well be some kind of fly by night operations designed to pick up investments and disappear, or as is sometimes the case, penny stock companies are targeted by other types of scams and schemes such as pump and dumps.
With many of these penny stocks and new companies, they are often not regulated by any official bodies as yet, so that is another area to look out for. With all that said, eToro is a very well-regulated and compliant company so we would have to imagine they have a high standard when it comes to the kind of stocks they will allow to be traded.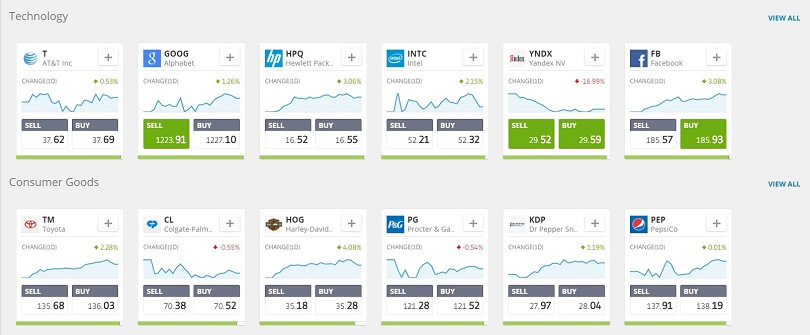 Are Penny Stocks available on eToro?
The answer to this question is yes, eToro penny stocks are traded and although they are not publicly listed, you can contact the team at eToro to get provided with a full listing of eToro penny stocks that you can trade.
Although eToro stock trading is available to most traders worldwide, eToro penny stocks may not be available in all international areas. This is something you should ask the eToro support team about for your region if you are interested in eToro penny stocks.
eToro is a multi-asset platform which offers both investing in stocks and cryptoassets, as well as trading CFDs.
Please note that CFDs are complex instruments and come with a high risk of losing money rapidly due to leverage. 62% of retail investor accounts lose money when trading CFDs with this provider. You should consider whether you understand how CFDs work, and whether you can afford to take the high risk of losing your money.
Past performance is not an indication of future results.
Cryptoassets are volatile instruments which can fluctuate widely in a very short timeframe and therefore are not appropriate for all investors. Other than via CFDs, trading cryptoassets is unregulated and therefore is not supervised by any EU regulatory framework.
---
eToro Penny Stocks Trading – Complete Review
Related Guides
Keeping you better informed
Find and compare the best


Online brokers for you