If you have read our FBS review then it is already very likely that you know a great deal about what this major forex broker has to offer.
Here though we take the opportunity to hone in on some specifics.
These specifics are the various funding methods made available at FBS and particularly the FBS minimum deposit and how this can change depending on the choices you make.
View Contents
FBS Account Base Currency
The FBS base currencies are limited. If you are trading from within Europe, you can only access Euro as your base currency and deposit in Euro only. You also cannot convert other currencies into Euro through FBS.
If you are trading from another location within the international market then you will have access to two base currencies in the form of Euro and USD. In this case, if you find the account with another currency, it is possible you will incur a conversion fee.
FBS Funding and Deposit Methods
As a major forex broker, FBS makes a wide number of options available for you to choose from when funding your account. We have detailed these below and the FBS fees which are associated with each method.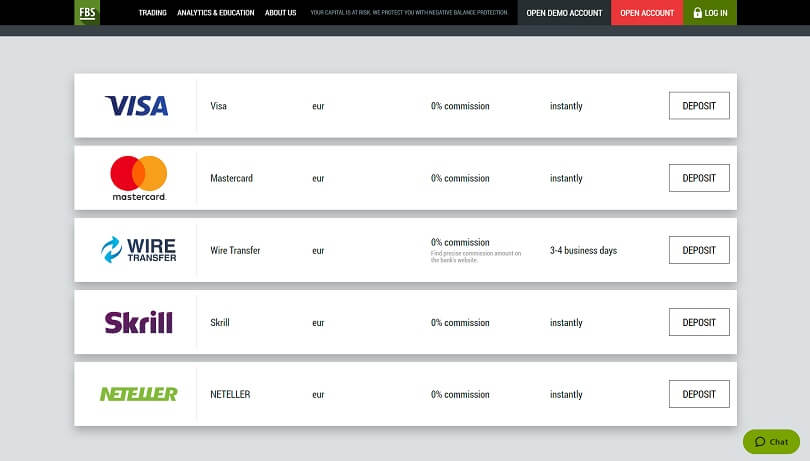 Wire Transfer
FBS deposit by wire transfer funding is available around the world and comes with no fees attached at all. With this said, you will want to double-check your bank's policy of wire transfers since it is possible to incur a fee from their side, but never from the broker side in the case of FBS.
This deposit method takes 3-4 business days in order to be processed and available for trading.
Credit/Debit Cards
FBS credit and debit card deposits are of course also available. In this situation, Visa and MasterCard are both accepted although MasterCard is only available within Europe, while Visa deposits are available around the world.
Deposits made through this method are instant and immediately available to trade within your FBS account. There are also no fees associated with this form of deposit.
eWallets
FBS eWallet deposits are an increasingly popular way to fund your trading account. For that reason, the broker makes both Neteller, and Skrill available worldwide for funding.
Perfectmoney is another eWallet service which is available for FBS traders outside of Europe only. Bitcoin deposits are also not permitted within the EU.
The eWallet deposits will not encounter any type of FBS fee and are also instantly available to trade with.
Deposits from Indonesia
With FBS there are special exceptions made when it comes to deposits from Indonesia. Indonesian traders can benefit from a fixed-rate currency exchange of 10,000 IDR for 1 USD. This means that you will not be impacted at all by currency fluctuation when making your FBS deposit.
Additional methods of deposit which are available to Indonesian traders include local bank deposits from BCA,  BNI, BRI, and more local banks in the country. This should make it very easy and fast to deposit.
Every deposit method offered in this case is fee-free with the exception of Stic Pay which charges a minimal commission. Both Fasapay and Perfectmoney are available without any fees.
The only point to note is that bank deposits will also still incur a commission based on your bank and their policy. All the methods noted, allow for an instant deposit to your account. The exception again here is banks which can take up to 24-hours.
Other Methods
There are other FBS deposit methods available aside from what we have mentioned. This is particularly the case outside of the EU in areas such as the middle east and Asia. BitWallet is one such method available only in Japan.
When it comes to other methods, the minimum deposit for FBS may vary along with some fees.
FBS Minimum Deposits
Having looked at the various funding methods available, let's look closer at the FBS account types, of which there are many, and the minimum deposit FBS applies in each case.
Cent Account
The FBS Cent Account is one that offers great value particularly to new traders, trading in cents.
This account type is available worldwide and has a very reasonable minimum deposit of 10 EUR within the EU or just $1 USD when trading outside of Europe. This account has been also featured in our forex brokers with low minimum deposit guide.
FBS Islamic accounts are also available.
Standard account
The FBS Standard Account is again one that the broker makes available to traders around the world.
Islamic accounts are always available should you require one, and the minimum deposit here stands at 100 EUR within the EU or $100 if you are trading under international regulation.
Micro Account
The FBS Micro Account is only available to those trading from outside Europe and it trades with micro lots. The account type offers excellent value again with a minimum deposit of just $5 to trade, and FBS Islamic accounts available on request.
Zero Account
Another account that is available only outside Europe is the FBS Zero Account. This account makes zero spread trading available although there are commissions in place.
The FBS minimum deposit on these accounts will set you back $500 with the option of an Islamic account again available if needed.
ECN Account
Continuing the trend of only being available outside Europe, the FBS ECN account provides for fast, effective ECN execution of your trades at the best prices and with the lowest spreads. Commissions are charged though, and only forex trading is available.
The ECN account features a minimum deposit of $1,000.
CopyTrading Account
The final FBS account type to take a look at is the CopyTrading account. This is again only available to those trading from outside Europe and you can choose to be a signal provider or an investor.
If you choose to be a signal provider, you should be aware that you will only be allowed to open standard or micro account types and so you will be subject to those conditions and minimum deposits associated with those accounts.
As an investor, also known as a CopyTrader, you can open any account type and start to copy trade once your account is verified and you have a balance of more than $100. So, in the end, the FBS copy trade minimum deposit is 100$.
Related Guides:
FBS Deposit Bonus
Lastly, after all the FBS broker minimum deposit variables, we will take a look at the FBS bonus conditions and criteria.  This will help ensure that you do not miss out on an FBS bonus if one is available to you.
No Deposit Bonus
An FBS no deposit bonus of $100 is available to you as a trader under certain conditions. Among these conditions are that you cannot withdraw the money immediately. So, as such, you cannot withdraw this base FBS bonus. What you can do though is withdraw the profits you make on the bonus in the event that you successfully trade at least 5 lots within a 30-day timeframe.
$123 No Deposit Bonus
The FBS 123 bonus is one that used to be available. It is no longer available however and has since been replaced with the no deposit bonus which we mentioned above. This still represents a positive FBS bonus deal for the majority of traders.
100% Deposit
An FBS deposit bonus is also available on request and under certain conditions. This means that you can effectively double your FBS deposit depending on the circumstances up to a limit.
FBS Pro Challenge
The final FBS bonus we will take a look at is the FBS Pro Challenge. In fact, this is not a direct type of deposit bonus, but it is a special type of contest event which is periodically opened to FBS traders to participate in.
With this type of challenge, you typically get to trade with a $10,000 FBS demo account on 100:1 leverage. If you are successful in making the most profit among your fellow competitors on this demo account over a 2-week period, then you will receive an FBS bonus amount of $450.
---
Keeping you better informed
Find and compare the best


Online brokers for you