Today, everyone wants to trade forex because of the benefits that come with it. However, trading with a live account without understanding the market can be very risky. Fusion Market allows you to trade on demo account with access to various instruments, including forex and CFD at low-spread/cost to test run their trading skills before taking a deep into the water. Fusion Markets' objective is to provide a top-quality platform compared to its competitors.
You can get a detailed review of Fusion Markets along with its products and services. Furthermore, you will discover the various trading platforms and financial instruments available for traders to trade. Here is a link to the detailed Fusion Markets review.
Nevertheless, in this write-up, you will learn how to take advantage of the Fusion Markets demo account as we guide you on a detailed approach to set up your account.
Fusion Markets Demo Account Opening Tutorial
Starting your Fusion Markets Demo account process is essential if you want to get the best out of your trading. Here, you will follow detailed steps that will cover how to get your account created in no time. Follow the simple process to kick-start your demo trading with Fusion Markets.
Step 1 – Getting Started with Your Fusion Markets Demo Account
To begin, you have to visit the official website of Fusion Markets to start the process.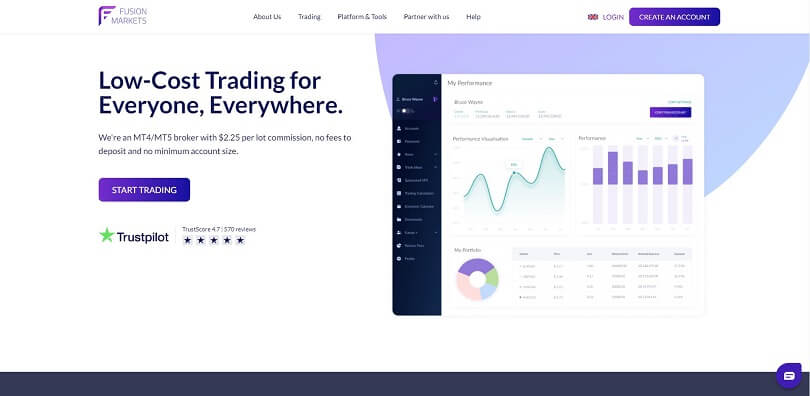 On the homepage, you need to scroll to the bottom of the page where you will find "Try Free Demo." Click on the button, and a client portal will pop up. Here you can decide to log in or sign up if you are a new user. You have to select the platform, account type, and the account's currency for new users.
Step 2 – Fusion Markets Demo Account – What Documents/Information do you need?
To verify your Fusion Markets demo account, you need some information/documents to complete the process. Here, you need a working email ID and a valid phone number. Remember, during the sign-up process, you have to provide a password that will enable you to access your account.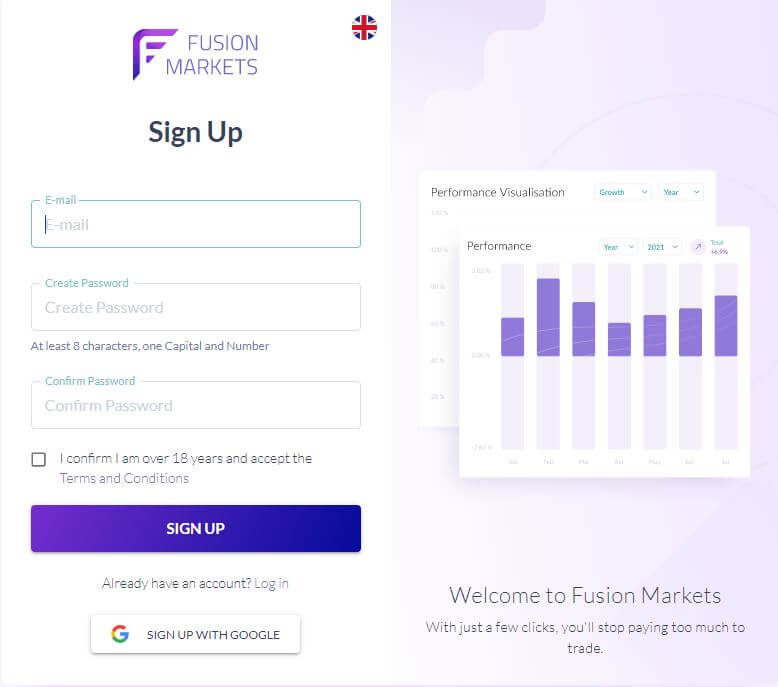 Nevertheless, if you want to upgrade to a live account, you will need specific documentation such as an ID or passport to prove your identity. Additionally, a utility bill or bank statement is required to verify your address.
Step 3 – Fill in the registration form
The next step is completing the registration form, which includes providing details such as name, surname, place of residence, etc. With this, your Fusion Markets Demo account registration is completed.
Step 4 – Confirm the account through email/telephone
After registration, you will receive an instant email, which includes your account details and a link to download the MetaTrader 4 application. Ensure you keep your account details safe as you can't have access to your account without it.
The other option to confirm your account is through telephone, where you receive a call through the number you provided during registration. The email option is preferable for most people since they have something to reference whenever they need their account details.
Step 5 – Login to the Demo Account
To access your Fusion Markets Demo account, you need to log in with your username and password. Remember, you get your username and password during the registration process. After you log in, you can start trading activities in your account.
Step 6 – Choosing Your Fusion Markets Demo Account Platform
As a trading platform, Fusion Markets uses the popular MetaTrader 4 software. You can use the mobile app, WebTrader, or the default desktop MT4 to trade your Fusion Markets demo account. The choice of platform depends on the one you feel comfortable using when trading. Notably, you can trade on the go with Fusion Markets.
Fusion Markets Demo Account Review
If you eventually made it to this point, take a bottle of beer as you have made it through the Fusion Markets Demo Account creation process. Now, you need to know more about the various types of Fusion Markets demo account, their features, and the advantages.
What Types of Fusion Markets Demo Account are Available?
As with any demo trading account, the Fusion Markets demo account is the best place to start your trading. It also acts as a way to test the authenticity of a broker. Fusion Markets offers traders a demo account for free, which is entirely risk-free a.
There is no obligation to deposit money when using the Fusion Markets Demo account. The demo account has a validity of 30-days, which you can continue using once you make a little deposit to your live account. With this, you have unlimited access to your demo account.
Furthermore, it has zero ECN and a classic account for live trading. The real zero accounts' trading cost is 0.5 pips with a $4.50 commission and a raw spread. However, the real classic account offers a total cost of 0.9 with commission included.
Fusion Markets Demo Account Features, Restrictions, and Differences with Live Account
There is quite a little difference between the Fusion Markets demo account with that of the live account. The demo account duplicates the same features like the live account; nevertheless, the demo account doesn't have liquidity, unlike the live account, where prices are subject to liquidity depending on the trading period.
Slippage is another thing, which a demo account cannot have. Furthermore, there is a time limit of 30-days when using a demo account. Notwithstanding, with a deposit minimum of $10 to a live account, you can use the Fusion Markets demo account without any time limit.
Advantages of Trading with a Fusion Markets Demo Account
Trading is never an easy task, and the best way to ease the pressure is by using a demo account. A demo account comes without risks since there is no real money attached to it. It allows you to simulate how a live trading environment looks like using virtual money.
Secondly, you replicate the real market with a demo account, test running what works and doesn't without any financial commitment. This allows you to practice and hone your trading skills pending when you are confident in trading.
Furthermore, the Fusion Markets demo account allows you to familiarize yourself with indicators and trading tools in the market. You can also automate trades while learning how to understand price directions and market trends. Finally, you get to test every tool as you fine-tune your trading strategy.
Fusion Markets Demo Account Management
Managing your account is essential in this market, especially if you want to be on top of your game. Therefore, here you will learn the simple ways to manage your Fusion Markets Demo account.
What's the Fusion Markets Demo Account Expiring Time?
The Fusion Markets demo account has an expiration period of 30-day unless you fund a live account with a minimum of $10. After funding, your account becomes unlimited.
How to reactivate your Fusion Markets Demo Account
Peradventure your demo account expires after 30-days, you need to open another new demo account since it cannot be reactivated.
Furthermore, if you have any challenges using your Fusion Markets demo account, you can contact the customer support team. You can take advantage of the web-chat, email, or phone features to resolve your issues or challenges.
Final Thoughts
Evidently, the process of creating and operating a Fusion Markets demo account is quite simple. It doesn't require any complicated process; with a valid email address and your phone number, you can swiftly get everything done.
Your demo account remains active for 30-days, after which it expires. However, you can convert it to an unlimited account if you deposit money into a live account. Trade with Fusion Markets demo account pending when are confident in trading with real money. Remember, you can upgrade a demo account before it expires.
---
74-89% of retail CFD accounts lose money
About the Author
Filippo Ucchino
Co-Founder - CEO - Broker Expert
Filippo is the co-founder and CEO of InvestinGoal.com. He has 15 years of experience in the financial sector and forex in particular. He started his career as a forex trader in 2005 and then became interested in the whole fintech and crypto sector.
Over this time, he has developed an almost scientific approach to the analysis of brokers, their services, and offerings. In addition, he is an expert in Compliance and Security Policies for consumers protection in this sector.
With InvestinGoal, Filippo's goal is to bring as much clarity as possible to help users navigate the world of online trading, forex, and cryptocurrencies.
Fusion Markets Demo Account Review
Related Guides
---
Keeping you better informed
Find and Compare the Best


Online Brokers for You