Using a demo account to trade the forex market before upgrading to a live account comes with many benefits. It allows you the opportunity to groom your trading skills and confidence without the risk of losing your hard-earned money. The good news is that Vantage offers an unlimited demo account, which means you can practice for as long as you want.
Vantage is a leading online broker with a user-friendly trading platform. In case you have not heard about this broker, you can read our Vantage Review to get the details of their products and services. You will also learn about their trading platforms and what financial instruments you can trade from the review. What's more? If you are already aware of the Vantage pros and cons, you may want to open an account with them. In this case, we have also a dedicated post talking about the Vantage Account Types that will help you decide which account is the best for your needs.
This article will take it a little further by discussing how to open a Vantage demo account and how to manage the account. In short, everything about the Vantage demo account is discussed here.
Let's dive in!
Vantage Demo Account Opening Tutorial
Find below a step-by-step guide on opening and operating a demo account on the Vantage trading platform.
Step 1 – Getting Started With Your Vantage Demo Account
First and foremost, you need to visit the Vantage official website (74-89% of retail CFD accounts lose money). On the landing page, click on the "demo account" button. It is a blue button located at the top right corner of the page. You can also find the demo account button when you click the menu button.
Step 2 – Vantage Demo Account – What Documents/Information do you need?
Before we proceed further, let's quickly walk you through some documents that you have to have handy to scale the registration hurdles. Since it is a demo account you are opening, the required information/documents are not as much as those required when opening a live account. As such, you would need a valid email address and a valid phone number.
When you are ready to start trading in a live environment, you can upgrade to a live account. Before your upgrade request would be acknowledged, you need to provide proof of ID (a driver's license or a travel passport) and proof of address (a bank account statement or a utility bill).
Once you have these documents handy, you are all set to open a demo account with Vantage.
Step 3 – Fill in the registration form
The next step is to fill a demo account opening form and provide your full name, country of residence, email address, and phone number. Like we mentioned, you are free to upgrade your demo account to a live account at any point in time.
Step 4 – Confirm the account via email/telephone
The next step is to review your application and then submit the application form for approval. Once your application is confirmed, you will receive a mail containing your account details. Use the login details to access your demo account to start practicing how to trade forex. The email will look like the image below: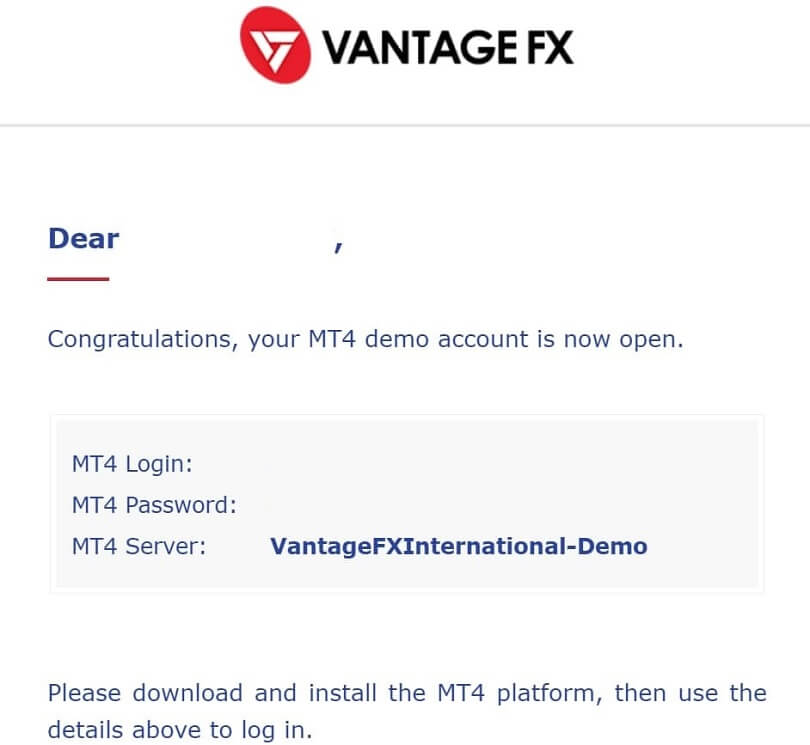 Step 5 – First login into the demo account
Go back to the Vantage official website and login into your demo account. When you successfully login into your demo account, you will be directed to a dashboard where you can access all the account features. The demo account has almost similar features to a live account. Once you get to hold and understand the demo account features, you are already a step ahead to start using real money with a live account.
Step 6 – Choosing Your Vantage Demo Account Platform
The next step is to choose your Vantage demo account platform. Vantage has three amazing trading platforms – MT4/MT5 platforms (these two are high-level platforms and should you want, you can find all the info you need in the best MT4 forex brokers and the best MT5 forex brokers), WebTrading platform, as well as Vantage App. Choose the platform you feel you're most comfortable with.
With the Vantage App, you can trade the forex market on the go. That includes trading commodities or indices, you can do that even when you are in transit. Want to know more about the best brokers which provide the best mobile apps? Then, our forex brokers mobile apps top ten is really the best fit for you.
Vantage Demo Account Review
Congratulations! You now have a Vantage demo account.
The demo provided by Vantage is really a good choice, other than safe, considering that the broker is regulated by top regulators, such as: CIMA, ASIC, FCA and VFSC.
We will now move further to explain the Vantage demo account types, features, as well as the advantages of using the demo account as a beginner.
What Types of Vantage Demo Account are Available?
Vantage has three demo account types that you can choose from. It includes the Standard STP account, Raw ECN account, and the Pro ECN demo account. Note that each of these accounts has its unique features.
If you're a new trader and would like to find more about STP/ECN brokers, we selected a good range of the best ECN/STP forex brokers for you to take a look at.
Vantage Demo Account Features, Restrictions, and Differences with Live Account
The Vantage demo account operates with virtual funds. In fact, trading with this demo account has no risk whatsoever on your part, only that you won't make any real profit.
The demo and live accounts act under the same real-time market conditions. This means if you understand how to trade the FX market and make virtual money using a demo account, you are one step ahead of better managing your risk with a live account.
What's more? Slippage won't occur when using a demo account on the Vantage platform, since you will be trading with real market fluctuations but in a virtual environment.
| | Advantages | Downsides |
| --- | --- | --- |
| Demo account | Unlimited trial | You have to contact the broker every time to virtually refund the demo account |
| Minimum deposit | From $200 | High on other types of accounts. Pro ECN has a $20.000 minimum deposit |
Advantages of Trading with a Vantage Demo Account
There are so many benefits of using a demo account. One of the greatest benefits includes simulating a live trading environment without risking your hard-earned money. A demo account would also enable you to practice and develop your trading skills as often as you want.
Additionally, with a demo account, you become familiar with the trading tools and indicators that you can use to automate your trades when you are in a live trading environment. That's not all; you will also learn how to read market trends and price directions with a demo account.
Vantage Demo Account Management
Knowing how to manage your trading account is quite important, especially if you are a beginner and started trading with a free demo account in order to learn how to trade. The following tips will help you understanding a little bit more about your Vantage Demo Account.
Does the Vantage Demo Account Expire?
The Vantage demo account is unlimited. You can use it to build your trading strategies for as long as you want. When you are confident enough trading with a virtual account, you can upgrade to a live account. Other than Vantage, there are other brokers which provide an unlimited demo account. You can find who they are in our best forex demo account top ten.
What to do in case you need help with a Vantage Demo Account?
If you are stuck in any stage of the process, feel free to reach out to their customer support team, which is available non-stop.
Closing Thoughts
As you can see, opening and operating a demo account on the Vantage trading platform is not as difficult as you had earlier thought. You need a valid email address and a working phone number for verification.
Then, when you are confident trading in a live environment, you can request to upgrade your demo account to a live account. All you need is to present a means of ID and address.
Feel free to reach out to Vantage customer support if you have any troubles opening or running a demo account.
Vantage Demo Account FAQ
Is Vantage demo unlimited?
Yes, Vantage does not expire after a certain amount of time.
Is the Vantage demo account useful?
Yes. Opening a demo account with Vantage, just like with every single broker, is useful to test your strategies and understand the forex market better in a risk-free environment.
---
About The Author
Filippo Ucchino
Co-Founder - CEO - Broker Expert
Filippo is the co-founder and CEO of InvestinGoal.com. He has 15 years of experience in the financial sector and forex in particular. He started his career as a forex trader in 2005 and then became interested in the whole fintech and crypto sector.
Over this time, he has developed an almost scientific approach to the analysis of brokers, their services, and offerings. In addition, he is an expert in Compliance and Security Policies for consumers protection in this sector.
With InvestinGoal, Filippo's goal is to bring as much clarity as possible to help users navigate the world of online trading, forex, and cryptocurrencies.
Vantage Demo Account: Opening & Key Information (2022)
Related Guides
---
Better Informed
Find and Compare The Best


Online Broker For You