Before you open an account with Trading 212, you probably want to know what's on offer.
Trading 212 offers a variety of different trading accounts. Unlike most brokers which offer various accounts, with different conditions, what's unique about Trading 212 account types is they offer other methods to invest.
If you're not familiar with the innovative investment products offered by Trading 212, we highly recommend reading our complete Trading 212 review.
Trading 212 Account Types
There are five different Trading 212 Accounts types to choose between. You may find more than one of these options is attractive to you; therefore, we recommend reading the entire list to make sure you're aware of the best options.
Demo Account
With a Trading 212 Demo Account, you're able to test and tune your trading abilities in a risk-free environment using virtual money. The demo account aims to emulate genuine market conditions, which ensures all the results you see are as close as can be to reality. There are no restrictions on how long you can use a demo account with this broker, and there is no obligation to open a live trading account. If you don't feel confident to invest with real money or don't think Trading 212 is the right broker for you. This is only a summary of the demo account from Trading 212, as we've gone into great detail in our Trading 212 Demo Account guide to provide everything you need to know before creating one.
If Trading 212 is your broker of choice you may open a Trading 212 demo account for free, if you haven't already done so.
Trading 212 CFD Account
With a Trading 212 CFD Account, you're able to access more than 2,500 trading instruments which span forex, stocks, cryptocurrencies, indices, commodities and ETFs. These products are easily accessible in the Trading 212 proprietary platform which has been tailor-made for their clients.
To get started with this Trading 212 account type, all you need to start with is a $10 minimum deposit. This trading account's most notable characteristics are zero commissions, negative balance protection, instant order execution and stop-loss and take-profit orders to protect your positions.
Trading 212 Invest Account
If you're interested in trading stocks, but don't feel contracts for difference are suitable, you might be interested in the Trading 212 Invest Account. With this trading account, you can buy stocks and sell them whenever you're ready, without worrying about the complicated characteristics of CFDs, such as swap fees or account margin.
From Trading 212's proprietary trading platform, you will discover over 6,500 global stocks and ETFs. The lowest amount you can deposit to this account is just one dollar unless you're depositing via wire transfer, then the lowest amount is $10. You may wonder what stocks you could buy with just a dollar, and that's the beauty of the fractional shares feature offered with this trading account.
The fractional shares feature allows you to buy a portion of a stock for as little as one dollar, or less, depending on your location. Other great features with this account include Autoinvest, unlimited instant trades and no commissions or fees on trades, no matter how large or small they are.
Trading 212 ISA Account
If you're a UK resident, you might be interested in the Trading 212 ISA Account. As the account is considered an Individual Savings Account (ISA), under UK laws, you won't be required to pay tax on profit made with investments up to a certain amount while trading with this account. Anyone aware of the ISA program will know this account as a Stocks & Shares ISA.
Even though this trading account is only available to UK residents, don't be disheartened, as this account is very similar to the previously mentioned Trading 212 Invest Account.
Starting with as little as £1, you can use the Trading 212 proprietary platform to place unlimited instant trades, trade fractional shares and use the popular Autoinvest & Pies feature.
Trading 212 Professional Account
For active traders looking to get more exposure to the market with CFDs, they can upgrade to the Trading 212 Professional Account. With leverage up to 1:500, you only need to have 0.2% margin to open a position.
To be eligible for this account, you need to meet two of the following three requirements:
Have made an average of ten transactions of significant size in each quarter over the previous year,
Maintain a financial assets portfolio of which exceeds €500,000. Assets can be held in your bank account or trading account,
Possess a certain amount of experience in the financial services sector.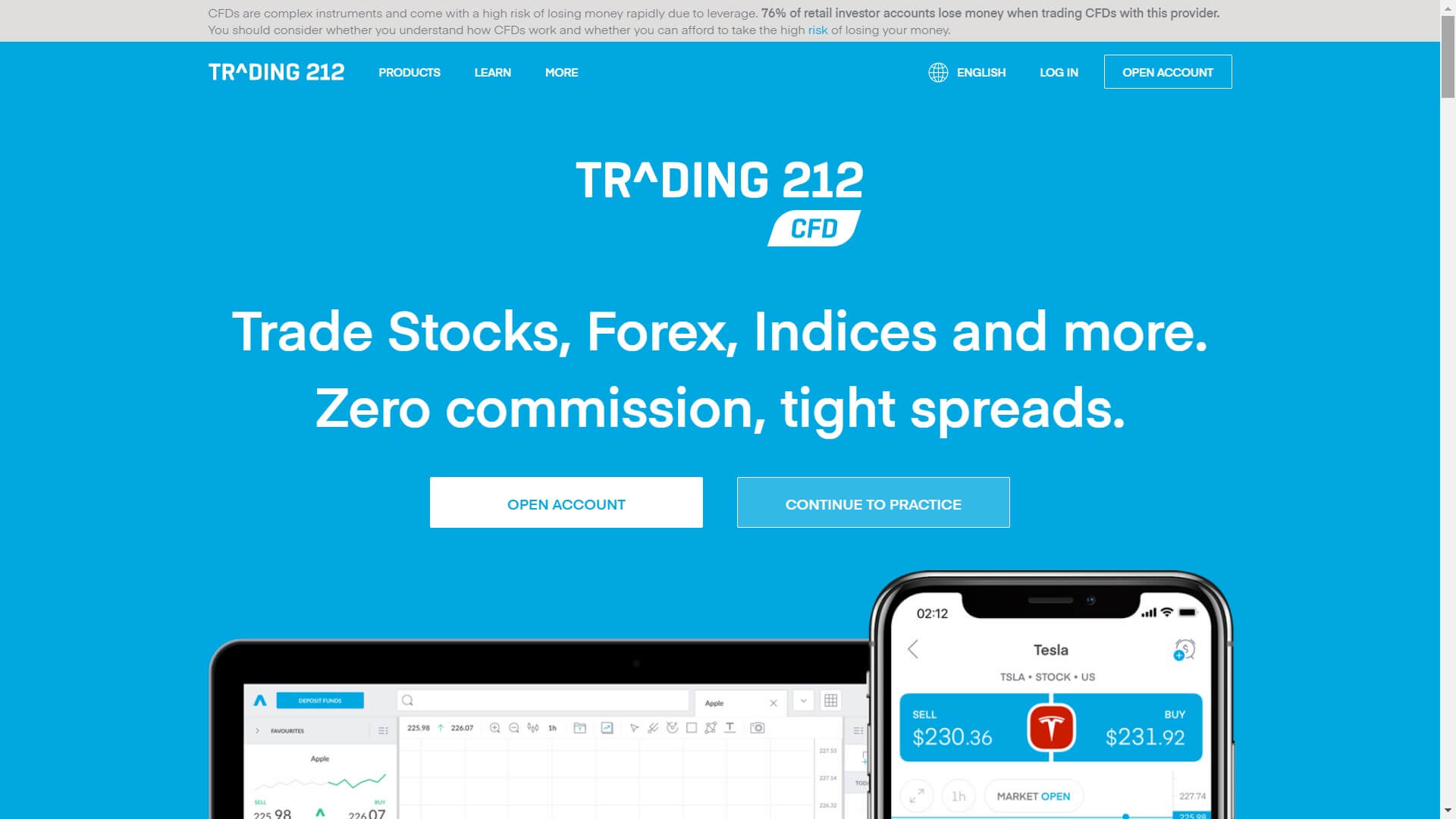 Trading 212 Account Overview
| | CFD Account | Invest Account | ISA Account |
| --- | --- | --- | --- |
| Minimum Deposit | $10 | $1 | £1 |
| Spread from (pips) | 0.8 | Free | Free |
| Commissions | None | None | None |
Trading 212 Account Opening
Live Account Opening
Opening a live account with Trading 212 is straightforward as we're going to explain below. Of course, you should visit the Trading 212 website in order to open a demo account before opening a real account.
Account Verification
Account verification is usually performed pretty fast as the company will have a dedicated team responsible for helping new clients get started. Depending on the country you reside, or where you are from, you may need the following documents:
Proof of identity; such as your national ID, drivers license or passport.
Proof of residence; such as a recent bank statement or utility bill.
Account Funding
All Trading 212 account types can be funded in GBP, EUR, USD using a variety of secure payment methods. You can deposit using a bank transfer, Visa & Mastercard credit or debit cards. It's also possible to use well-known e-wallets Skrill and PayPal. Other payment methods include Dotpay, Giropay, Carte Bleue, Direct eBanking, Google Pay, Apple Pay, and iDEAL. It's worth noting that not all options are available to all customers. Depending on the region and chosen currency, options will vary.
Minimum Deposit
The minimum deposit is generally $1, but keep in mind that it varies according to your region. For example, if you're in the UK, the minimum deposit will be £1, and if you're in Europe, it would be €1. The minimum deposit could be higher depending on the payment method, but these figures are the minimum.
Account Currency
Trading 212 offers the euros, US dollars and British pounds as account base currency options.
Trading 212 Account Bonus
If you have an active 'Invest' or 'ISA' account you might be eligible for the Trading 212 Account Bonus with a valid promo code.
Using the promo code, you can get a free share worth up to 100 pounds, dollars or euros, which will probably be of interest to most traders. Before you get too excited, check the terms and conditions as there are some restrictions on certain jurisdictions.
If you can invite friends to sign up with Trading 212, you might be eligible to receive more free shares. For each person that signs up with the broker, you'll get one share up to the value of $/€/£ 100.
Trading 212 Account Deposit & Withdrawal
Deposits: There are no formal deposit fees with any of the Trading 212 account types. There might be some conversion costs if your account base currency does not match the currency used to deposit or withdraw funds.
Generally, deposits are processed quite fast. Bank wire transfers can take up to 2 business days, whereas payments made with credit/debit usually take up 10 minutes to reflect on your trading account.
Withdrawals: Trading 212 does not charge withdrawal fees, but that doesn't mean your bank won't apply a fee when the funds are settled in your account. Whether your bank will charge you or not always depends on the currencies and parties involved.
With a CFD Account, the minimum you can withdraw is $10. For an Invest Account, the minimum amount is $1. Bank withdrawals and credit/debit card refunds can take three business days to be received. Skrill & PayPal withdrawals are close to instant, often taking between ten and fifteen minutes.
Trading 212 Account Management
Trading 212 Account Inactivity
There is no inactivity fee charged if you stop opening new trades in your Trading 212 account so you won't be penalised for taking a break from trading. Also, demo accounts are offered without time restrictions, so you can practice for as long as you need until you feel ready. Even if you're taking a break from trading, the demo account offers free access to market data for all instruments, which allows you to keep your finger on the pulse.
Trading 212 Account reactivation
If your trading account has become inactive because you haven't used it for too long and it didn't hold any funds, you won't be able to reactivate it. You can easily open a new trading account if your previous account was suspended or deactivated. If you have any doubts on this subject, just contact the broker.
How to close Trading 212 account
If you've decided you no longer want to keep trading with Trading 212, you can close the account. All you need to do is withdraw your funds and contact the broker's customer support team. They will guide you on the next steps.
Trading 212 Account Types FAQ
What are the different Trading 212 accounts?
Trading 212 offers four different accounts for retail traders: A free demo account, Invest and ISA accounts for stockbroking, and a CFD account for margin trading.
What is a Trading 212 ISA account?
ISA stands for Individual Savings Account. It is made for stockbroking but it's exclusive to UK traders. The main feature of an ISA account is the tax-free profit.
---
About The Author
Filippo Ucchino
Co-Founder - CEO - Broker Expert
Filippo is the co-founder and CEO of InvestinGoal.com. He has 15 years of experience in the financial sector and forex in particular. He started his career as a forex trader in 2005 and then became interested in the whole fintech and crypto sector.
Over this time, he has developed an almost scientific approach to the analysis of brokers, their services, and offerings. In addition, he is an expert in Compliance and Security Policies for consumers protection in this sector.
With InvestinGoal, Filippo's goal is to bring as much clarity as possible to help users navigate the world of online trading, forex, and cryptocurrencies.
---
Better Informed
Find and Compare The Best


Online Broker For You