If you are thinking of trading with FxPro, the best first stop you can make to gather information is our comprehensive FxPro review.
Once you have done so, this guide will serve as an excellent additional guide to the specifics of some areas within the broker.
Here we will focus on fundamental aspects of the broker that you need to know about.
This will include a lot of information about the FxPro minimum deposit requirement along with the funding sources available from the broker.
FxPro

Regulated: FCA, CySEC, FSCA, SCB
Platforms: MT4, MT5, cTrader, Edge
Min. Deposit: $100

Regulated: FCA, CySEC, FSCA, SCB
Platforms: MT4, MT5, cTrader, Edge
Min. Deposit: $100

Open Your Account!

79% of retail CFD accounts lose money
FxPro Account Base Currency
The account base currency is important to know so that you can be aware of which currencies you can deposit and trade in. As a major broker, FxPro makes several choices available. These choices include the USD, GBP, EUR, and other currencies like the AUD, JPY, PLN, and Swiss Franc.
This already extensive selection is boosted by the availability of ZAR for deposits and withdrawals although it is not catered for as a base currency.
FxPro Funding and Deposit Methods
As you would expect with any of the best forex trading low minimum deposit forex brokers, there are a variety of methods to choose from when it comes to funding your account.
Here are the potential choices for your minimum deposit with FxPro.
Bank Transfer
The first of the FxPro deposit methods is Bank transfer, the mainstay method available from all reputed brokers. Here the deposits are available all around the world and there are no attached fees. With that said, your own bank may apply some kind of fee to the transaction so it is better for you to check with them first to be sure.
A wide range of currencies are available depending on your place of regulation and location. These include the USD, EUR, and GBP which are available worldwide. CHF, JPY, PLN, and AUD are also available in all areas, and finally, ZAR is available under both CySEC and SCB regulatory authorities.
Local bank transfers are also accepted. In these cases you just have to remain mindful that you may be charged a conversion fee if the currency you deposit does not match the available base currencies.
Credit/Debit Cards
Credit and debit card deposits with FxPro are both available worldwide.
The minimum deposit for FxPro here varies depending on which currency you deposit but generally, the minimum amount is 100 in your chosen deposit currency with the exception of the Japanese Yen which requires a 10,000 Yen minimum deposit.
This form of deposit with FxPro is effectively instant and usually takes a maximum of 10 minutes to process.
eWallets
There are several eWallet deposit methods to choose from with FxPro.
These methods are available only if you are within the CySEC or Global Market regulatory area. There are no fees associated with these types of deposits and again they should be available within a maximum of 10 minutes.
Paypal
Paypal deposits are one of the methods facilitated under CySEC regulation only. They accept a minimum deposit of 100 USD/EUR/GBP/CHF, or alternatively 400 PLN, or 10,000 JPY.
Skrill
FxPro Skrill deposits are again available under CySEC regulation as well as SCB within the Global Markets area. This is the case for the majority of countries under these regulations although precise availability may vary.
Here as with Paypal, you can deposit with 100 USD/EUR/GBP/CHF, 400 PLN, or 10,000 JPY.
Neteller
FxPro Neteller are the final type of eWallet deposits available and are also accessible under CySEC or SCB regulation with the same minimum FxPro deposit of 100 USD/EUR/GBP/CHF, 400 PLN, or 10,000 JPY.
Other Methods
Other FxPro deposit methods are available although these will depend on the country you are trading from. Such examples include China UnionPay deposits which are available in China and deposited as USD within a period of 10 minutes maximum. The minimum FxPro deposit for this method is 100 USD.
Meanwhile, Bitcoin and other cryptocurrency deposit methods are not available at the current time.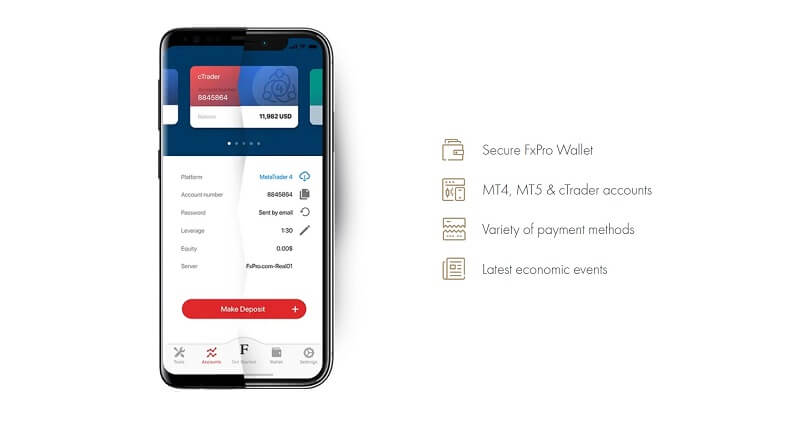 FxPro Minimum Deposits
Naturally, there are also some minimum deposits options for FxPro which will depend on your account type.
As a recommendation, FxPro suggests that you deposit at least 500 EUR, USD, GBP, CHF, PLN, 50,000 JPY,or 7,000 ZAR to allow you the best experience of their service. This is not required though. If you need to check the live conversion rate, then you can certainly do so.
The following will apply as minimum FxPro deposits on your accounts though.
MetaTrader Account
The FxPro MetaTrader Account is available to all traders who wish to avail of it around the world. Through this account type you can trade with either MT4 or MT5, two of the most respected trading platforms in the industry.
The FxPro broker minimum deposit on this account type is 100 EUR/USD/GBP/CHF/PLN depending on your base currency.  If located in Japan, then the minimum would be 10,000 JPY.
cTrader Account
Again the FxPro cTrader account is one which is available to all worldwide. This account type facilitates ECN style execution of trades with a lower spread, although commissions are applied.
The FxPro cTrader minimum deposit is 100, the same as the MetaTrader account at 100 in every base currency besides the Japanese Yen where 10,000 JPY is required.
Edge Account
The FxPro Edge account is a relatively new account type that is still in the beta stages of release. This account type facilitates spread betting and it is available to UK traders only at present.
The minimum accepted here is the same as above. 100 EUR/USD/GBP/CHF/PLN, or 10,000 JPY.
VIP Account
The final account type to look at is the FxPro VIP account.
This is for high level traders and features a minimum deposit of 50,000 USD or equivalent amount in your chosen base currency.
As a result, this account type features the best spread rates together with lower commissions.
Related Guides:
FxPro Deposit Bonus
When it comes to FxPro bonus amounts, unfortunately, there are currently no types of trading or no deposit bonuses available to traders.
FxPro

Regulated: FCA, CySEC, FSCA, SCB
Platforms: MT4, MT5, cTrader, Edge
Min. Deposit: $100

Regulated: FCA, CySEC, FSCA, SCB
Platforms: MT4, MT5, cTrader, Edge
Min. Deposit: $100

Open Your Account!

79% of retail CFD accounts lose money
---
FxPro Minimum Deposit Guide (2020)
Related Guides
Keeping you better informed
Find and compare the best


Online brokers for you