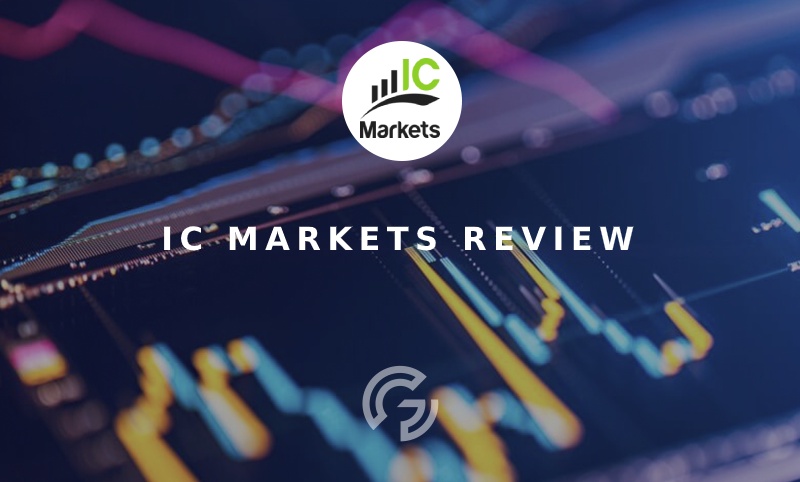 Welcome.
In this IC Markets review you will find the results of much dedicated time spent by InvestinGoal's team of experts studying the quality of the broker.
Here's how to navigate this report on IC Markets, and all of our reviews in general:
Part 1: First thing, in the "Our Opinion" section you will find a brief summary with our personal opinions on the broker IC Markets, plus the Pros and Cons and important factors to watch out for.
Part 2: Secondly, within this section, you will then find more detailed points and opinions about specific broker's offerings or services (e.g. is IC Markets good for Forex? Is IC Markets good for scalping?).
Part 3: After the opinions section you will find four macro-areas in which we have carefully reviewed every single aspect of IC Markets. They are Security, Costs and Accounts, Trading and Education, and Support.
Part 4: Our quick answers to some common FAQs about IC Markets.
We suggest you use the sticky menu to easily navigate this content.
And don't forget to leave a comment at the end of the post. Share your honest opinion on IC Markets, or ask specific questions if you couldn't find an answer on our site.
The best thing you could is to open a free demo account to try out first-hand the IC Markets platforms, to be able to fully follow this report.
IC Markets review
Our Opinion
IC Markets Summary: Who is IC Markets suitable for?
IC Markets is among the top ECN brokers in the industry with an excellent environment for traders. It provides lightning-fast execution and offers one of the lowest spreads available starting from 0 pip with low commissions where charged. All this makes the broker great for scalpers, algo-traders, high volume traders, and forex traders in general.
Other than that, you can expect a very low-latency VPS server to be made available. This is ideal if you are trading with the use of EAs. For all traders, there is a free, unlimited demo account. This is the perfect place to learn about the industry as a new trader or test new strategies for trading.
On the other hand, you can wait a while for withdrawals to be processed. It can take up to 2 weeks for bank wires. To help move things along though, IC Markets recommends submitting your withdrawal request from within the secure client area they offer.
Downsides and Advantages to consider before starting
Downsides
As mentioned, one of the main negatives you will find with IC Markets is the long waiting time possible for withdrawals to reach your account. In some cases it can take up to 2 weeks and is particularly noticeable if you are using wire transfer, though this is generally the slowest method with any forex broker.
It is worth remembering too that if you are withdrawing to an international account, the fees and the waiting time can be higher. Again this is something that can be common and best to double-check prior to making your withdrawals.
Advantages
Although there are a couple of areas that IC Markets can improve on, they generally do very well across the board in terms of positive points. This is led by the fact they offer some of the very lowest spreads in the industry, particularly the raw spread, helping keep trading costs down.
As a new or experienced trader, the fact an unlimited demo account is offered can be a positive. This is the ideal chance to hone your skills as a new trader or to test out new strategies if you are more experienced.
Overall, the accessibility of IC Markets to traders is also something to commend. With no minimum deposit required, although $200 is suggested, anyone can make a start in trading with this great broker.
IC Markets Pros and Cons
In the table below you will find some of the key IC Markets advantages and disadvantages highlighted:
| IC Markets offer | Advantages | Downsides |
| --- | --- | --- |
| Demo Account | Unlimited trial | It will expire after 30 days of inactivity |
| Minimum Deposit | $0 | Conversion fee may be applied |
| CFDs and Forex | Fast execution | Limited amount of tradable assets |
| ECN Account | Low spreads (0 pips) and commissions per lot (from $3) | Limited amount of tradable assets |
| Copy Trader | Available through external services | ZuluTrade partnership only for EU traders |
| Swap-free Account | Same trading feature of others accounts | There is an extra fee which starts from $5 |
IC Markets CFDs and Forex Trading Review
When it comes to CFDs trading at IC Markets you will find that assets are available in a wide variety of sectors. This means all of the major forex currency pairs you would expect to see along with many more. CFDs in commodities, bonds, stocks, and crypto are all here to be traded.
Though the selection in terms of market is wide, there is a limited selection of total assets available compared with some others. This means a total of over 200 assets that traders may find limited, though it is still a good amount of well-selected assets.
What it lacks in depth though, is made for in low trading cost. The raw spreads here are among the best on offer and start from 0.0 pips while the EURUSD average spread is just 0.1 pips. Overall, these low costs and spreads keep IC Markets very attractive to those looking for the best all-around trading experience.
Pros:
Spreads are extremely low across the board
Cons:
There is a limited selection of assets available in total
IC Markets Scalping Review (Raw Spread Account)
Focusing specifically on the IC Markets Raw Spread account, it is one of the most popular account type choices offered by the broker. This is due to the extremely low spreads on offer alongside a great infrastructure for trading. This is shown not only by the low cost but also the lightning-fast execution provided with almost no latency. Such speed and efficiency is made possible thanks to great servers located in the Equinix NY4 data center in New York and further enhanced by partnerships with more than 50 liquidity providers.
Though spreads are low, a commission is charged per lot, per side of each trade. This remains competitive too at $3.50 with Metatrader, or $3 with cTrader.
Pros:
Trade with the lowest spread starting from 0.0 pips
Any commission charged is also kept as low as possible
The low-latency trading environment means maximum speed and efficiency
Cons:
With only around 200 tradable assets to choose from, this may be too few for some experienced traders
IC Markets Copy Trading Review
With copy trading, this is not directly provided at IC Markets by any of their own native copy trading systems. What they do provide though are the connections to third-party services that can make copy trading possible.
If you are based in the EU, you can register with ZuluTrade who have partnered with IC Markets to offer their range of social and copy trading features. This service should work perfectly with your IC Markets account connected. Another choice, though not the most convenient, will be to use your MetaTrader or cTrader platform to use EAs and cAlgo respectively.
These can allow you to import and replicate the trading strategies of others on your own platform and give you a possible copy trading option of sorts.
Pros:
There are several ways to get involved in copy trading with the broker
Cons:
Only EU traders can take advantage of ZuluTrade for copy trading
IC Markets Swap-Free Account Review
The IC Markets Swap Free account, and indeed swap-free accounts of any type, are an extremely important feature of any broker wishing to be fully inclusive. These are available from IC Markets on request for traders of the Muslim faith.
Importantly, they are fully compliant with Sharia Law. This means no interest is charged on these accounts though an extra fee will apply that depends on the currency pair. This starts at $5. So, while IC Markets does provide the swap-free account option, the associated fee can be quite high.
Pros:
No swap or rollover fees are charged at all
This swap-free is well-supported by every trading platforms and account type
The base spread does not change and remains very low
Cons:
The possibility of a high extra admin fee could be a stumbling block.
IC Markets review
Security
Of course, one of the most important factors when choosing a top forex broker to deal with, is security. This is something that you can rely on from IC Markets. Given their long standing reputation in the industry, they have an excellent security infrastructure in place.
Foundation and Offices
IC Markets is an ECN broker that was founded in 2007 in Sydney, Australia. Since that time more than a decade ago, they have grown to become a popular ECN broker choice for traders around the world, though they still retain string routes in Australia. They now run operations from the following locations around the world:
Limassol, Cyprus
Omonoias, 141, The Maritime Centre,
Block B, 1st floor, 3045, Limassol, Cyprus
Sydney, Australia
Level 6, 309 Kent Street,
Sydney NSW,
2000 AUSTRALIA.
Regulations
When it comes to regulation, IC Markets is regulated by some of the most trusted bodies in the forex industry. These top-tier regulations, for your protection as a trader, come from the following regulators:
IC Markets (EU) LTD (European entity)
Registration Number: CySEC 362/18
International Capital Markets Pty (Australian entity)
Registration Number: ASIC 335692
Raw Trading Ltd (Seychelles)
Registration Number: FSA (SD018)
This represents an excellent combination of the very best, most-trusted regulation for you as a trader, but that can also offer great conditions and high leverage where needed for many traders.
Money Protection
You will notice from above that IC Markets operates worldwide under a few different entities. Regardless of this, each of these operations prioritizes trader security and the protection of your funds.
To that end, the broker holds your funds in segregated accounts with top-tier institutions to ensure maximum protection in the case of bankruptcy, or insolvency, in which case, your funds would be untouched.
This protection is offered by IC Markets around the world, but is particularly strong in Europe under IC Markets (EU) Ltd and International Capital Markets Pty (Australia) who, respectively, abide by ESMA/MiFiD regulations in Europe and by ASIC regulation in Australia. These provide for mandatory negative balance protection, meaning you cannot lose more than you deposit, and an Investors Compensation Fund if anything untoward does happen to your money. This is known as ICF and covers up to €20,000 in compensation.
Not Accepted Clients
While IC Markets offers services to traders from most countries, there are a few places around the world that they do not accept clients from. At the moment, this is the most up to date listing in that regard:
Antigua and Barbuda
Bolivia
Cuba
Angola
Botswana
Democratic Republic of Congo
Gambia
Guinea
Guinea Bissau
Ivory Cost
Lesotho
Libya
Liberia
Mali
Namibia
Niger
Senegal
Sierra Leone
Tanzania
Togo
Zimbabwe
Afghanistan
Cambodia
DPR Korea
Iran
Iraq
Israel
Kyrgyzstan
Myanmar
Syria
Yemen
Pros
IC Markets are very well-regulated by some of the most known and respected bodies in the industry
They are reputed as one of the safest brokers in the industry, offering great trader protection
Cons
The negative balance protection offered, is only available to traders based in the EU and under ASIC regulation
IC Markets review
Costs and Accounts
The next key area to examine within IC Markets is that of trading costs and fees as well as the range of account types that the broker makes available. Let's take a closer look.
Account Types
When it comes to IC Markets account types, there are several on offer. This should present something to suit all kinds and levels of forex trader.
IC Markets Demo
The best place to start if you are new to IC Markets or any other forex broker for that matter, is the demo account. Luckily, IC Markets demo account is an excellent offering. The demo account they offer is unlimited in a sense that you can use it as long as you like.
With an IC Markets demo account you can also get the full trading platform experience. MT4, MT5, and cTrader are all available. This is a great way to get to know the workings of the broker and allows you to trade fully as you would on a real account, with all the same functions, but virtual currency. This means it is completely risk-free. It does not obligate you to open a real account or deposit any funds, but it is a great stepping stone if you want to do that.
Standard Account
The IC Markets Standard Account is an excellent account choice if you are a new or experienced trader. Here you can get started with no minimum deposit at all, and you can trade through the available Metatrader platforms.
The standard account presents you with the opportunity to trade more than 200 CFDs including a total of more than 60 forex currency pairs. All of this starts with a very competitive trading cost too where spreads start from just 1 pip.
RAW Spread Account
The next very popular IC Markets account type you can choose is the RAW Spread Account. This is an ECN execution style account and you can select between trading with MT4, MT5, or cTrader with this account type. Many traders favor this account for the lightning fast execution speeds, and you still are not required to have any minimum deposit here.
As you would expect, the spreads here are excellent. These start from 0 pips and a competitive commission is in place. This stands at $3.50 per lot traded if you are using MetaTrader, and $3 per lot traded through cTrader.
Here too you will have access to the very same great range of market choice with more than 200 CFDs, and 60 forex pairs for trading. Given the very low trading costs, this is the favored account type for many forex scalpers.
Islamic Account
A great positive if you need an IC Markets Islamic account, they are available throughout. Both Standard, and the Raw Spread accounts can be converted to the IC Markets Islamic account on request.
Here you will find the same great range of assets, your choice of MT4, MT5, and cTrader platforms, and the same low spread starting from 0 pips depending on the asset. The only slight difference is that, since there are no swap fees on this account, the broker does implement an additional fee that starts from $5 per lot depending on the currency pair.
MAM/PAMM Account
If you are more experienced in the industry and perhaps operating your own fund or client base, then you can access some of the best MAM/PAMM accounts in the sector through IC Markets with some of the most highly flexible allocation available.
With these accounts, trading is facilitated through MT4 with a minimum trade size of 1 micro lot for each sub account. The accounts cater very well for scalping, algorithmic trading through the MT4 EAs and of course harness the super fast IC Markets execution speeds.
Professional Account
An IC Markets professional account is available, though this is only the case if you are a trader operating within the European branch of the broker. In order to qualify as a professional trader and open this type of account, you must meet at least two of the following requirements:
Have an average of 10 transactions of significant size per quarter in the past year.
Have a financial instrument portfolio of over €500,000 (in your bank or into the trading account) .
Possess relevant experience in the financial services sector.
If you meet two of these, then you can be eligible to open a professional account that comes with increased leverage of up to 500:1 and a highly competitive trading cost with excellent conditions.  The only point to be mindful of here is that as a professional trader, you will not qualify for the negative balance protection or ICF mentioned above.
Account Base Currency
The base currency with any forex broker means the currency of your trading account. If the currency you deposit matches an available base currency of your account, then you will be able to avoid any currency conversion fees.
IC Markets makes numerous base currencies available for you to choose from. There are 10 in total. These IC Markets base currencies are: USD, AUD, EUR, GBP, SGD, NZD, JPY, CHF, HKD, and CAD.
Deposit
The next area to take a look at is deposits and how you can fund your IC Markets account, including what IC Markets deposit methods are available.
Minimum Deposit
One of the most attractive points to many traders, especially those starting out in the industry, is the fact that IC Markets has no minimum deposit. You can start trading with IC Markets for as little as $1. This makes them extremely accessible.
With that said, for the best trading experience, the broker does recommend that you get started with a minimum deposit of $200 or more so you can fully exploit the offering.
Deposit Methods
Another appealing point is that IC Markets deposits are typically fee-free. The deposit method though, and the currencies that you can utilize to complete these deposits can vary depending on where you are located.
Generally though, IC Markets accepted wire transfers worldwide. These tend to take at least 48 hours. Credit cards like MasterCard and Visa are also globally available for an instant deposit, as are several eWallets like PayPal, Neteller, and Skrill. These eWallet methods are only available outside the EU.
Cryptocurrency deposits are facilitated through Bitcoin only and these are usually processed within 2 hours. There may be other methods available depending on your location. These include Union Pay in China, Bpay, and POLi in Australia, and online internet banking transfers in various local areas worldwide.
Withdrawals
With IC Markets withdrawals, these usually take around 3 days though they can take up to 2 weeks. This depends on the method chosen, and you must use the same withdrawal method as you used to deposit funds.
Withdrawal Fees
IC Markets withdrawals too are fee-free. The only exception here is if you are requesting an international withdrawal. In that case, the fee would be $20 or the equivalent currency.
Spreads & Commissions
As we have highlighted, the spreads and commissions with IC Markets are very competitive. The exact spread will depend on both the account type you choose, and the market itself. For the IC Markets standard account though, the spreads on forex start from as low as 1 pip. If you have a Raw ECN account, this gets even lower with a start from 0 pips. Though you will have to deal with commissions of $7 per round turn lot traded through Metatrader, or $6 for the same if you trade through cTrader.
As an example, here are a few of the minimum spreads that you can expect on some popular assets with IC Markets:
EUR/USD – 0.0 pips
Gold – 0.00 pips
S&P500 – 0.600 pips
Bitcoin – 5.000 pips
As you can see, the spreads throughout each area remain competitively low. This is one of the key reasons why many new and experienced traders alike tend to favor IC Markets for trading.
Fees
Moving to fees, there are not many to contend with at IC Markets. Let's take a look though at the couple that you will meet.
Overnight Fees
The overnight fee is basically charged on every asset at IC Markets if you hold them overnight since you are always trading in CFDs. The overnight fee itself is an interest that can be either paid or received by the trader, this will depend on the asset and the market situation at any given time.
Given the fluid nature of these swap fees, they are not displayed on the IC Markets website, but you will find them on both the Metatrader platforms, and the cTrader trading platform.
If you have an IC Markets Islamic account, of course you will not be subject to these overnight fees.
Inactivity Fees
Unlike some top forex brokers, IC Markets does not charge any activity fee. This is a nice saving if you want to keep your account open but take a break from trading.
Pros
The broker offers top-quality ECN accounts with some of the fastest speeds in the sector for execution
The spread remains as low as possible through the majority of markets offered.
You can save some additional money with no activity fee if you want to take a break from trading
Deposits and withdrawals are both fee-free. This can be a great saving for frequent traders
No minimum deposit makes it very easy and low-risk to start trading with the broker.
Cons
The IC Markets fees on international money transfers are relatively high
IC Markets review
Trading
Now that you have gotten to know the basics about IC Markets and how to open your account, it is time to take a look at the trading experience with the broker.
Trading Features
Taking a closer look at the trading features of the broker, we have divided the key information into several categories here for you to review and see how IC Markets matches up with your trading needs and expectations.
Executions
When it comes to execution, IC Markets is an ECN broker offering some of the best execution speeds in the industry. As well as this speed of execution, they can also compete with the best on prices thanks to the wide range of top liquidity providers they have access to.
The prices you see through trading at IC Markets are the best on offer from more than 25 banks and other top providers, all with the best latency and some of the most competitive spreads around, starting at 0 pips.
Sizing
The minimum order size you can trade with IC Markets is 1 micro lot. As a forex trader, this means you can open new positions from as little as $1000 or 0.01 standard lots for non-leveraged trading. This will of course be lower if you apply leverage.
The low sized minimum order helps traders of all types get started and is particularly positive for new traders and beginners who want to start small and feel out what the broker has to offer.
Techniques
IC Markets, unlike some of the other best forex brokers, completely allows you to engage in various trading techniques if you wish. This includes scalping, hedging, and the use of EAs in algo trading.
The excellent cost of trading makes IC Markets a very popular choice among scalping traders who are attracted by the low spreads and commissions in play. When it comes to EAs and Algo trading, these can be accessed both through MQL in the case of MetaTrader, and cAlgo in the case of cTrader. Therefore, there is something to fit all needs with IC Markets.
Risk Management
Risk management is a very important area for you as a forex trader at all stages of your journey. With IC Markets you will be glad to find that you can benefit from several trading tools to help effectively manage risk. The broker facilitates stop losses, take profits, limit order, and trailing stops on all orders. They also have margin calls in place on leveraged trading.
These order functions can help you to secure profits, manage losses, and set price points for exit and entry into trades in the most effective, efficient manner to ensure your risk management plans remain intact.
Trading Hours
When it comes to trading hours, these are the times through the day when an asset is available for trading. With the forex and cryptocurrency market, these are available 24/7.
When it comes to other commodities, it really depends on the asset itself, though markets like metals, are open for trading 23 hours a day. The futures market also trades for 23 hours a day Monday to Friday.
The stock markets available through IC Markets which are the Australian Stock Exchange (ASX), Nasdaq, and NYSE follow their own national hours from Monday to Friday, and indices cannot be traded when the market for that particular country is closed.
Trading in bonds differs as follows depending on the area, but the timings are as follows, Monday to Friday:
Euro bonds are opened from 9am to 8pm
US bonds from 1am to 11:55pm
UK bonds from 10am to 8pm
JP bonds from 3am to 7pm
The times listed above are referred to as "Server Times" by IC Markets and these are typically GMT +2/+3 depending on the time of year.
Leverage
IC Markets leverage is available around the world, though the amount of leverage you can access will vary depending on the regulation you are registered under, and the IC Markets entity you are associated with.
Traders based in Europe and registered with IC Markets (EU) Ltd. will have a maximum leverage of 30:1 increasing to 500:1 as a professional trader due to ESMA regulations.
Outside Europe, the International Capital Markets Pty still provides a maximum leverage up to 30:1 because of the ASIC legislation, while with the Raw Trading Ltd entity of IC Markets the maximum leverage on forex is 500:1.
Platforms & Mobile
An essential part of any forex trading experience is the trading platforms a broker has to offer. Let's take a look at what you will find with IC Markets in terms of trading platforms.
Charting and Trading tools
Firstly, looking at the range of charting and trading tools available, IC Markets does very well. Through their range of platforms they manage to provide for a total of 51 chart indicators in total, though this number is increasing all the time.
There are also 31 drawing tools available through the brokers platforms which are of course well-known for being highly customizable.
Desktop Platforms
Considering desktop platforms first, IC Markets makes available all of the top choices in the field. MT4, MT5, and cTrader are all available here. All are highly respected in the forex trading sector and have been around for many years.
The IC Markets platforms are all highly customizable and cater for algorithmic trading through MQL EAs and C-Algo with cTrader. These high-end features along with the fact the platforms are very easy to use and will run on almost any device, make them hugely popular choices even if they do not look the prettiest on the eye. They are all available on both Windows and Mac.
Online Platforms
IC Markets utilizes the WebTrader from MetaTrader, and the cTrader Web Platform to provide for online, in browser trading platforms. Both are closely linked to their desktop variants and provide for the same great range of features and functionality for a seamless online forex trading experience.
Mobile Platforms
IC Markets provides for mobile trading very well too. They do so through the MetaTrader and cTrader respective apps offering your choice of platform on both Android and iOS. Again, the software is light and easy to run in all cases, and offers much the same experience as desktop trading with few of the details or functions lost with trading on the move.
Markets
Here are the broad range of markets that you can look forward to trading with IC Markets.
Forex
The broker offers forex trading in more than 60 pairs in total. This is an excellent range of choice and with some of the best spreads and trading conditions in the sector, IC Markets is a top choice for forex traders and scalpers too.
Commodities
IC Markets offers more than 19 commodities for you to trade in. These include choices in energies, soft, and hard commodities that you can trade as both CFDs and futures.
Indices
There is an extensive range of indices to choose from, with 17 available in total. They are traded with no commission through any of the available MT4, MT5, and cTrader platforms and again the spread is very low starting from just 0.5pips.
Crypto
IC Markets crypto trading is available on a total of 10 cryptocurrency markets. This represents a good level of choice if you are interested in trading crypto assets and you can trade both long and short in this category.
Stocks
When it comes to IC Markets stock trading, this is facilitated through the MT5 trading platform only. You will have a decent range of choices here though. More than 120 stocks are available to trade and they are offered from some of the world's major markets including the ASX, Nasdaq, and NYSE. Trading these as CFDs still also allows you to earn dividends if they are available.
Bonds
IC Markets also offers commission-free trading in a total of 8 bonds. These cover major bonds from around the world including the US, EU, UK, and Japan.
Future
Futures trading at IC Markets is available. Again this is on a commission-free basis and you will have a total of 4 futures markets to select from.
Products
In terms of additional products or features that IC Markets offers, this is what we have found.
IC Markets VPS Service
The IC Markets VPS service is available to you for free once you have opened and closed a certain volume of trades. This volume stands at 15 lots per month. If you continue to meet this monthly number of trades, then your free VPS service will continue.
To offer this service, the broker partners with ForexVPS, Beeks FX VPS, and New York City Servers.
Social Trading – Copy Trading
Social and copy trading opportunities are both offered by IC Markets. This is made possible through a number of different connections. Firstly, Zulutrade works with IC Markets to offer copy and social trading if you have registered with them. This is available to EU traders only.
Through MetaTrader and cTrader too you could engage in copy trading through the use of EAs or cAlgo to follow trading strategies set out by others. Both platforms allow for these automated strategies to be implemented for your own trading if you have them available to you.
Pros
IC Markets are well renowned as one of the best ECN brokers in the industry
They present excellent trading conditions, particularly for scalping
All the major platforms are fully available on desktop, web, and mobile
Social and Copy trading features are fully catered for
The broker has an extensive pool of high quality liquidity providers allowing them to offer great spreads
All trading techniques including scalping, hedging, and algorithmic trading are permitted
Cons
Some traders may feel that 200 tradable assets is quite a limited catalogue to choose from
IC Markets review
Education and Support
As a trader, you always want to continue your learning and growth experience, as well as feel supported. Let's take a look at how IC Markets makes this possible.
Languages
The IC Markets website is available in a huge range of languages to entirely meet your needs. They have 18 different languages available as follows for the website:
English, Chinese (simplified/traditional), Thai, Indonesian, Korean, German, French, Portuguese, Spanish, Vietnamese, Russian, Arab, Czech, Malay, Italian, Bulgarian, Croatian
Research
The broker also provides for a small research section within their website. This helps you follow the latest market news published by the broker team and coming from the wider industry, as well as to follow a detailed economic calendar.
Customer Service
IC Markets provides for an excellent range of customer service options. They are available again in many languages to answer your questions via live chat through the website, and the support team can also be contacted through email or direct phone call.
Added to this, the website is fully equipped with an excellent range of FAQ questions providing the answers to many traders. If you do need it, then customer support is available in the following languages:
English, Thai, Korean, French, Spanish, Russian, Czech, Italian, Croatian, Chinese(Simplified/Traditional), Indonesian, German, Portuguese, Vietnamese, Arabic, Malay, Bulgarian.
Education
When it comes to IC Markets education, this is not available through their EU website, but if you head over to their Australian site you can find a wide range of materials to continue learning.
These include a wide range of forex trading courses and tutorials as well as the same for trading CFDs and general trading guides. You will also find a handy guide to getting started with MT4.
All of the material is available in English, and while it is perfect for new traders in particular, you will still find a lot to benefit from as a more experienced forex trader.
Pros
The broker FAQ section is excellent and detailed, and the support team is very widely available.
They offer a wide ranging and helpful education section with a lot of good quality materials available including videos, and guides
IC Markets provides for a huge range of languages meaning everyone can feel supported
Cons
Their research section could be seen as quite limited
The educational content is available only in English and only within the Australian section of the website
IC Markets review
IC Markets FAQs
Is IC Markets safe?
Yes, IC Markets is completely safe.IC Markets is very well-regulated by ASIC (335692), CySEC (362/18) and FSA (SD018). These top-tier regulators ensure the best of protection. Added to that, your funds will always be held in segregated accounts. This way, if the broker ever encounters financial difficulty, your money is always safe. For more information, click here: IC Markets review.
How long does it take to withdraw from IC Markets?
How long your IC Markets withdrawal takes depends on the withdrawal method you are using.  Generally speaking, it takes up to 3 days but some payment methods take up to 2 weeks. Wire transfers are typically slower, while card payments are usually the fastest.
Can I use IC markets outside of the US?
Yes, you can. IC Markets is an international broker available in over 100 countries, but it's not available in the US, Canada, Belgium, and more countries. Find out the complete list into the "Not Accepted Clients" section in our IC Markets review.
Does IC markets accept Canadian clients?
IC Markets does not accept clients from Canada at the moment. This is due to regulatory requirements in Canada.
Is IC Markets a Market Maker?
IC Markets is not a Market Maker, but an ECN broker. They offer some of the fastest ECN order execution in the industry.
How can I change leverage with IC market?
Leverage with IC Markets can be easily changed on the MetaTrader and cTrader trading platform while placing a trade. You will still have to make sure that you follow the maximum IC leverage allowed depending on the assets and your location.
How much is the minimum deposit fee on IC Markets?
IC Markets does not have a minimum deposit, however IC Markets recommends that you deposit at least $200 in order to get the best experience possible with the broker, and fully utilize the trading platforms.
---
IC Markets Review 2021: Unbiased Pros and Cons revealed
Related Reviews
Security
Cost
Trading
Education
Security
Cost
Trading
Education
Security
Cost
Trading
Education
---
Keeping you better informed
Find and compare the best


Online brokers for you