If you are interested in Moneta Markets, there is no better place to start than having a look at our Moneta Markets review.
With that in mind, you may be interested in opening a Moneta Markets demo account before moving to a live account. This is a great way to get to know the broker, and here we will help you get to know their demo account. This includes a full walkthrough on how to open the actual account, and more.
Let's take a closer look.
Moneta Markets Demo Account Opening Tutorial
Here is our step-by-step look at how to open your Moneta Markets demo account.
Step 1 – Getting Started With Your Moneta Markets Demo Account
Of course, the very first thing you will need to do is visit the Moneta Markets website (74-89% of retail CFD accounts lose money). When you get there you should look for the white button "Demo" which is situated at the top of the page. Click on this button to progress.
Step 2 – Moneta Markets Demo Account – What Documents/Information do you Need?
To open a demo account, you will only need some basic personal information. This includes a valid email address and phone number.
When you want to open a live account, you will need an ID like your passport to confirm your identity, and a utility bill or bank statement to confirm your residence. Still though, it is an easy and fast process.
Step 3 – Fill in the registration form
After clicking the demo account button, the registration form as you see below will appear. Simply complete this form with your name, surname, phone number, email, and password, as shown below to move on.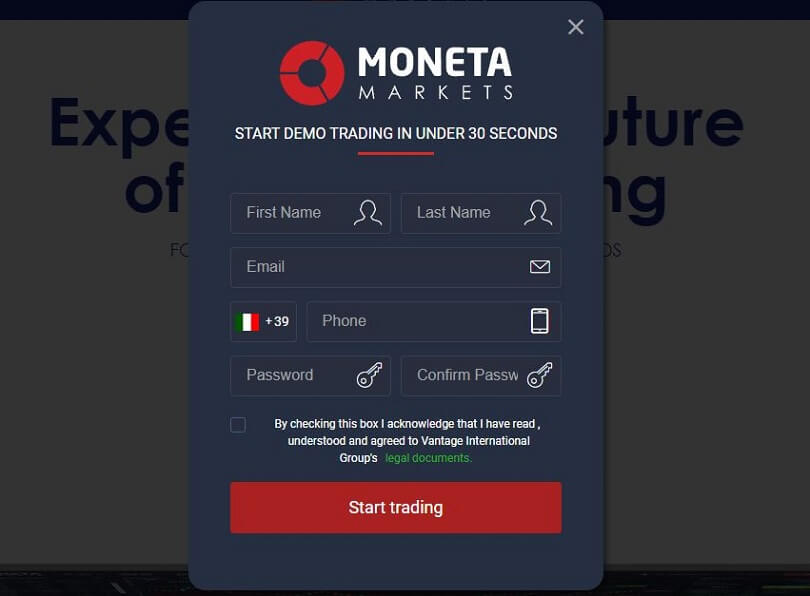 With the details entered, check the box and click "Start trading".
Step 4 – Confirm the account via email/telephone
Shortly after registration, you will receive an email you will need to confirm. This will include your account details along with a link to download the trading platform.
Once you click this confirmation link, your demo account will be activated by the broker.
Step 5 – First login into the demo account
You should now be able to log-in to your demo account using the details you received in the confirmation email. From here, you can begin to trade.
Step 6 – Choosing your Moneta Markets Account Platform
There are a few things you have to do to get the demo account running. These include choosing your trading platform, and the account type you wish to run as a demo. You can download the platform directly from your confirmation email, or on the broker website. With Moneta Markets, you choose from MT4 or MT5 platforms.
You can also select the Moneta WebTrader. This can run in your browser, and so, does not require a download.
Moneta Markets Demo Account Review
Now we will take a closer look at some of the key demo account features you can expect to find.
What Types of Moneta Markets Demo Account are Available?
There are several account types available as demo accounts with Moneta Markets. The top choices are the ECN and STP accounts.
The ECN account has a spread from 0 pips and $3 per lot per side commission, while the STP account spread starts from 1.2 pips. Both account types are available as demo accounts.
For more on the various account types, you can read our Moneta Markets account types guide.
Moneta Markets Demo Account Features, Restrictions, and Differences with Live Account
There are only two real differences between this demo account and a live account.
The first is obviously that, using a demo account, you are trading risk-free with virtual funds. That means there is no chance of actual financial loss. The second is slippage. This does not occur often in live accounts, but it can happen when markets are volatile. Since the funds are virtual, this does not happen at all in a demo account.
Aside from these things, your demo trading account experience will be just as you would expect from a live account.
Advantages of Trading with a Moneta Markets Demo Account
It is always a good idea to start trading with a demo account. It is your no-risk way to get to know the broker and what they have to offer.
At Moneta Markets, you will find they offer extremely low trading costs, and competitive spreads across a wide range of more than 300 CFDs.
Their minimum deposit of $50 on an STP account is also very accessible. Feel free to check our Moneta Markets minimum deposit guide for more on this point.
Also, you will have access to trade with some of the best platforms in the business in MT4 and MT5 as well as the Moneta WebTrader Platform and Moneta AppTrader.
Moneta Markets Demo Account Management
Moneta Markets Demo Expiring time
The Moneta Markets demo account is limited to a 30 day trial period. If you need to extend this, you should contact the Moneta Markets support team.
---
74-89% of retail CFD accounts lose money
About the Author
Luca Puddu
Broker Expert
Always full of different interests, Luca started to get interested in the field of personal finance in 2014.
His self-taught studies led him year by year to become increasingly interested in the investment field.
To date, Luca actively invests in the stock market and cryptocurrencies, focusing on rising markets and the industries of the future.
His main role at InvestinGoal.com is to analyze and study in the smallest detail the brokers and their platforms, while checking carefully that the information shown by them is genuine.
In this way, he provides readers with a complete and truthful overview of the broker they might be interested in.
Moneta Markets Demo Account – Opening Tutorial and Review
Related Guides
---
Keeping you better informed
Find and Compare the Best


Online Brokers for You