FXTM is a market leader offering top-notch financial services to a wide range of forex traders. The broker has a user-friendly and an unlimited demo account. In case you've already gone through our FXTM review, you may have seen that the FXTM offers a demo trial.
If you are a beginner, you need to understand how to use the demo account to practice forex trading and also better navigate the financial markets, and that's why we curated this article.
Read on to find out the other benefits of using a demo account and how to open a virtual account on FXTM for free.
FXTM Demo Account Opening Tutorial
Below is a step by step guide on how to properly open a FXTM demo account:
Step 1 – Getting Started With Your FXTM Demo Account
The first step to take is to visit the FXTM website, and familiarize yourself with the website (81% of retail CFD accounts lose money). Then look for the "open demo account" button to complete the account opening form. Click on the button to fill the form with your correct details.
Step 2 – FXTM Demo Account – What Documents/Information do you need?
FXTM requires basic information from you to open a demo account. The information includes your email address and phone number. Should you have it in mind to upgrade the account in the future to a live account, you would be required to provide an ID or Passport to verify your identity and your bank statements to prove your residence.
Step 3 – Fill in registration form
Then fill the account opening form by providing your name, surname, phone number, email, country of residence and password. Ensure you choose a strong password that a third-party will find it difficult to guess.
After completing the form, choose the account type you would like, the account currency, the leverage, the password and the initial balance. Once you are done with the above, then click on the 'open the account' button.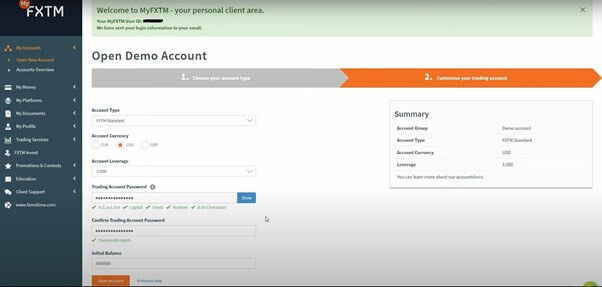 Please ensure you provide only genuine information, as fake information may lead to the close of your account with FXTM.
Step 4 – Confirm the account via email/telephone and download the platform
Once you submit your application, the broker will send you an email to confirm your account, alongside your details and the link to download the platform. However, you may also download the platform from your FXTM personal area, where you'll find the whole list of the platforms available (image below).
Download the platform you so wish. Whether you want the desktop version of MT4 or MT5, feel free to download the same. Otherwise, you can choose the FXTM WebTrader. In this case, you do not need to download it.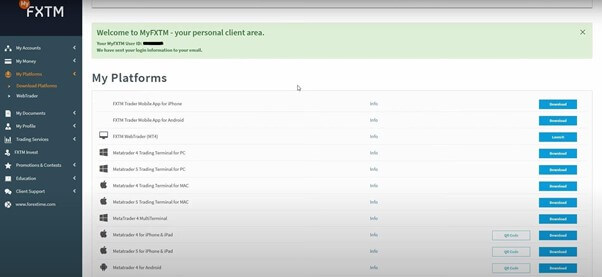 Step 5 – First login into the demo account
Now, you have a demo account with FXTM. Install the trading platform and use your details to login once it's ready. If you choose the FXTM Webtrader platform, just click 'launch', add your details and click 'ok' in the window which appears in order to connect your account to the platform. Once all of the above have been done, everything is now set for you to start trading with virtual money.
FXTM Demo Account Review
In this section, we'll review the FXTM demo account to understand it's features, types of account, and also explain the benefits of using a demo account to trade the FX market.
What Types of FXTM Demo Account are Available?
FXTM offers all their live accounts in a demo version. The account types are Micro, Advantage and Advantage Plus. At the moment, keep in mind that EU traders can only open a professional account. For detailed information about the different accounts operated by FXTM, you can read our FXTM account types guide.
FXTM Demo Account Features, Restrictions and Differences with Live Account
A demo and live accounts operate in the same way, only that two differences are significant. The first difference is that a demo account is funded with virtual money, so the risk is completely off the table. Also, using a demo account means slippage does not occur, while it occurs in live accounts.
This is because slippage is the number difference between the asked price and the price the trader actually pays. Slippage cannot occur in a demo account because trading positions are virtual.
The second difference is that there is no risk whatsoever using a demo account, unlike the risk of losing your trading capital with a live account.
Advantages of Trading with an FXTM Demo Account
There are several benefits of trading with an FXTM demo account. Top among the benefits is that FXTM is a highly reputable broker that offers great account types and competitive spreads, sometimes from 0 pips with the Zero and ECN accounts. So, using a FXTM demo account is really helpful to trade risk free.
Secondly, the demo account will enable you to understand the nitty-gritty of the financial market, by testing your trading skills and getting familiar with the trading terminal. You can also develop specific trading strategies that are suitable to your personality.
FXTM Demo Account Management
FXTM Demo Expiring time
One of the biggest features of the FXTM demo account is that it is unlimited. Meaning, it doesn't have an expiry date or time. You can use the account for as long as you want until you have mastered the dynamics of the market. You can check our best forex demo account top ten if you want to discover the best brokers with unlimited demo accounts.
However, if your demo account is inactive for a period of 60 days, the account will become dormant or archived. You may contact the team at FXTM if you have any issue using the demo account to trade.
FXTM Demo – FAQs
Does FXTM have a demo account?
Yes, FXTM offers a user-friendly demo account to their traders. The account opening process is simple and straightforward.
Are forex demo accounts free?
Absolutely, the accounts are free. At its core, forex demo accounts are created to help beginners practice their trading skills in a virtual environment. Using a demo account doesn't come with any risk, only that you won't make real profits if the moves in your favor.
---
74-89% of retail CFD accounts lose money
About the Author
Filippo Ucchino
Co-Founder - CEO - Broker Expert
Filippo is the co-founder and CEO of InvestinGoal.com. He has 15 years of experience in the financial sector and forex in particular. He started his career as a forex trader in 2005 and then became interested in the whole fintech and crypto sector.
Over this time, he has developed an almost scientific approach to the analysis of brokers, their services, and offerings. In addition, he is an expert in Compliance and Security Policies for consumers protection in this sector.
With InvestinGoal, Filippo's goal is to bring as much clarity as possible to help users navigate the world of online trading, forex, and cryptocurrencies.
---
Keeping you better informed
Find and Compare the Best


Online Brokers for You