Pepperstone Free VPS: How to get it?
If you are trading with Peppersone, no doubt you have already read our Pepperstone review as the perfect starting point to learn about the broker and what they offer.
Here we will look at one of the Pepperstone Pro Account features that many traders like. That is the Pepperstone free VPS. Yes, you can access a free VPS with Pepperstone. In this step-by-step guide, we will tell you exactly how, and what you need to do to get yours.
Continue reading below for all the details!
How to get Pepperstone VPS for Free
It is possible to get a Pepperstone VPS for free. We will show you just how to do that by following the steps below:
1. Open a Pepperstone account
The very first step you will need to follow is to open a real Pepperstone account (74-89% of retail investor accounts lose money when trading CFDs). This process is very convenient and should not take you much time at all. You will need to choose to open a live account as you will later need to apply for professional status to qualify for free VPS.
2. Verify the trading account
During the registration process, you will have to verify your account and complete a questionnaire to start live trading. This part of the process will also include uploading proof of your ID and address which can also be completed quickly.
Even easier, if you already have a demo account you can use the "account" tab in your secure client area to apply for a live account.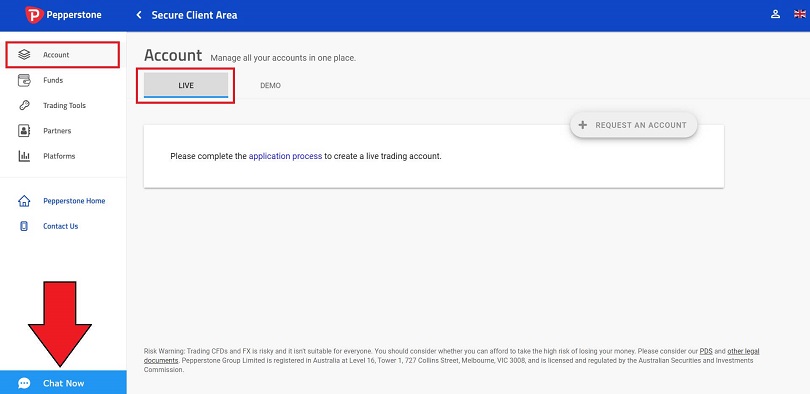 3. Become a professional client
With your account open, you will then need to apply for professional trader status. This requires you to satisfy at least 2 of the following 3 requirements.
Have completed an average of 10 transactions of significant size per quarter in the past year.
Maintain a financial instrument portfolio of over €500,000 (in your bank or trading account).
Possess relevant experience in the financial services sector.
With two of these satisfied, you will be on the way to professional status. For a full rundown, you can see our Pepperstone Professional Account opening tutorial for excellent guidance.
There are many perks to having this status. Among them is increased leverage that can increase to as much as 500:1 though you may lose some retail trader privileges like negative balance protection in the process.
You will find these details and more by reading our Pepperstone Professional account review.
4. Trade at least 15 lots per month
At this point, you could ask your account manager about getting the Pepperstone VPS free but you will most likely also need to trade the minimum amount which is 15 lots per month as well as being a professional client. This amount should qualify you for both their New York City Server and FXVM for free.
5. Apply for the VPS program
Once all of the previous steps are complete, you can go ahead and apply for the VPS program directly through the brokers' website. Pepperstone will then verify your request and cover the cost of the VPS service provided.
6. Choose the VPS
Next, it is time to choose the VPS service you want to go with. At Pepperstone you will find that they do not offer their own VPS but instead they partner up with two different providers. These are the New York City Server (NYCS) or the FXVM which you can choose between.
Don't forget it is also possible to use the VPS before hitting the required number of lots, but you will then subsequently need to change to a free plan.
Can't meet the Pepperstone Free VPS monthly requirements?
In some situations, you may not meet the monthly requirements to qualify for free Pepperstone VPS. This typically happens if you do not trade enough lots and the broker has the right to revoke the free usage.
In these cases, you will be asked to pay if you want to continue using the VPS and if not, then it could be switched off.
How much does a Pepperstone VPS Costs in general?
Since Pepperstone does not have its own but instead partners with other VPS providers, you will find that the cost varies. You may be eligible for a discount though if you are signing in with Pepperstone. This discount is usually 20% with FXVM or 25% off any New York City Server plan.
Once you have selected the VPS and plan you need, you have to send your application and request to Pepperstone for approval.
Choose your Pepperstone VPS: Which is the best one?
Of course, you will want to know which of the two partnered VPS that you can have access to through Pepperstone is the best, this is something we will look at in more detail below.
Don't forget that this access is exclusive to Pepperstone Pro Account holders and you can read our review for detailed insights on this account type. We also have a Pepperstone professional account opening tutorial available for all the help you may need there.
Now, lets take a closer look at the VPS options available:
FXVM Pepperstone VPS characteristics
This VPS offers ultra-low latency times of approximately 1 millisecond. Added to those lightning speeds you will have access to a great range of multilingual staff around the clock who can also help you install expert advisors, third-party tools or troubleshoot any issues you may encounter.
This is an excellent choice that is fully integrated with Pepperstone MT4/MT5 ready to be used when trading at Pepperstone with even more details in the image below.
New York City Servers VPS Characteristics
This VPS partner also offers an extremely customizable, low-latency option for traders through its extremely stable connections and high-powered servers that also run 24/7. Yet again excellent support is available at any time through email, support tickets, live chat, and telephone should it be needed.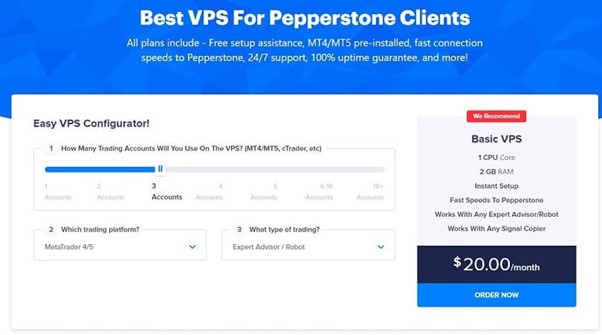 Pepperstone free VPS FAQs
What is VPS in forex?
A VPS or virtual private server is a special type of server which is housed on a computer. It has the ability to run trading platforms on a dedicated computer at all times of the day, with no downtime and only a slight lag.
What is VPS hosting?
VPS is short for Virtual Private Server. These allow traders to run automated algorithmic strategies, including expert advisors around the clock 24/7 on a virtual machine. They are really effective in time-saving and providing you with no-downtime trading even throughout the night when you are not by a computer. They are also extremely stable which reduces the chance of technology or connectivity issues.
How to install VPS on MT4?
You don't have to worry about installing your VPS on either MT4 or MT5 with Pepperstone as they are pre-installed on the trading platform. All you have to do is to download the platform and subscribe to a VPS plan with third-party providers supported by Pepperstone.
---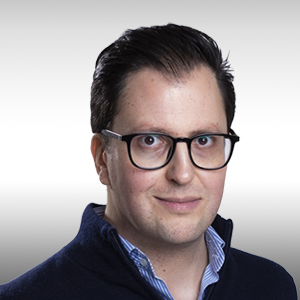 About The Author
Filippo Ucchino
Co-Founder - CEO - Broker Expert
Filippo is the co-founder and CEO of InvestinGoal.com. He has 15 years of experience in the financial sector and forex in particular. He started his career as a forex trader in 2005 and then became interested in the whole fintech and crypto sector.
Over this time, he has developed an almost scientific approach to the analysis of brokers, their services, and offerings. In addition, he is an expert in Compliance and Security Policies for consumers protection in this sector.
With InvestinGoal, Filippo's goal is to bring as much clarity as possible to help users navigate the world of online trading, forex, and cryptocurrencies.
Pepperstone Free VPS: How to get it?
Related Guides
---