If you are thinking of trading with HYCM then there is no doubt you have already taken a look at our in-depth HYCM review. This is the best place to start for all the information.
Beyond that, we take a deeper dive here into specifics around the broker. In particular, we will look closer at the HYCM account types you have available, what they can offer, and what kind of trader may be suited to each one.
Let's get started!
HYCM Account Types
Here is a closer look at the many excellent types of accounts you can choose from when trading with HYCM.
HYCM Demo Account
First up we have the demo account. This account is vital if you are starting out in the industry, or with a broker. It allows you to trade completely without risk, using virtual funds but replicating the features of the broker, and behavior of the real market.
It is a great way to learn and you will be under no obligation to make a live account deposit later. While the demo account is only valid for a 14 day period, there is no limit to how many you can create, so it is essentially unlimited.
If you are interested to learn more, check out our HYCM demo account article for the complete lowdown.
HYCM Fixed Account
As the name suggests, this type of HYCM account offers fixed spread trading and is a good choice if you would prefer fixed spreads. You can get started on this account with a minimum deposit of just $100 and you will have both MT4 and MT5 trading platforms at your disposal.
Over 100 assets are available here with fixed spreads that start from 1.8 pips and you do not need to worry about any commission here as none is charged. The minimum trade size you can work with here is 0.01 standard lots, otherwise known as a micro lot. The only thing you can't do with this account type is to use the EAs feature of the Metatrader trading platform as it is unavailable.
To learn more you should check out our selection of the lowest fixed spread forex brokers for more great choices.
HYCM Classic Account
If you are interested in variable spread trading, then the HYCM Classic account can provide this and be an excellent choice for you. The minimum deposit here again is just $100 and you will have full access to both the MT4 and MT5 trading platforms with their EAs feature accessible.
In total there are again more than 100 assets to choose from with this account and a very competitive starting spread from 1.2 pips depending on the asset. The minimum trade size will also be 1 micro lot here, and no commission is charged on trades.
HYCM Raw Account
The HYCM Raw account is available if you are looking for the very best HYCM spreads. This account type can be opened with a minimum deposit of $200 which is good value for a raw account, and you will again have access to the same range of more than 100 assets, and trading through MT4 and MT5 trading platforms.
This account comes into its own with the spread. This starts from just 0.2 pips with a $4 commission per round trade added. The minimum trade value remains low at 1 micro lot as with the other account types, and you will have access to the EAs feature that can help you with algo-trading and strategies.
If you are interested in these accounts you can read our selection of the top 10 best ecn/stp forex brokers to get more in-depth knowledge.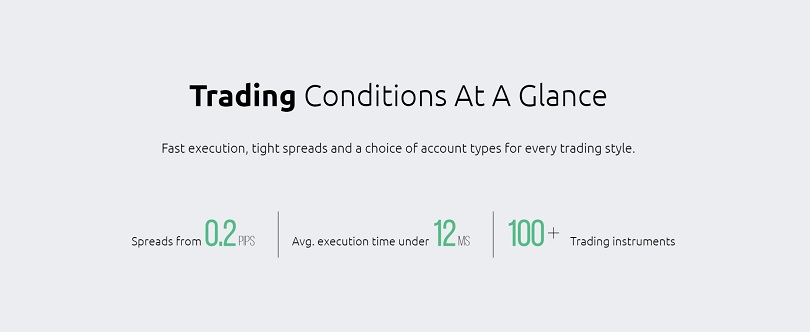 Islamic account
A HYCM Islamic account type is available and you can access it for any of the accounts the broker offers including fixed, classic, and raw account types. There are no swap fees here and the account is fully compliant with Shariah Law.
The broker also makes sure that there are no additional fees in place of the swap fee, and there are no restrictions on the available assets you can trade with this account type.
If you need this account type, you can see our choice of swap free islamic forex brokers for some of the best around.
VIP Account
A VIP account type is available at the broker for some special clients like VIPs and corporate accounts. These are specifically reserved for clients trading actively and in higher volume.
There are several advantages to be had and these help to create one of the best trading environments in the industry for VIP account holders. The benefits can include improved spreads on fixed accounts, more comprehensive market analysis and analytical features, and your own dedicated account manager to name a few.
HYCM Professional Account
A HYCM Professional account is available although it can only be accessed by some traders. If you meet two of the following three criteria, you may be approved.
You must have made an average of 10 transactions of significant size per quarter in the past year, have a financial instrument portfolio of over €500,000 (in your bank or trading account), and possess a required amount of experience in the financial services sector.
With 2 out of three of the above conditions met, you may apply for a professional account. With this, you can gain access to higher amounts of leverage though you will lose certain protections offered to retail traders such as access to compensation under the FSCS program.
HYCM Account Types Comparison
| Features of HYCM | HYCM Fixed Account | HYCM Classic Account | HYCM Raw Account |
| --- | --- | --- | --- |
| Minimum Deposit | $100 | $100 | $200 |
| Spread on Forex | From 1.8 pips | From 1.2 pips | From 0.2 pips |
| Forex Commission/lot | None | None | $4 commission per round |
| Execution Type | Market Maker | Market Maker | ECN |
| Instruments | 100+ | 100+ | 100+ |
| Platforms | MT4, MT5 | MT4, MT5 | MT4, MT5 |
HYCM Account Opening
Now that you have seen the different account types that are available, here is a closer look at exactly how to go about opening your HYCM account.
Live Account Opening
The very best starting place will of course be a HYCM demo account. Once you have built up some experience of trading here, you will want to open up a live account. Your first stop should be to visit the HYCM homepage where you can go ahead and start the process. (58% of retail CFD accounts lose money)
HYCM Account Verification
This part of the process is typically fast and convenient, but it does need to be completed. It is common that you will need at least a proof of identity document with a passport or ID being the best choice, while you will also need proof of residence in the form of a bank statement that is recently dated.
These documents can be uploaded online and are all usually verified within moments so you are ready to fund your account.
HYCM Account Funding
There are several methods available when it comes to making a HYCM deposit. These include using bank transfers, major credit cards that are Visa or MasterCard, and the use of eWallets like Skrill and Neteller, both of which are accepted.
Minimum Deposit with HYCM
The minimum HYCM deposit is typically $100 on most of the account types. The only exception here is the HYCM Raw Account where the minimum deposit is $200. Below you will see a comparison of each account type.
HYCM Account Currency
HYCM offers several account base currencies. These are the USD, EUR, GBP, RUB, AED, and CAD. These can help you avoid any conversion fees.
HYCM Account Bonus
A HYCM bonus is available though only to traders under CIMA regulation. This means if you are trading under the UK or European broker entity, it will not be accessible. There is a 10% credit bonus on every deposit made over $100 on this entity up to a maximum of $5,000.
If this interests you, you may also want to visit our top 10 forex brokers with bonus and promotion for more great bonus offers.
HYCM Account Deposit & Withdrawal
When it comes to deposit and withdrawal fees, these are not charged at all from the broker side. What you may want to do though is double-check that your bank does not charge any. You also should note that if you deposit a non-base currency, you may have to pay a small conversion fee.
Anyway, as you can see below, the majority are processed very quickly. The only exception here can be a bank wire which could take up to 7 working days to process.
HYCM Account Management
Here are a few other points to note when it comes to managing your HYCM account:
HYCM Account Inactivity
Demo accounts with the broker will expire after 14-days. Since there is no limit though, you can just create a new one as many times as you wish.
HYCM live accounts are considered inactive after 90 consecutive days of inactivity. The HYCM inactivity fee is $10 per month after this point.
HYCM Account reactivation
If your account is inactive and reaches a $0 balance, it may be closed without notice by the broker. All you need to do though is make sure you log in and this will not happen.
If your account has been closed you will have to contact customer support and ask whether or not they can reset your account or you have to create a new one.
How to close HYCM account
In the unlikely event you want to close your HYCM account, you should first withdraw all of the funds. You should then make sure you have left no open trades with the broker before making contact with the support team and letting them know about your request to close.
HYCM Account Types FAQs
Is HYCM regulated?
HYCM is a reliable and trusted broker. It is well-regulated by several of the world's leading financial bodies such as the FCA, CySEC and also CIMA, and the DFSA.
HYCM further protects you by holding your funds in a segregated bank account and applying negative balance protection. In all, they have excellent regulation and are extremely trustworthy.
How do I delete my HYCM account?
If you really wish to close your HYCM trading account, the first thing you should do is withdraw all your funds and close any open positions. Then you should email your account manager informing them of your request and follow their instructions.
---
About The Author
Filippo Ucchino
Co-Founder - CEO - Broker Expert
Filippo is the co-founder and CEO of InvestinGoal.com. He has 15 years of experience in the financial sector and forex in particular. He started his career as a forex trader in 2005 and then became interested in the whole fintech and crypto sector.
Over this time, he has developed an almost scientific approach to the analysis of brokers, their services, and offerings. In addition, he is an expert in Compliance and Security Policies for consumers protection in this sector.
With InvestinGoal, Filippo's goal is to bring as much clarity as possible to help users navigate the world of online trading, forex, and cryptocurrencies.
HYCM Account Types: List & Characteristics (2022)
Related Guides
---
Better Informed
Find and Compare The Best


Online Broker For You