Pepperstone Withdrawal Fee Explained
In our Pepperstone review, we provide a full overview of everything the broker has to offer including on deposits and withdrawals.
If you have already read the review and are looking to dig deeper, then this Pepperstone withdrawal review is the perfect place. The good news is that despite the great Pepperstone Pro account characteristics, all users will be able to avail of excellent withdrawal conditions at the broker.
These are exactly what we will look at as well as guiding you through how to make your withdrawal step-by-step.
Let's get started.
How to withdraw money from Pepperstone
Withdrawing money from Pepperstone is actually a very simple and convenient process. Here is exactly how you can do it:
1. Create a Pepperstone Account
The very first thing you will need to do is open a real Pepperstone account. When choosing your account type you will have a demo account or live account available but of course, you will need a live account to actually withdraw money.
2. Login in to your secure client area
With your account set up and ready to go, just log in to your client area to get started. You can do this from the broker homepage by clicking the "login" button in the top right corner where you will just need to enter your log-in details.
3. Withdraw from your Pepperstone Account
When you are ready to withdraw money from your account you will have to visit the "Funds" page as shown below.
Here you need to choose the "Withdraw Funds" section and follow the on-screen instructions. Keep in mind that the withdrawal method must match your deposit method and the funds can only be withdrawn to a bank account in the same name as your Pepperstone trading account.
4. Wait for the Pepperstone approval
There may be a little waiting time. Though it is usually very fast, the broker does state that Withdrawal forms received after 21:00 (GMT) will be processed the following day. If these are received before 07:00 (AEST) they'll be processed on the same day. This is a timeline to keep in mind.
Once processed, you should see the funds in your account within a couple of days unless it is a bank wire withdrawal which can take 3-5 working days to complete.
5. Check your Pepperstone withdrawal status
If you feel your Pepperstone withdrawal is taking longer than it should you can check on the status through your secure client area. As shown below you just need to head to the "History", then "Withdrawals" tabs of the "Funds" section to see your current withdrawal status.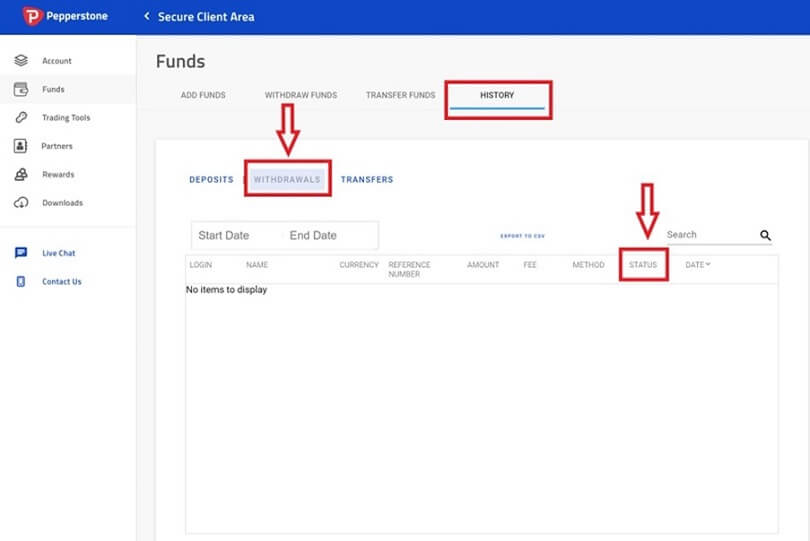 6. Cancel your Pepperstone withdrawal
It is also possible to cancel your withdrawal in some cases if you need to. If you have not yet confirmed your withdrawal then you can easily cancel it through the confirmation email you will have received, or the "History" tab in your secure client area. These options are only available for one hour though.
If you have confirmed the withdrawal already then you will have to go to the live chat function and request a cancellation. If the withdrawal status is "Pending" then this should be no problem. If the status is "Processing" though, it can't be canceled as the funds have been sent already.
Is there a Pepperstone Minimum Withdrawal Amount?
Typically there is no Pepperstone minimum withdrawal amount. The only exception is if you are making an international wire transfer. If so, then the minimum withdrawal amount is $80.
Pepperstone Withdrawal Fees & Commissions
Pepperstone usually does not charge any fees on withdrawals. The exception here is for international wire transfers outside of the EU and Australia. These will incur a $20 fee.
Even though Pepperstone broadly doesn't apply any fees, you should check with your payment provider who may have a fee. For example, Skrill and Neteller (where available) will charge a $1 fee per withdrawal.
The wrong Base Currency may cause withdrawal fees
Pepperstone offers an excellent range of base currencies you can choose from. These include the AUD, USD, JPY, GBP, EUR, CAD, CHF, NZD, SGD, and HKD. Using the correct base currency can help you avoid any conversion fees on withdrawals.
You can read more in our guide to the Pepperstone minimum deposit to understand why base currencies are so relevant and can save you money.
Pepperstone Withdrawal Methods
The withdrawal methods available will depend on your location though as you can see from the chart below wire transfers, credit/debit cards, some eWallets like PayPal, and occasionally other local options are available.
| | Bank Transfers | Credit/Debit cards | eWallets | Local Deposit Option |
| --- | --- | --- | --- | --- |
| Australia | Yes | Yes | PayPal, Skrill and Neteller | POLi, BPay, Union Pay |
| EU & UK | Yes | Yes | PayPal | No |
| Others | Yes | No | No | No |
Issues you may encounter during the Pepperstone Withdrawal process
Pepperstone is one of the best-regarded brokers in the industry. They are extremely well-regulated and secure.
Still, the main issues you could encounter include, your own bank or financial provider charging fees even though there are none from Pepperstone. You should double-check with your bank on these.
Bank wires may also occasionally take longer than 5 days to reach your account. This is something you should also follow up with your bank. Beyond that, your withdrawal method must also match your deposit and any withdrawal requests you make will be deleted automatically if you don't confirm them within one hour with the broker.
Pepperstone Withdrawal Review FAQs
How long does pepperstone withdrawal take?
Pepperstone will first have to process your withdrawal. After that you might have to wait a couple of business days to see your funds reaching your account. This will depend on the withdrawal method you select and bank wires can take up to 5 business days.
Does pepperstone have a withdrawal fee?
Pepperstone does not charge any fees on withdrawals. However if you make an international wire transfer withdrawal you will be charged $20. Other fees may be charged to you by your bank or the payment operators involved so you should double-check with them.
Can I trust pepperstone?
Pepperstone is a trustworthy broker regulated by 6 of the most respected bodies in the industry including the FCA in the UK, and the ASIC in Australia. These are very stringent bodies with your protection in mind, and Pepperstone has a great compliance record.
---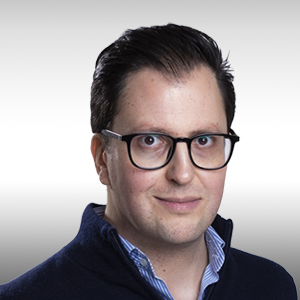 About The Author
Filippo Ucchino
Co-Founder - CEO - Broker Expert
Filippo is the co-founder and CEO of InvestinGoal.com. He has 15 years of experience in the financial sector and forex in particular. He started his career as a forex trader in 2005 and then became interested in the whole fintech and crypto sector.
Over this time, he has developed an almost scientific approach to the analysis of brokers, their services, and offerings. In addition, he is an expert in Compliance and Security Policies for consumers protection in this sector.
With InvestinGoal, Filippo's goal is to bring as much clarity as possible to help users navigate the world of online trading, forex, and cryptocurrencies.
---