If you are looking into opening a Forex.com account (80% of retail CFD accounts lose money), then this piece is made for you.
Our Forex.com review will tell you that they are one of the most well-known brokers in the entire industry and they offer a selection of account types which you will likely be interested in.
The Forex.com account types cover options for all types of trader no matter your needs.
Here we will look at what is on offer in a more in-depth fashion to ensure you are fully aware of your choices before selecting an account.
Forex.com Account Types
As mentioned, there are several account types available. These are the account we will outline right here for your trading benefit.
Demo account
The Forex.com demo account is an ideal starting point for any type of trader. This applies if you an experienced trader or not. A demo account can be a great place to sharpen your skills. This is not lost on the Forex.com demo account.
The demo account is available under FCA, NFA, and CMA regulation. The mode offered is only that of a standard account at present. You should also note that only one demo account per email address, per platform, will be permitted. The account trial period is also limited to 30-days and cannot be extended , although it may be possible to renew by contacting Forex.com support.
When it comes to operation style, the Forex.com demo account functions in the exact same manner which you can expect when you advance to a live account.
Retail Account
A Forex.com retail account is quite simply a standard account by any other name. This retail account type is again available under FCA, CIMA, and NFA regulatory authority.
If you are interested in Forex.com leverage, this extends to 1:30 under FCA regulation, 1:50 under NFA, and 1:200 under CIMA regulation.
When it comes to the availability of assets, you can always count on Forex.com trading to deliver plenty of choice. In this regard, the range of assets you can choose to trade includes major, minor, and exotic forex pairs, as well as a selection of commodities, indices, and crypto markets (not available under FCA regulation). In total, there are more than 80 currency pair markets available to those operating under regulation in the UK and Cayman Islands.
Forex.com USA trading is also available. This is unique among the majority of the best forex brokers. USA assets available include Forex, metals, futures, and futures options trading.
When it comes to the actual trading aspect, of course top trading platforms are offered. Forex.com MT4 is always available. This is alongside MT5 if you are operating under NFA regulation in the US.
Forex.com and their own proprietary platform are also available, though there is a slight possibility these will apply some requotes and are liable to suffer a degree of slippage on occasion. This will depend on the execution method which you select since there are a few available.
Commission Account
Next up we have a look at the Forex.com commission account which is also available. This is for traders operating under NFA and CIMA regulation and does feature a competitively lower spread than a standard account. This is often the case with commission-based accounts.
The commission itself is a fixed $5 per lot at opening and closing of the trade. This makes $10 in total. At the moment, this account type is only available if you are using the Forex.com proprietary trading platform, though the company hope to offer it across the board very soon.
With this account, there is also no demo account available. This perhaps makes it more suited to at least intermediate level traders. If you do plan on trading regularly, there is also the ActiveTrader Forex.com bonus loyalty program which you can take advantage of.
DMA Account
Another type of account you may wish to consider is the Forex.com DMA account. As it says in the title, this account makes direct market access available which ensures the spread is always as low as possible.
With that low spread, comes commission. This account is commission-based as well, and the commission varies depending upon the volume traded. In this case, traders also have no access to the ActiveTrader program.
The DMA account is available for those trading under regulation in the US and Cayman Islands and is again only available if trading through the Forex.com trading platform.
Professional Account
If you are an experienced trader, you may wish to know more and open a Forex.com professional account. You can upgrade to this account type if you meet two of the three following requirements:
You have completed an average of 10 significantly sized transactions per quarter over the last four.
Your financial portfolio includes cash deposits of more than 500,000 EUR.
You have worked at least one year in the financial sector and possess an extensive knowledge of leveraged trading products.
If you then do qualify and decide to move forward with your professional account, you can expect leverage of 1:200, extensive protections under the new ESMA regulations, access to an exclusive range of additional trading tools, and a better margin when trading than you will receive on other account types.
Islamic Account
Forex.com Islamic accounts also play a very important role for many traders. You should know that if you are conforming to Shariah law and require such an account, then this is possible with every Forex.com account type. Additionally, there is no major difference in trading function, although, on occasion, the fees charged may be slightly higher.
Forex.com Account Openings
Now that we have covered all of the account types in detail, let's take a look inside the Forex.com account opening process:
Live Account Opening
Opening a Forex.com live account (80% of retail CFD accounts lose money) follows very much the same pattern as many top forex brokers. The process can be swiftly completed as long as you have the correct identification and address documents on hand to satisfy the Forex.com verification procedure. Your Forex.com live account can then be operational.
Live Account Verification
As mentioned, in order to complete the Forex.com verification process, you will need at least two documents. One is a proof of your identity, while the other is a proof of your address. Something along the line of your passport and a recent utility bill will suffice for these documents.
The verification process should be swift thanks to the automated processes which are in place.
Account Currency
Forex.com account currency extends a number of options depending on where you are from and also which regulatory body you are controlled by.
If you are operating under the FCA, then you should have access to EUR, GBP, or USD as a base currency. Within the USA, control by the NFA provides only for US Dollar currency, while the CIMA also allows for all three unless you are based in China (USD only).
Account Funding
You can find your Forex.com account in a number of different ways. Each has slightly different terms again depending on where you are based. These can be explained as follows:
Credit/Debit Cards:
This funding method is available to everyone in a variety of different currencies with EUR, USD, and GBP available throughout alongside Canadian Dollar, Japanese Yen, Australian Dollar, and Swiss Franc if you are trading under FCA regulation. All major credit and debit cards are accepted.
Bank Transfers:
These are also available widespread and in all of the currencies already mentioned. The only point is that if you are trading from the US, while other currencies will be accepted, these will be converted to USD in your account balance.
eCheck:
This is a Forex.com funding method which is available only to USA based traders at this time.
Personal/Business Check:
This is another method which is currently only available to US traders.
Minimum Deposit
The Forex.com minimum deposit is 100 EUR/USD/GBP. The precise amount simply depends on your own area and selected base currency.
Although this is the minimum required deposit, the broker recommends a deposit of at least $2500 (or equivalent) to ensure you have more margin available for trading.
Deposit and withdrawal
The minimums when it comes to particular methods of deposit and withdrawal can also differ as follows:
Credit/Debit Cards:
With these there are typically no fees, and a standard minimum of $100 with the exception of FCA account holders who can complete a minimum transaction of 10GBP.
Deposits and withdrawals are immediate if you are outside the EU. If you are operating under the FCA in Europe, it can take up to 24-hours to complete a transaction.
Wire Transfer:
For wire transfers, there is actually no minimum transaction. With that said, your bank may apply a fee, though you will have to contact them to find out. Deposits and withdrawals using this method are usually completed in 1-2 business days.
eCheck:
Again this is a US-only method, the minimum transaction for which is $100. Deposits and withdrawals which are made using this method are instant.
Personal Check/Business Check:
To finish, this method is also only available to US-based traders and while there is no minimum transaction, deposits and withdrawals do take between 5-10 business days.
ActiveTrader Program
The Forex.com ActiveTrader program can have some top advantages for you as a trader if you are frequent and of sufficient volume in your trades. Let's take a closer look at exactly what is on offer here:
The program is made available under both CIMA and NFA regulation only. With that, you must meet at least one of the two following stipulations:
Your account must be opened with a minimum of $10,000
You must trade at least $25 million in volume on at least one month
If you do meet the requirements to join the active trader program, you can expect some of the following features and benefits:
You will be able to earn monthly cash rebates based on a number of factors including your trading volume and levels. You will also receive individualized support from an experienced professional trader in regard to your trading and strategy, and be able to benefit from reimbursement of your bank fees.
Once you are in, if you want to remain in the ActiveTrader program, you must retain an average cash balance of $25,000 or trade at least $25 million in volume across the quarter.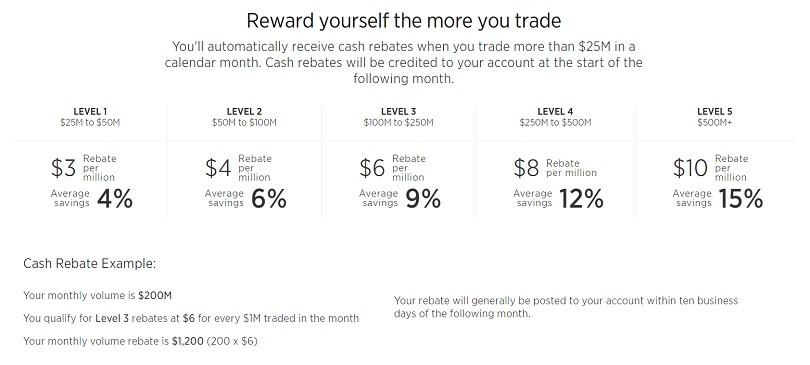 Forex.com Account Management
Finally, once your Forex.com account is up and running, you will want to know about some routine issues which can pop up when you are managing your account, and how you can resolve them.
My Account
The Forex.com MyAccount area is your personal area which you can use to perform multiple functions and check on things such as your current balance, create new accounts, deposit and withdraw, and generally manage your Forex.com trading life. A total of 5 Forex.com live accounts (but only one demo account) are permitted through any one email.
Account Number
From time to time, maybe if dealing with Forex.com support, you may wish or need to know your account number. This can also be found in the MyAccount section, or a quick call to the broker support team can help you find it.
Login issues?
Forex.com login issues would be a rare occurrence, but we do all forget sometimes. If you are experiencing difficult, this could be why. Anyway, the best solution here is to always seek assistance from the helpful Forex.com support team for any issues which may arise.
Account expiring and reactivation
If you are not trading for a substantial period of time, then this question of account expiration and Forex.com inactivity fees may raise its head.
In the case of demo accounts, these are only valid for 30-days at 1 per email, per platform anyway, and they cannot be renewed except in rare cases if you contact support.
For live accounts, these will turn dormant after 12 months of no trading activity. At that point, if your balance is above $10,000 (or equivalent) then you will not need to pay any inactivity fee. If your balance is lower than this, a $15 per month inactivity fee will be charged.
If you are looking to reactivate your account at that point, you will have to email and fill in the Forex.com reactivation form.
Close account
In very extreme cases, you may wish to close your Forex.com account. If that is the case, you will need to contact the support team first for them to help you through the process. You should also ensure that all of your funds are withdrawn back to you.
---
About The Author
Filippo Ucchino
Co-Founder - CEO - Broker Expert
Filippo is the co-founder and CEO of InvestinGoal.com. He has 15 years of experience in the financial sector and forex in particular. He started his career as a forex trader in 2005 and then became interested in the whole fintech and crypto sector.
Over this time, he has developed an almost scientific approach to the analysis of brokers, their services, and offerings. In addition, he is an expert in Compliance and Security Policies for consumers protection in this sector.
With InvestinGoal, Filippo's goal is to bring as much clarity as possible to help users navigate the world of online trading, forex, and cryptocurrencies.
---
Better Informed
Find and Compare The Best


Online Broker For You