So, you have read our XTB review and you have decided the time is right to open an XTB demo account?
That is a great first step on getting involved in the forex trading industry with a top broker.
It may well be the case that you feel overwhelmed about the prospect, or unsure how to actually set up your forex demo account and get started.
You need not worry. We are here to help. In fact, we have you covered every step of the way as you explore and chose among thet XTB account types for the first time.
Here you will find everything you need to get your XTB demo account off the ground, and helpful images to guide you along the path.
Let's get started:
XTB Demo Account Opening Tutorial
Now that we have taken a quick look at the reasons why you are here, confident that this with XTB is among the best demo forex trading account you can get, it is time to jump straight in and open yours. Not to worry though, we will guide you precisely through every step of the process.
Step 1 – Getting Started With Your XTB Demo Account
The very first, and easiest step on your journey to open an XTB demo account is to head on over to the broker homepage. You will automatically be directed to the page which fits your region, and this is where you should start.
Simply click "demo" in the top right corner of the homepage, and then you are already on your way to getting your demo account off the ground.
Once you have clicked this button you will be directed to complete a short registration as shown below. You only require your valid email address and country of residence at this time.
Step 2 – XTB Demo Account – What Documents/Information do you Need?
When opening an XTB demo account, the process is even less complex than starting your own live account. For that reason, the information you need at this point is minimal. You will require some of the following things:
A valid email address which you can verify for the purpose of registration
A valid telephone number which you can also verify where required
Other documents such as your passport and proof of address will be helpful to prepare at this point for when you wish to change your account to an XTB live account.
Step 3 – Fill in registration form
Once you have completed the very basic registration page shown above, you will be directed to the net page where you will find a slightly more detailed form. This is shown below for your benefit.
Again at this step, you do not require any wealth of information, simply your phone number, name, and email address. You will also need to choose your XTB trading platform on this page. This is something we will mention more about in the later steps.
Step 4 – Confirm the account via email/telephone
XTB verification of your email does need to take place, although you can begin trading on your demo account before this takes place. When you do have time to confirm your email though, be on the lookout for something similar to what is detailed below.
Once you have finished this verification, you will be directed to begin trading with your chosen trading platform on XTB.
Step 5 – First login into the demo account
The first login to your XTB demo account is again a very simple process. Chances are you have already been directed straight through to your chosen trading platform.
If you have not done this, then the next time you come back to the site, simply click login, and from there you will be directed straight through to your demo account trading platform as shown below.
Here you will also see the option in the bottom left corner to open a real account at any time once you are comfortable in what you have learned trading through the demo account.
Opening and trading on a demo account is never an overly complicated process, though, through XTB, the steps are streamlined even further to get you having some hands-on experience as soon as possible with either MT4 or xStation trading platforms. Reaching this point in the process should take you less than 5 minutes in total.
Step 6 – Choosing Your XTB Demo Account Platform
As we just mentioned in the previous step, the XTB demo account opening and activation process really is a walk in the park. When it comes to choosing your demo account trading platform, contrary to what most brokers do, with XTB this choice is one of the first that you make in the process.
You will remember the little more detailed registration page from step one. In fact, this is where you will have already selected your XTB trading platform which includes the proprietary xStation.
Here it is again one more time to refresh your memory: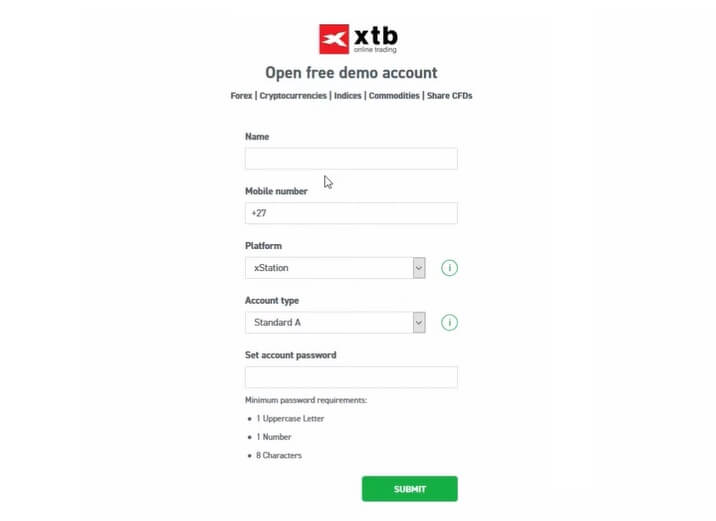 So, with that, every step of the process should be completed. This all means that within the period of a very short few minutes, you should be trading, risk-free, on your brand new XTB demo account. There are few brokers in the industry where the process is as simple as that.
XTB Demo Account Review
With your new XTB demo account open, let's run through a few of the features and what you can expect when trading through this new demo account of yours.
Want an even broader look? Then you can read carefully our XTB broker review.
What Types of XTB Demo Account are Available?
The XTB demo account is a little unique in this sense. Given the fact that XTB only provides a standard account to the vast majority of its traders worldwide, this is the only demo account type that is available.
This keeps everything clear and concise for you as a trader and is probably one of the reasons why the registration process is so quick.
XTB Demo Account Features, Restrictions and Differences with Live Account
There are naturally many similarities and differences between an XTB demo and a live trading account. This then is the perfect place to highlight them.
When it comes to restrictions first of all, you are only allowed to have one XTB demo account per mail. Now once you have this account, the trial period although it only lasts 30 days, can be renewed indefinitely. This is a useful advantage for testing strategy even as an accomplished live trader later on.
Many traders will confirm that there is actually no real difference in trading with a live account or demo account. XTB demo follows this model too. Everything in regard to the trading platform and broker is exactly replicated as it would be under live trading conditions. This means the demo account is also uniform across the variety of regulatory bodies such as the FCA and CySEC.
Another similarity is the fact that the proprietary trading platform xStation is made available for the purpose of your demo account. This should help you get to know all of the features perfectly before you commit to live trading with XTB.
There is just one difference between live trading and demo trading with XTB as with all brokers. Slippage cannot be replicated. This is the rare occurrence in a volatile live market where the execution price may vary slightly from the order price and is about the only difference in demo trading with any broker.
Advantages of Trading with an XTB Demo Account
Naturally, there are a few advantages to first testing out an XTB demo account before you jump into live trading.
The most obvious one is that the money you are using in your demo account is virtual money. This means you can trade freely and without any risk of loss like you would have on a live account. It is the ideal scenario in which to learn more about trading.
Added to this is the fact that, with live conditions so closely replicated, you will learn the features of the exact trading platforms you will later be using.
The final point is that with the XTB demo account being essentially unlimited, you can retain it and use it to test out potential trading strategy even if you are already a top class trader.
XTB Demo Account Management
As a last point, you may be wondering about some management issues when it comes to the running of your XTB demo account. Here we will address any of the main points which other traders have questioned previously.
Expiring Time
As a matter of fact, one thing which can happen to many demo accounts is that they expire. This does not happen to the XTB demo account though. Yes, the account is open on a 30-day trial period, but, in fact, this trial period can be extended as many times as you wish.
This effectively means that the XTB demo account never needs to expire at all if you do not let the trial period run out. Remember if you do though, there is a limit of only 1 demo account per user.
In this case, one of your best options would be to contact the XTB support team for help.
---
About The Author
Filippo Ucchino
Co-Founder - CEO - Broker Expert
Filippo is the co-founder and CEO of InvestinGoal.com. He has 15 years of experience in the financial sector and forex in particular. He started his career as a forex trader in 2005 and then became interested in the whole fintech and crypto sector.
Over this time, he has developed an almost scientific approach to the analysis of brokers, their services, and offerings. In addition, he is an expert in Compliance and Security Policies for consumers protection in this sector.
With InvestinGoal, Filippo's goal is to bring as much clarity as possible to help users navigate the world of online trading, forex, and cryptocurrencies.
XTB Demo Account: Opening & Key Information (2022)
Related Guides
---
Better Informed
Find and Compare The Best


Online Broker For You