So you have decided to take a leap and begin trading with a Forex.com demo account?
This is excellent news, and a fantastic growth step in your forex trading career.
The broker is world-renowned and the Forex.com account types are among the most used in the industry.
Getting started with a Forex.com demo account is both a wise, and logical first step (even better if you use it while you read our forex.com review). Even as an experienced trader, you may have some questions around the process. That is perfectly OK.
Brokers differ slightly in what they offer for forex demo accounts, and how these can be set up.
For that reason, we have collected all of the information we can about the Forex.com demo account opening process and put it here in this step-by-step tutorial.
Time to relax and take in all of the information. Your new account is just around the corner.
Forex.com Demo Account Opening Tutorial
Here we will chart the demo account setup process step by step. This will include images to guide you along the way:
Step 1 – Getting Started With Your Forex.com Demo Account
Getting started on the first step is typically the easiest. All you have to do here is head straight on over to the Forex.com homepage for your region. Once there, you will be greeted with the home screen. Almost at the end of this page, you should notice the following image:
The start of your forex.com trading journey is as simple as clicking right here!
Step 2 – Forex.com Demo Account – What Documents/Information do you Need?
Of course when you open any trading account, one of your biggest concerns will be the information and documents you need to prepare.
Naturally, this preparation can help you greatly in speeding up the process for opening your forex.com live account. In the case of the demo account however, you will require relatively few things to get started. 
All that you will actually need is the following:
A valid email address that you can verify when required.
A valid telephone number that you can also verify if needed.
This is actually it. As we mentioned, getting started with your Forex.com demo account is actually a very convenient and quick process.
Step 3 – Fill in registration form
As soon as you click on the "open demo account" button in step one, presuming you are trading under CySEC regulation within the EU (as we were in this example), you will be greeted with the following basic registration form:
This is all you will need to fill out in order to complete the Forex.com demo account registration process. It really is as easy as that.
Step 4 – Confirm the account via email/telephone
This is a step which you do not need to immediately complete, although the sooner the better.
The phone verification is no really an important step at this point, but you should have received an email almost immediately after signup from the Forex.com team.
This welcome email does not need to be "activated" as such, though it will contain details of your username and assigned password, so try to keep it safe.
Step 5 – First login into the demo account
On your very first login to your new Forex.com demo account, you should see the following trading platform screen. You will be directed here after entering the username and password which should have been sent to your email: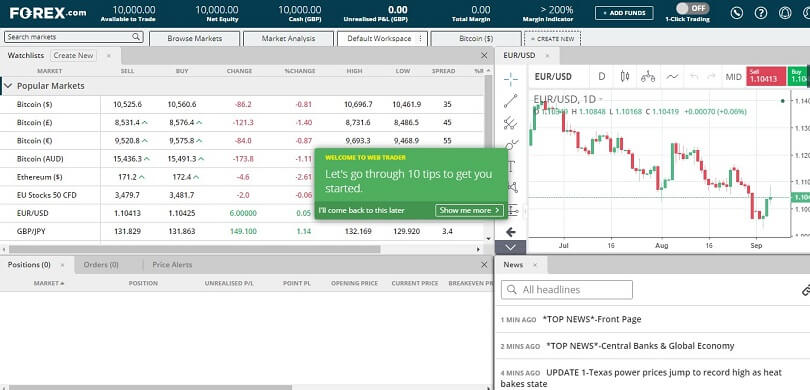 You are now in and ready to trade on the Forex.com proprietary trading platform.
Step 6 – Choosing Your Forex.com Demo Account Platform
The choice of demo trading platform with Forex.com is an easy one. As you can see from above, once you have completed the registration process, you are automatically guided to the Forex.com platform.
There is an option to login to the MT4 web platform which Forex.com also provides access to, however, the demo account which is automatically chosen for those under CySEC regulation uses the proprietary trading platform.
Forex.com Demo Account Review
Now that you are in, and your Forex.com demo account is up and running, here are a few things you may wish to know about the account itself.
What Types of Forex.com Demo Account are Available?
While there are a few Forex.com account types including Professional, DMA, and commission accounts, the only account type used for opening a demo account is a retail account. These are used as the base for all demo accounts through the broker.
Another important aspect to note will be that you are only permitted to open one account per trading platform. That means one for Forex.com platform and one for the MT4 platform.
Forex.com Demo Account Features, Restrictions and Differences with Live Account
As you would expect, there are some similarities and differences when it comes to a demo account. In fact, the Forex.com demo account precisely replicates what you can expect with a live trading account.
The only thing which you can never account for in a demo account, which may occur in live trading is slippage. Aside from this, you will receive no surprises when you upgrade.  Also, the Forex.com demo account period is restricted to 30-days.
Advantages of Trading with a Forex.com Demo Account
The major advantage with the Forex.com demo account, as with all demo account is the fact that you are not taking any risks. This allows you to learn your craft if you are a beginner, or adjust to the new environment if you are an experienced trader.
Either way, this key benefit is one which is common across all forex trading demo accounts, and the fact that a Forex.com demo account replicates a live account in perfect detail can be very helpful to your future trading potential.
If you want to know even more about your new account, you can read our forex.com reviews article.
Forex.com Demo Account Management
The final area we will touch on is a few things which you may encounter during the running of your demo account. This will help you to manage the issues if they do come up at any point.
Expiring Time
As we mentioned above, the Forex.com demo account trial period is limited to 30 days. Once this 30-day period is complete, users will typically move on to a Forex.com live account.
If for any reason you do not feel prepared to do this, the best thing you can do is contact the broker support team at Forex.com and see if they can find an accommodating solution.
During your demo account period, you do not need to worry about inactivity as this is not an issue at all within the 30 day period. 
Restoring expired demo accounts
The answer to this question is again very simple. You cannot restore a Forex.com demo account which has expired. If you do wish to continue trading on a demo account, the best thing you can do is contact the Forex.com support team. 
Forex.com Demo Account FAQs
Does forex Com have a demo account?
Forex.com does have a demo account that is free and easy to open. The demo account is available for a period of 30 days.
How do I make a Forex.com demo account?
You will need a valid email address and telephone number to verify your Forex.com demo account. A live account can be requested when you are ready. This requires additional verification documents.
---
74-89% of retail CFD accounts lose money
About the Author
Filippo Ucchino
Co-Founder - CEO - Broker Expert
Filippo is the co-founder and CEO of InvestinGoal.com. He has 15 years of experience in the financial sector and forex in particular. He started his career as a forex trader in 2005 and then became interested in the whole fintech and crypto sector.
Over this time, he has developed an almost scientific approach to the analysis of brokers, their services, and offerings. In addition, he is an expert in Compliance and Security Policies for consumers protection in this sector.
With InvestinGoal, Filippo's goal is to bring as much clarity as possible to help users navigate the world of online trading, forex, and cryptocurrencies.
Forex.com Demo Account: Tutorial and Review
Related Guides
---
Keeping you better informed
Find and Compare the Best


Online Brokers for You