IG Markets Minimum Deposit: Key Information & Guide (2023)
The IG Markets minimum deposit varies according to your country of residence and is £250 in the UK, for European traders it is €300 instead, while it rises to $450 in Australia.
Below is some information to help you understand what options you have when it comes to depositing funds into an IG Markets account.
Round-up
| FEATURES | MINIMUM DEPOSIT |
| --- | --- |
| IG Markets trading accounts | $250 |
| Deposit fees | Up to 2.3% |
| Withdrawal fees | Up to $25 |
| Base currencies | USD, EUR, GBP |
Now that you learnt that the type of trading account does not affect the minimum deposit, you can find out which IG Markets account type best matches your goal.
Visit IG Markets (70% of retail investor accounts lose money).
IG Markets minimum deposit per country
Your country of residence affects the IG Markets minimum deposit as follows:
| IG Group Area | Min Deposit | D/W Fees |
| --- | --- | --- |
| Europe | 300 EUR | No |
| United Kingdom | 250 GBP | No |
| Switzerland | 2500 CHF | No |
| Australia | 450 USD | up to 1% |
| New Zealand | 450 USD | up to 1% |
| Singapore | 450 USD | up to 2,3% |
| Japan | 35.000 JPY | No |
| Dubai | 300 USD | No |
| South Africa | 4000 ZAR | No |
| USA | 250 USD | up to $25 |
IG Markets account base currency
With IG Markets you can deposit funds into an account in a number of base currencies, including:
However, depending on the IG Markets entity, there may be other base currencies available.
It must be stated that if you deposit in a currency that is different from your base currency you will incur a conversion fee. For instance, if you deposited Australian Dollars into a United Kingdom account, you will be charged a fee to convert the Australian Dollars into British Pounds.
IG Markets deposit methods and fees
IG Markets offers a number of ways to deposit funds into your trading account.
The quickest way to fund your account is by credit or debit card, since deposits via this method are usually deposited immediately.
Another deposit method is to use PayPal where you enter the amount you would like to deposit and then click "confirm". Upon doing this you will be redirected to another page where you will click on the "PayPal" button where you will be redirected to the PayPal website to complete the transaction.
To complete the overview on this deposit method, here's our PayPal forex brokers top ten.
Bank transfer is another popular method of funding your account, but this method can take up to three days depending on your bank.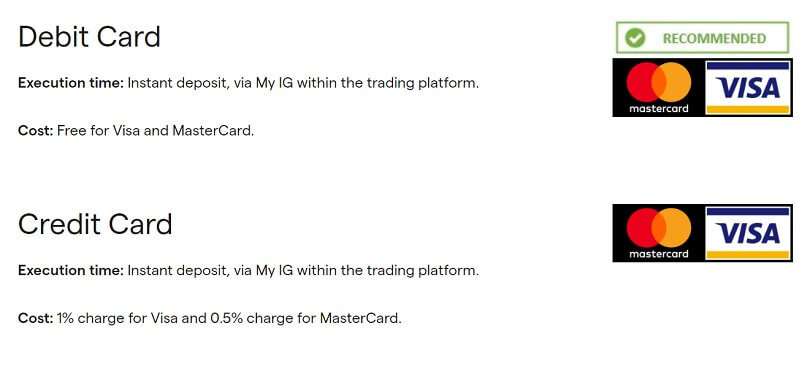 IG Markets deposit fees
When depositing money into your trading account you will find that it is mostly free, however there are a few exceptions.
One exception is when you deposit money that isn't supported by your trading account, in which case you will experience a conversion fee such as 2.3% for depositing in Singapore Dollars, 1% for depositing in New Zealand Dollars and 1% again for depositing in Australian Dollars.
You can deposit in a number of base currencies such as Euro, British Pound and United States Dollar.
IG Markets withdrawals
Once you have deposited money into your IG Markets trading account, you can withdraw your money at any time.
To withdraw your funds, you must log into your IG account and go to the live accounts tab and select withdraw funds. You are able to withdraw your funds as a bank transfer, or back to your card or PayPal account.
The maximum you can withdraw will vary between methods. For instance, you can withdraw a maximum of £20,000 per day via a card, or up to £5,500 per transaction with PayPal, and there is no limit with bank transfers.
How long do IG withdrawals take?
The withdrawal time will depend on where you are withdrawing to.
Withdrawals back to a card will typically take between two to five bank working days to clear.
However, withdrawals back to PayPal will normally be instant, or at the very least they should clear within 24 hours.
Although withdrawals via bank transfer should reach your account on the same day but only if a request is made before 12pm (UK time) on a bank working day, but sometimes it can take up to three days to clear.
How to deposit funds into your IG Markets account: steps to follow
The first thing you need to do in order to deposit funds into your IG Markets account is to open up a live account, which will also give you access to the demo account
It is advisable to use the demo account first if you are a beginner. But if you have been trading for a long time and you have come to IG Markets for a change of scenery then you can go right ahead and deposit funds into your account
Once you have applied for your account by going through the account setup process, where they require standard information such as name, address, DOB, email.
After you get approved by IG Markets, you can then proceed to deposit funds into your account, meanwhile respecting the minimum deposit guidelines.
Once you have deposited your funds into your trading account you will need to wait for confirmation from IG Markets to let you know whether your deposit was successful or not. If it wasn't successful, IG Markets' customer support will be able to guide you to rectify whatever problems you may face.
IG Markets minimum deposit vs other brokers
Warning
CFDs are complex instruments and come with a high risk of losing money rapidly due to leverage. Between 74-89% of retail investor accounts lose money when trading CFDs. You should consider whether you can afford to take the high risk of losing your money.
| FEATURES | IG MARKETS | CMC MARKETS | FOREX.COM |
| --- | --- | --- | --- |
| Minimum deposit | $250* | $0 | $100 |
| Wire transfer | Yes | Yes | Yes |
| Credit card | Yes | Yes | Yes |
| PayPal | Yes | Yes | No |
| Number of deposit methods | 5 | 6 | 8 |
| Base Currencies | USD, EUR, GBP | GBP, EUR, USD, AUD, CAD, NOK, NZD, PLN, SEK, SGD | EUR, GBP, USD |
* It depends on the IG Group office
IG Markets minimum deposit pros and cons
Pros
IG Markets is available worldwide
Their minimum deposit is an attractive offer, especially for what the broker offers
You can use PayPal to deposit and withdraw funds
You don't incur fees when depositing funds
Cons
IG Markets doesn't have a large variety of base currencies, so some of you might incur a conversion fee
---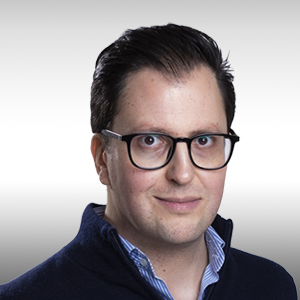 About The Author
Filippo Ucchino
Co-Founder - CEO - Broker Expert
Filippo is the co-founder and CEO of InvestinGoal.com. He has 15 years of experience in the financial sector and forex in particular. He started his career as a forex trader in 2005 and then became interested in the whole fintech and crypto sector.
Over this time, he has developed an almost scientific approach to the analysis of brokers, their services, and offerings. In addition, he is an expert in Compliance and Security Policies for consumers protection in this sector.
With InvestinGoal, Filippo's goal is to bring as much clarity as possible to help users navigate the world of online trading, forex, and cryptocurrencies.
IG Markets Minimum Deposit: Key Information & Guide (2023)
Related Guides
---