The forex market comes with a lot of excitement, particularly to the average forex trader. Forex traders rely on different trading platforms to execute their trading strategies. Among all the trading platforms available to forex traders, Metatrader 4(MT4) is the most popular. The MT4 trading terminal is equipped with lots of trading tools and indicators to optimize traders' trading experience.
So, in this post, we will walk you through the concept of metatrader 4 minimum deposit. Meanwhile, you can read our guide on the top mt4 forex brokers to enable you to make an informed trading decision.
Ready to learn about metatrader 4 minimum deposit? Then let's dive in!
What is the Metatrader 4 Minimum Deposit?
As the name suggests, the Metatrader 4 Minimum Deposit is the minimum amount required by every broker for traders to participate in trading activity on the MT4 trading terminal. Indeed, the minimum deposit depends on the broker you choose, in particular on the account type selected by you. Many brokers offer a very affordable minimum deposit in order to start trading: in this way you can start trading real money but with lower risks.
3 MetaTrader 4 Minimum deposit brokers from 0 USD
With so many forex brokers offering MT4 trading terminals, it can be overwhelming and challenging to choose the best MT4 broker for your trading needs. Therefore, we have put together the best 3 MT4 minimum deposit brokers from 0 USD. You can also read our guide on the best mt4 forex brokers to get an overview of how trading with an MT4 broker works.
1. Pepperstone
Pepperstone is a force to reckon with when it comes to MT4 trading. As a matter of fact, it is a renowned ECN metatrader 4 broker offering top-notch financial services to a wide range of forex traders. While there is no minimum deposit, $200 is recommended by Pepperstone. This MT4 forex broker offers low spreads from 0 pips with the Razor Account and fast execution of the orders.
Pepperstone MT4 is available either as a WebTrader or you can download it for Android, iOS or Desktop. The trading terminal comes with 85 pre-installed indicators available on the desktop app. The good thing about using Pepperstone MT4 is that you will have access to over 150 trading instruments.
2. IC Markets
Another broker to give serious consideration is IC Markets. IC Markets is an ECN broker which offers one of the lowest trading costs of the industry. It also offers very low spreads from 0 pips. If you are a newbie trader, you can use the unlimited demo account to practice forex trading. The demo account works the same way as the live account, only that you won't make any real money using the demo account.
What's more? IC Markets MT4 is made available as an online platform as well as a downloadable platform for desktop and mobile. Using this trading terminal gives you access to more than 60 currency pairs. The IC Markets MetaTrader 4 server has latency on an average of less than 1 millisecond to major VPS providers collocated in the NY4 data centre.
3. Oanda
Oanda is another powerful MT4 forex broker that accommodates both newbie and experienced traders. If you are a retail trader, you're not required to make any minimum deposit. Oanda is one of the few brokers available in the USA. The asset's choice can be a little limited but the trading costs are competitive.
Though Oanda doesn't provide a WebTrader for MT4, you can access the MT4 trading terminal on desktop, tablet or mobile. Oanda gives you access to more than 50 technical tools and indicators. An MT4 premium upgrade gives you access to a range of enhancements including additional indicators and expert advisors.
From the MT4 Demo to the MT4 Minimum Deposit: Steps To Follow
MT4: Fill the form with your details
The first step is to open a demo account on your favorite broker's trading terminal. You can read our guide on the best forex demo accounts to give you an insight on the best broker that would take care of your trading needs. Once you choose a broker, head over to create a new account. To do this, click the 'open demo account' button.
Complete the account opening form by supplying your names, surname, email and, in some cases, phone number and country of residence, as you can see in the image below with the broker IC Markets.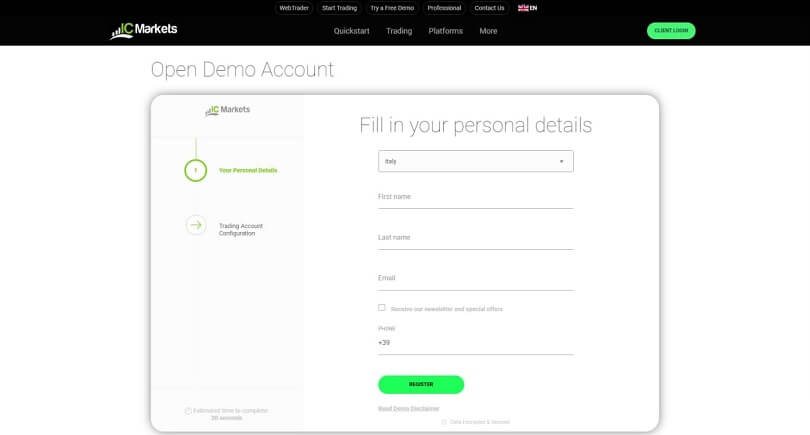 MT4: Choose your trading features and Download the platform
Once you are done creating a demo account, the next step is to select MT4 and download the platform. Depending on your trading preferences, choose the features betting to your trading strategies, including trading platform, leverage, account type, base currency and initial virtual deposit
You can download the MT4 trading terminal via the link that was sent to your email by your chosen broker. Alternatively, you can download the MT4 trading terminal via your broker's site. For instance, in the email sent by IC Markets, the content also contains your username, name, server, and password, in order to log into the platform.
MT4: Log into the platform
After downloading the MT4 trading terminal, the next step is to log into the platform using the login details sent to you by the broker. To login, select 'File', then 'Login.' After that, enter your login details and select your server. And then click the "Login" button and you're in.
Metatrader 4 Minimum Deposit Live Account
When you are done using the demo account, you can switch or upgrade to a live account to start making money. However, bear in mind that a live account comes with a lot of risk, so use the demo account opportunity to learn how to navigate the FX market without incurring any financial risks or losing your trading capital.
Generally, there are 2 main actions you should take while switching from a demo account to a live account. The first action is to upload a document to prove your identity (passport, ID, driving licence) and a document to prove your residence (bill utility, bank statement). The second action is to fund your trading account so that you can start trading.
The MT4 trading terminal is an electronic platform that doesn't receive funds, but as soon as you fund your trading account with your broker, you will have access to the MT4 trading terminal to trade your favorite currency pairs.
What to look for in a Metatrader 4 Broker
With lots of MT4 brokers on the internet, there are a number of factors you need to put into consideration before choosing a broker. The top factor to consider is regulation. Some of the most reputable and renowned regulatory agencies are ASIC, CySEC and FCA. Dealing with any broker that is regulated by any of this agency means that your funds are safe and secure.
Another factor that needs your attention is the fees charged by brokers, as well as the broker's policy protection. If you partner with a broker that charges high fees, the fees will "eat" deep into your earnings or profits.
Lastly, a great educational section and good customer support could also really make a difference, since you could need a little help as you navigate the market to improve your trading experience.
Metatrader 4 Minimum Deposit FAQs
What is the minimum deposit for MT4?
The minimum deposit to fund your trading account does not depend on the Metatrader4. However, it depends on your chosen broker and particularly the account type you opened.
Can I use MetaTrader 4 without a broker?
Absolutely, no. There is no way you can trade the FX market as a retail trader without relying on a forex broker. To start trading, you need to open a trading account with your broker.
How secure is Metatrader 4?
Being one of the most popular trading terminals, Metatrader4 is very secure. MT4 is able to achieve this milestone due to its high security standard, including encrypted data exchange between your terminal and the server.
Conclusion
Okay, that's it. The Metatrader 4 trading platform is equipped with so many features that will enhance and uplift your trading experience. If you are a beginner, its user-friendly trading indicators will help you achieve your financial projections with ease.
For the best MT4 broker, Pepperstone, IC Markets, and Oanda make it to our list. Creating an account with any of these brokers is simple and straightforward. You can read our guide on the top mt4 forex brokers to enable you to make an informed trading decision.
---
About The Author
Filippo Ucchino
Co-Founder - CEO - Broker Expert
Filippo is the co-founder and CEO of InvestinGoal.com. He has 15 years of experience in the financial sector and forex in particular. He started his career as a forex trader in 2005 and then became interested in the whole fintech and crypto sector.
Over this time, he has developed an almost scientific approach to the analysis of brokers, their services, and offerings. In addition, he is an expert in Compliance and Security Policies for consumers protection in this sector.
With InvestinGoal, Filippo's goal is to bring as much clarity as possible to help users navigate the world of online trading, forex, and cryptocurrencies.
What is the minimum deposit for MetaTrader 4?
Related Guides
---
Better Informed
Find and Compare The Best


Online Broker For You