You want to start trading with a top forex broker, and have selected Pepperstone as the broker you would like to use.
What are the next steps?
Well, one of the best things you can do is open a Pepperstone demo account to try everything out.
This is one of the many Pepperstone account types and categories available when you choose Pepperstone.
Once you get started, creating your forex demo account with Pepperstone should only take around 5 minutes.
We understand though, particularly if you have limited trading experience, that some guidance is always helpful.
For that reason, we have created this simple Pepperstone demo account tutorial you can follow.
Pepperstone Demo Account Opening Tutorial
This tutorial should guide you through each step of the process in getting your Pepperstone account up and running with ease.
For more details on what you can do with Pepperstone instead, you should check out our Pepperstone review, even better if you read it with your demo account already under your eyes.
Step 1: Getting Started With Your Pepperstone Demo Account
The best starting point for opening your Pepperstone demo account is to just head on over to the broker website.
If you are on the homepage, you should clearly see two buttons which are located as in the picture. One is for opening a Pepperstone live account. Remember that, in order to open a live account, you will need to make your first Pepperstone minimum deposit.
The other is what you will need this time. Opening a Pepperstone demo account.
Step 2: Pepperstone Demo Account – What Documents do you Need?
The information you need when signing up for a Pepperstone demo account is really minimal. Once you have clicked the demo account button above, you will be directed to a registration page.
On this page you will be asked to confirm the following things:
Which account type you are looking to open
That you are more than 18 years old
Your name, address, and telephone phone number
An email address that you can confirm
Choose a password which you can easily remember
You also have the choice of signing-up for a Pepperstone demo account through your Facebook, LinkedIn, or Google. This makes the process even easier. As Pepperstone is well-regulated by both ASIC and the FCA, you do not need to worry at all about the security of the process and your data.
Step 3: Confirming Your Pepperstone Demo Account
Once you have completed the basic personal information required to open your Pepperstone demo account, either through the registration form or your social media channels, you will be asked to confirm your email address.
This is an email you should automatically have received when submitting your application, and it is as simple as clicking the link in the email. From there, your Pepperstone demo account is essentially ready to use. You will be greeted with the following screen: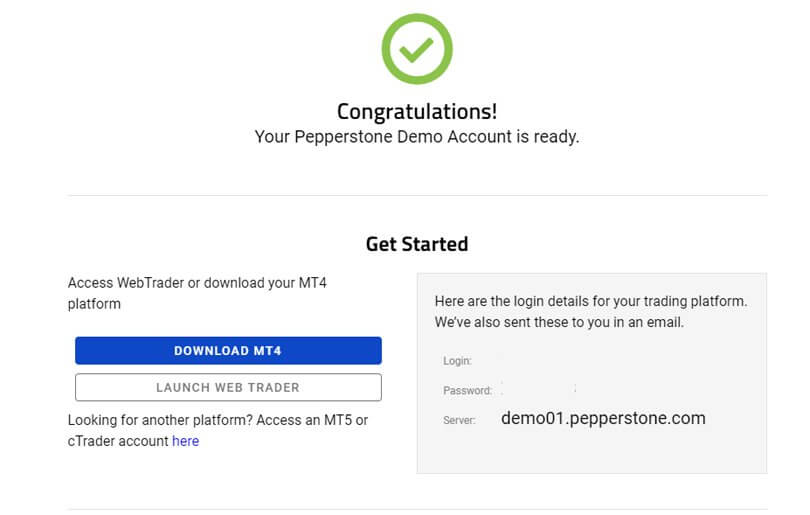 Here you have everything you need to log in to the trading platform of your choice.
Step 4: Choosing Your Pepperstone Demo Account Platform
Once you get the message that your account is ready, you will see two options as above for accessing your trading platform. Here you can choose to use the Web Trader from Metatrader which will open in the browser, or you can download MT4 for your desktop.
Web Trader will likely be a little faster to open and start practicing, but both are great trading platforms.
Pepperstone Demo Account Review
Now that you have completed all the steps in getting your demo account open, let's take a deeper look at why you should choose to open a Pepperstone demo account.
What Types of Pepperstone Demo Account are Available?
The Pepperstone demo account is available to both users of Metatrader 4 and cTrader. Probably the best strategy here is to select the trading platform you plan to use with your Pepperstone live account.
When you have decided, simply click the link to start the download of the trading platform, and use the login details provided to start trading.
If you have started the registration process for your Pepperstone demo account but find yourself with no time to complete it, don't worry. You can set up a handy email reminder to finish at a later time.
Two particular types of account are available to demo users. These are the Pepperstone standard account, and the Pepperstone Razor account. These two accounts are specifically different in the following ways:
Pepperstone Standard account operates with no commission and spreads starting from 1.0 pips
Pepperstone Razor account, which is the most chosen by pro traders just like we've explained in our Pepperstone Professional Account Review, features spreads from 0.0 pips but does take a $7 per lot traded commission.
Again, you should choose the account type here which you intend to trade with on your Live Pepperstone account. This will give you the best perspective of what trading with Pepperstone is really like.
Features and Restrictions of Your New Pepperstone Demo Account
Something you should keep in mind when opening your Pepperstone demo account is that, while the account is accessible to residents of most countries in the world, it cannot be opened by some. The major countries included in this restriction which may impact you are, USA, Canada, New Zealand, and Japan. Most other major countries are available in terms of the Pepperstone demo account.
Opening a Pepperstone demo account can be great for you in many ways. It comes with no risk or cost at all, and simulates all of the key features of a regular Pepperstone live account. These features include everything your trading platform has to offer in terms of indicators and professional analysis, as well as full access to leverage capability. This Pepperstone leverage reaches up to 1:200 maximum (30:1 under FCA and ASIC).
The account itself makes $50,000 of virtual funds available for you to trade. The account itself is available for use for 30-days. If you want to keep your account open longer, you can request another 30-day demo period or you can recreate another account, otherwise, looking for a non expiring forex demo account might be a better option for you.
Who Should Choose a Pepperstone Demo Account
The Pepperstone demo account is perfect for two-types of people. If you are new to trading and you want to complete a simple registration process and access an account with many great trading features, then a Pepperstone demo account can act as the perfect place for you to learn more before opening a live account. What makes it even more appealing is that you can do so without paying any kinds of fees, or risking any of your own funds.
Of course, the account is not only for new traders. Many, after opening a Pepperstone Professional Account, use a demo account to try new strategies before risking their money. If you are considering a move to Pepperstone, a demo account, together with our Pepperstone broker review, is also an ideal way to help you get accustomed to the broker and their features. This should really help you make a final choice when thinking about a new broker.
---
74-89% of retail CFD accounts lose money
About the Author
Filippo Ucchino
Co-Founder - CEO - Broker Expert
Filippo is the co-founder and CEO of InvestinGoal.com. He has 15 years of experience in the financial sector and forex in particular. He started his career as a forex trader in 2005 and then became interested in the whole fintech and crypto sector.
Over this time, he has developed an almost scientific approach to the analysis of brokers, their services, and offerings. In addition, he is an expert in Compliance and Security Policies for consumers protection in this sector.
With InvestinGoal, Filippo's goal is to bring as much clarity as possible to help users navigate the world of online trading, forex, and cryptocurrencies.
How To Open a Pepperstone Demo Account
Related Guides
---
Keeping you better informed
Find and Compare the Best


Online Brokers for You