Trading with Plus500 or any other major forex broker for that matter, you will undoubtedly encounter some trading fees and a minimum deposit.
This is something that we do cover in our Plus500 broker review.
Here, however, we have decided to offer a closer analysis of the precise Plus500 minimum deposit as it applies to each account type and funding method available.
This should allow you to make the most informed decision possible on whether or not to trade with the broker.
Plus500

Regulated: FCA, CySEC, ASIC, MAS, IE Singapore, FMA, SA FSP
Platforms: Proprietary
Min. Deposit: $100

Regulated: FCA, CySEC, ASIC, MAS, IE Singapore, FMA, SA FSP
Platforms: Proprietary
Min. Deposit: $100

Open Your Account!

76.4% of retail CFD accounts lose money
Account Base Currency
As a trader, you will likely already be aware of what a base currency is and how they can make your life as a trader more convenient.
As a trader at Plus500 you can have access to a range of currency to select from as your base currency. These include every major currency pair available. The majority of currencies to correspond with that of your location are available. This availability also extends to the ZAR in South Africa as a base.
There are just a some exceptions to this as in the case of Indonesia. In fact, IDR currency is not accepted as a base currency even though the broker is available and regulated there. They make up for this fact by offering the Singapore Dollar as an alternative.
A final note is that Plus500, although widely available around the world, is not available in a few countries. This includes in the USA, Canada, and Japan.

Deposit Methods
As you would expect from a major broker like Plus500, there are a range of deposit methods available for you to choose from. These are not dependant like some brokers on the area where you are regulated, but instead by the country which you live in.
Wire Transfer
Wire transfer deposit is of course available with Plus500. This is one of the standard deposit methods that you would always anticipate being available from any level of broker. In the case of Plus500, no fee is charged from the broker side, but there is the possibility of a fee coming from your bank. This is something that you will need to confirm with them prior to making your deposit.
The minimum Plus500 deposit that is acceptable if you are making a wire transfer deposit, is $500.
It can be said that when compared with some others in the industry, this is a relatively high minimum deposit, although, with no fees, it can be acceptable if you are a higher volume trader.
Credit/Debit Card
Credit or debit card deposits through Plus500 are another prerequisite that we expect to be available, and indeed they are. Both Visa and Mastercard deposits are accepted. Again, there are no fees at all from the Plus500 end when you make a deposit using your credit or debit card.
Using this method, the minimum Plus500 deposit is a much more reasonable $100.
This is very much in line with what we would consider as an industry standard when talking about minimum deposit amounts.
eWallet
Plus500 eWallet deposits are available and popular with traders of today. These deposit methods include both Skrill and Paypal.
There is one particular stipulation here in regard to using Skrill as a Plus500 deposit method. That is this method is only available from your second deposit. It is not available for the first deposit. No such stipulation is in place for Paypal deposits.
With both of these eWallet deposit methods, the minimum Plus500 deposit that is acceptable is $100.
This falls in line with some of the more affordable minimum deposits available in the industry. As with other deposit methods, again here, there are no fees levied on these eWallet methods from the broker side.
Did you know that thanks to Social Trading you don't have to be a Trader to earn like one? OPEN AN PLUS500 ACCOUNT AND TRY!

76.4% of retail CFD accounts lose money
Plus500 Minimum Deposits
Having already looked at the Plus500 minimum deposit as it applies to each funding methods, let's take a moment to examine how this Plus500 minimum deposit, if any, is applied to your Plus500 account type:
Retail
In the case of Plus500, the only account that is available is actually a retail account. This differs from the majority of brokers who will often have two or more account types available.
The Plus500 retail account though, is available worldwide as the standard account type, and there is no minimum deposit to be concerned about with this account. The minimum deposit with Plus500 is simply that which corresponds to your chosen deposit method as we have looked at above.
To recap quickly, this is either $100 or $500 if you are using a bank wire transfer to fund your account.
Within this type of Plus500 account, there are no commissions applied, and fees are kept to a minimum. Unfortunately, there are also no Islamic account options available at this time.
Related Guides: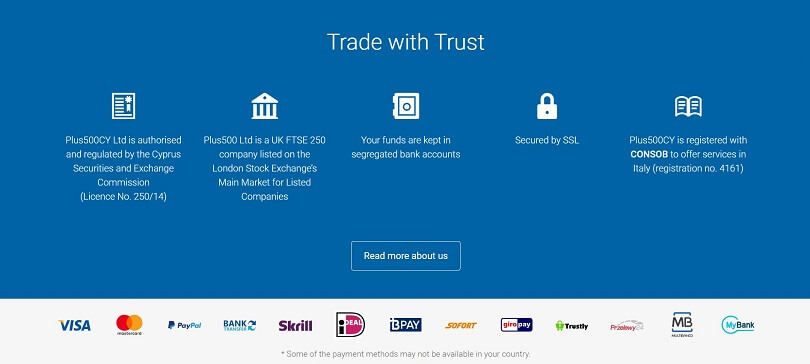 Deposit Bonus
Unlike some others in the industry, Plus500 bonus offers are available to some traders. This does not include those regulated under CySEC or the FCA in the UK due to stringent ESMA regulations.
A Plus500 first deposit bonus is available though if you are regulated in the Global Market area, Australia, or Singapore. These traders can access the bonus once they make a minimum deposit of $300 or the equivalent amount. This bonus is also valid on amounts up to a maximum of $75,000. Essentially, the amount you deposit correlates to the level of the bonus you can receive. This bonus amount which begins from $80 can reach as much as $13,000 in some cases.
The key point to note with this Plus500 bonus is that it only becomes accessible once you have reached certain trading goals or amassed a certain number of TraderPoints as defined by the broker. Once these targets have been reached, your bonus becomes available. Naturally, the higher the bonus level that you are shooting to achieve, the higher the number of points needed to unlock it.
The final important point to note on the Plus500 bonus is that if you have not reached these required trading targets within 90-days of your first deposit, then the bonus amount will expire.
Plus500

Regulated: FCA, CySEC, ASIC, MAS, IE Singapore, FMA, SA FSP
Platforms: Proprietary
Min. Deposit: $100

Regulated: FCA, CySEC, ASIC, MAS, IE Singapore, FMA, SA FSP
Platforms: Proprietary
Min. Deposit: $100

Open Your Account!

76.4% of retail CFD accounts lose money
---
Plus500 Minimum Deposit Guide (2020)
Related Guides
Keeping you better informed
Find and compare the best


Online brokers for you