So, you are considering opening an account with TickMill?
Excellent. They are a safe and popular broker choice. You can learn all about the broker from our full TickMill review. Here though, we will focus on another key aspect in more detail. The TickMill demo account.
We will guide you through the process of opening a demo account in an easy to grasp way and also highlight some of the main features, advantages, and limitations of the TickMill demo account.
Here is a closer look.
TickMill Demo Account Opening Tutorial
Below is a complete tutorial on how you can open and get started using your TickMill demo account step-by-step.
Step 1 – Getting Started with Your TickMill Demo Account
The very first thing you will have to do is visit the TickMill website (79% of retail CFD accounts lose money). From here, you simply need to find and click on "demo account" on the homepage.
Step 2 – TickMill Demo Account – What Documents/Information do you need?
All you will need to get started with a TickMill demo account is a valid email address and phone number. This is enough to get you going. Later if you want to move to a live account you will need a few more documents.
For the live account, you should upload proof of your ID, a passport is recommended, and proof of your residence through a bank statement or utility bill. With that done, you will be ready to make your first deposit with the broker.
You can find more information about that if you take a look at our TickMill minimum deposit guide.
Step 3 – Fill in the registration form
Back to the demo account, you will need to complete the registration form. This requires basic details like your name, email, phone number, and country of residence. Here you will also select your trading platform, account type, leverage, and virtual deposit amount.
At this point, you will also select if you are joining as a retail or professional trader, and finally, agree to the terms and conditions of the demo account. This entire process should only take a few moments. You can see some related images below: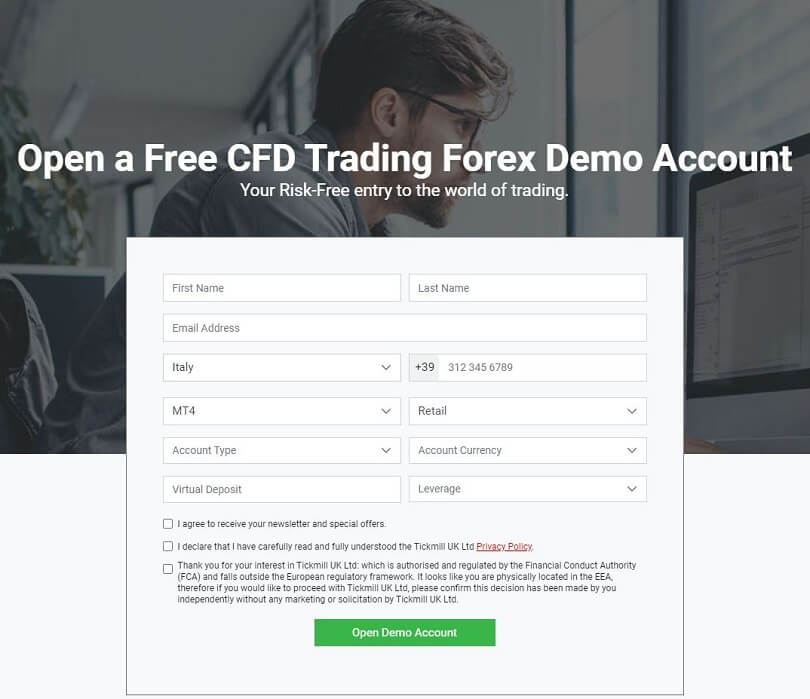 UK traders can also open a Futures demo account. Simply select your desired account type when going through the process.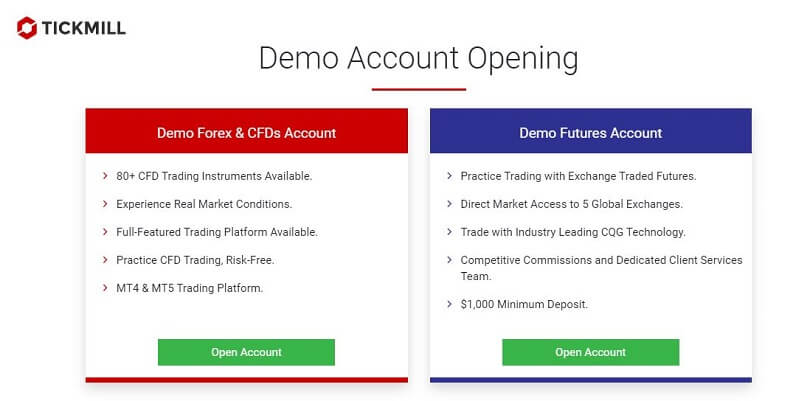 Step 4 – Confirm the account through email/telephone
With the registration form complete you will receive an instant email that you can click to activate the account. This email will also include your account details and a link to download the MetaTrader 4 platform.
Step 5 – Login into your Demo Account
You will now be all set to log in to your TickMill demo account for the first time. All you will need are the details you used to sign up. This means your username and password. Once you have logged in, you can start trading.
Step 6 – Choosing Your TickMill Demo Account Platform
The last thing you will have to do with your demo account is to choose the trading platform. As an EU or UK trader, you can choose MT4 or MT5. Both are available as desktop, webtrader, or on mobile app. The desktop version can be downloaded directly from your registration email link as mentioned above.
For UK traders there is also the CGQ platform if you have selected a demo futures account. For all other traders, the only platform available is MT4.
TickMill Demo Account Review
Here we will take a closer look at the demo account itself, and exactly what you can expect from it.
What Types of TickMill Demo Account are Available?
You will generally find three types of TickMill demo accounts available. They are the Pro, Classic, and Vip accounts. For UK traders there is also the Demo Futures account.
With a Pro account, you will need a $100 minimum deposit, in this case virtual. Spreads on this account type start from 0 pips and the commission is $2 per side on each lot traded which is great value.
The Classic account also requires a $100 minimum deposit and spreads here start from 1.6 pips. Meanwhile, a VIP account requires a minimum balance of $50,000, spreads start from 0 pips, and commission is $2 per side per lot traded. Finally, the futures account needs a $1,000 minimum deposit and commission starts from $0.85.
You can get the full lowdown on accounts by reading our TickMill account types guide.
TickMill Demo Account Features, Restrictions and Differences with Live Account
Starting with the positives, there are many with the TickMill demo account. First off, it is unlimited until you open a live account. At that point, you have 14-days to use both together though you may be able to extend the time by contacting the broker support. This is also how you can change your demo account balance.
You will find almost all live account features are replicated perfectly through the demo account. The only differences of course are that the funds are virtual, and that slippage, although very rare, may occur on a live account. This cannot occur in a virtual trading environment.
Advantages of Trading with a TickMill Demo Account
The advantages here will be much the same with the TickMill demo account as with others. A demo account is the perfect learning place. You can hone your trading skills here with no risk, and in an environment that almost perfectly replicates live trading.
It is also a good chance to get to know the broker, their trading platforms, and available features. The transition from this to a TickMill live account which is very well-regulated and respected is also very convenient when the time is right.
TickMill Demo Expiring time
As mentioned, the demo account is unlimited until you open the live account. This means it won't expire if you have not opened a live account yet. After opening a live account you have 14-days until your demo account expires, though you may contact the support team to extend the time.
---
74-89% of retail CFD accounts lose money
About the Author
Filippo Ucchino
Co-Founder - CEO - Broker Expert
Filippo is the co-founder and CEO of InvestinGoal.com. He has 15 years of experience in the financial sector and forex in particular. He started his career as a forex trader in 2005 and then became interested in the whole fintech and crypto sector.
Over this time, he has developed an almost scientific approach to the analysis of brokers, their services, and offerings. In addition, he is an expert in Compliance and Security Policies for consumers protection in this sector.
With InvestinGoal, Filippo's goal is to bring as much clarity as possible to help users navigate the world of online trading, forex, and cryptocurrencies.
Tickmill Demo Account – Opening Tutorial and Review
Related Guides
---
Keeping you better informed
Find and Compare the Best


Online Brokers for You