No matter how experienced you are as a trader, if you're planning on trading with a new broker, it's always a good idea to start with a demo account.
Perhaps you've already read our comprehensive Trading 212 review and concluded this broker's exciting range of products is going to help you make money in the markets. In that case, this guide will help you open a Trading 212 Demo Account.
Besides the Trading 212 Demo Account, the company offers numerous account types which will appeal to different traders. After you've tested this brokers platform and trading conditions, you can rely on our Trading 212 account types guide to know precisely what to do if you're satisfied with your demo account experience.
Trading212 Demo Account Opening Tutorial
In this Trading 212 Demo Account opening tutorial, we'll guide you step-by-step on how to open the account with ease.
Step 1 – Getting started with your Trading 212 Demo Account
The first step to opening a Trading 212 Demo Account is to visit the company's website. In the header of most pages on the website, you'll find a button 'Open Account', click it once, then click the option 'Practice'.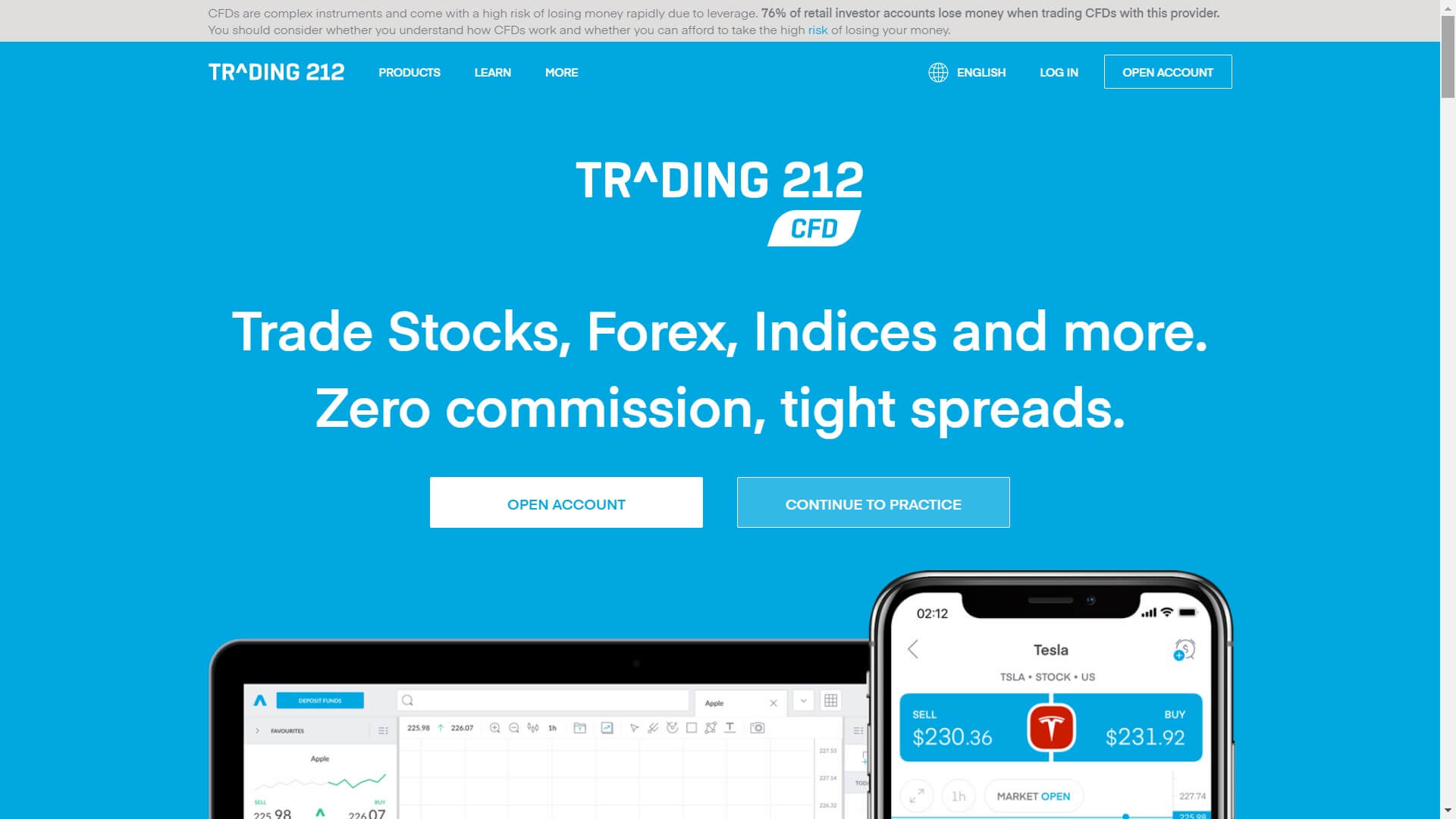 Step 2 – Trading212 Demo Account – What documents & information do you need?
Unlike live accounts requiring you to pass through identity verification, opening a demo account requires very little comparison. As the Trading 212 Demo Account is primarily offered to allow prospective clients to test the company's service before registering for a live account, all you need is a valid email address to get started.
Remember that you'll need some documents whenever you feel ready to open a real trading account. Regulated brokers like Trading 212 will require you to verify your identity, preferably using a passport, and verify your address, usually with a recent bank statement or utility bill.
Step 3 – Fill in the registration form
For your demo account to be created, you'll need to complete the registration form. This form only asks for you to provide your email address and to choose a password that is longer than five characters.
Step 4 – Confirm the account via email/telephone
Once you have completed the registration process for a Trading 212 Demo Account, you can confirm the account by receiving an email or receiving an SMS to your phone number.
It's not a requirement to confirm your email address or phone number to start practising with the demo account; however, it's always recommended to do so.
Step 5 – First login into the demo account
As soon as you have completed step 3, you will be automatically redirected to the Trading 212 trading platform. The first screen will ask if you want to access the Trading 212 CFD or Invest environment. You can easily switch between the CFD trading and Invest version of the Trading 212 Demo Account. This step is seamless and is the easiest and fastest way to enter into the platform.
Step 6 – Choosing Your Trading212 Demo Account platform
Once you have signed into your new Trading 212 Demo Account, you will notice the broker has a proprietary trading platform. You're able to access your demo trading account from either the web application trading platform or as a mobile application for either Android or iOS devices.
Trading212 Demo Account Review
What Types of Trading 212 Demo Account are available?
When you open a demo account with Trading 212, you don't need to decide whether you want a CFD or Invest account. The broker has no restrictions on which of the two account types you can test and allows you to switch between the two account types in a couple of clicks.
CFDs are a risky instrument, and opening a demo account is vital to learn how to limit the trading risk. If you're interested in this kind of instruments, we suggest you reading our choice for the best cfd trading demo account.
Trading212 Demo Account features, restrictions and differences with a Live Account
The Trading 212 Demo Account is a reliable replica of the live environment, providing almost the same features and experience. The noticeable difference, as you would expect from any demo trading account, there is no liquidity, and the funds are virtual.
One important characteristic that helps you determine whether a broker is suitable or not is how they perform at executing orders. The main difference between a live and demo account is slippage, which cannot be replicated on a Trading 212 Demo Account.
Advantages of trading with a Trading 212 Demo Account
There are a few advantages of using a Trading 212 Demo Account. Some of the most notable ones are;
You can practice trading without risking money,
It emulates the real live account environment,
You can access a wide range of trading and investment instruments,
The account is loaded with a maximum of $50,000 virtual funds,
It's useful to test your trading skills and get familiar with a new platform before opening a live account.
Trading212 Demo Account Management
Expiring time
The Trading 212 Demo Account is available with unlimited free access to all the instruments and markets available.
Demo account reactivation
If your demo trading account has become inactive, generally you won't be able to reactivate the account. As you can see from this guide, it's effortless to open a Trading 212 Demo Account. Therefore, the easiest thing to do is open another account. If you have any concerns about restoring a demo account, simply contact the broker's customer support team to get some assistance.
---
About The Author
Filippo Ucchino
Co-Founder - CEO - Broker Expert
Filippo is the co-founder and CEO of InvestinGoal.com. He has 15 years of experience in the financial sector and forex in particular. He started his career as a forex trader in 2005 and then became interested in the whole fintech and crypto sector.
Over this time, he has developed an almost scientific approach to the analysis of brokers, their services, and offerings. In addition, he is an expert in Compliance and Security Policies for consumers protection in this sector.
With InvestinGoal, Filippo's goal is to bring as much clarity as possible to help users navigate the world of online trading, forex, and cryptocurrencies.
---
Better Informed
Find and Compare The Best


Online Broker For You