Opening a demo account is the first step to take before depositing real money.
With Admiral Markets, depending on your needs, you can open different types of demo accounts.
So, to help you make the right choice of a trading broker, we have written an Admiral Markets account types.
This article, paired with our Admiral Markets review that we suggest you read if you're new to the broker, will give you a full understanding of the Admiral Markets pros and cons.
Admiral Markets Demo Account Opening Tutorial
This is a simple step-by-step guide on how to set up a demo account on Admiral Markets.
Step 1 — Getting Started With Your Admiral Markets Demo Account
The first step for opening a demo Admiral Markets account is to visit the broker's website.
You can do it by clicking on the link here, which will send you to the broker's registration form needed to open an Admiral Markets demo account.
Admiral Markets directs EU residents to the CySEC regulated page, which of course shows the AM EU entity registration form. If you are eligible for opening an account under other regulatory frameworks and you wish to switch, check the bottom right corner of the registration form and choose one.

Step 2 — Admiral Markets Demo Account — What Documents/Information do you Need?
The Demo Account requires very few details from users. You only need to provide a valid phone number and your email address. Opening an active trading account requires extra documents, which include a document proving your identity such as a national ID or passport, and a document to prove your physical address, which can be a utility bill.
Step 3 — Fill in the registration form
Fill out the registration form with your first name and last name. You will also have to provide your phone number and email. Once you are done, you will be asked to set your Trader's Room password. To complete the process, you need to accept the privacy policy.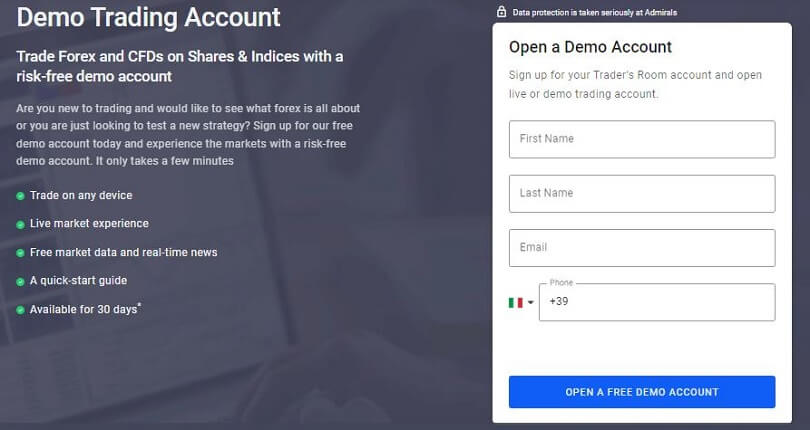 Step 4 — Confirm the account via email/telephone
Once you submit your registration form, Admiral Markets will send you a confirmation link to your email address. Click on the link to activate your demo account.
Step 5 — First login into the demo account
Open your MT4 or MT5 platform and sign in with your email and password. You should then confirm that the server is the Admiral Market Demo server. With that, you can begin trading. To get here you will have to head to your dashboard just like is shown on the below image:
Step 6 — Choosing Your Admiral Markets Demo Account Platform
With the Demo Account, you can choose the Meta Trader platform for either your phone or desktop. Select the one you wish to use and begin the download.
Admiral Markets Demo Account Review
You have now completed the Demo Account opening. Let's have a look at some of the features you will find in the Admiral Markets Demo Account.
If you want to know what makes a best demo forex account be sure to check our top recommendation.
What Types of Admiral Markets Demo Account are Available?
Admiral Markets offers traders a wide range of account types with the Demo Account. These are the Trade MT5, Invest MT5, Zero MT5, Trade MT4, and the Zero MT4. Some of these are offered with a great ECN execution, which is excellent news because Admiral Markets is one of the best ecn forex brokers in the market.
Admiral Markets Demo Account Features, Restrictions, and Differences with Live Account
Compared to the live trading account, there is no real difference. The Demo Account gives you the full Admiral Markets experience without you having to trade any of your real money. Once you have the Demo Account, you are not compelled to open a live trading account. It is worth noting that the Demo Account does not have slippage since you are operating in a simulated market.
| | Advantages | Downsides |
| --- | --- | --- |
| Demo Account | You can try the full Admiral Markets experience | It is available for 30 days |
| Minimum Deposit | $100 ($1 for Invest Account) | Depending on the method it can take up to 3 business days |
Advantages of Trading with an Admiral Markets Demo Account
A major benefit of the Demo Account is you are free to test all the features of Admiral Markets without risking any of your funds.
Another benefit is that you can get a full understanding of the Admiral Markets platform before you begin trading with a live account.
The Admiral Markets Demo Account is also a great way to be familiarized with how the markets work.
Admiral Markets Demo Account Management
Here is a simple guide on the basics of the Admiral Markets account management.
Does the Admiral Markets Demo Account Expire?
The Demo Account comes with an expiry period. From the first opening date of the account, it lasts for 30 days.
Is it possible to Reset the Admiral Markets Demo account?
Once the 30 days expire and you feel that you need more time to test the platform, you can send a message to the customer support team. The team will agree to the request. However, if you open a live trading account, the Demo Account does not expire. It allows you to continue testing the latest features added to Admiral Markets before you try them out in your live trading account.
Admiral Markets Demo Account FAQ
How do I open a demo trading account?
Go to the Admiral Markets webpage, click on "start trading" from top menù and then "demo account" and follow the procedure above.
Can you withdraw money from demo account?
As a demo account is involved with virtual money, it is impossible to make a withdrawal. That money doesn't actually exist, and it's great because both profits and losses will be virtual, allowing you to practice your trading skills without risks.
---
74-89% of retail CFD accounts lose money
About the Author
Filippo Ucchino
Co-Founder - CEO - Broker Expert
Filippo is the co-founder and CEO of InvestinGoal.com. He has 15 years of experience in the financial sector and forex in particular. He started his career as a forex trader in 2005 and then became interested in the whole fintech and crypto sector.
Over this time, he has developed an almost scientific approach to the analysis of brokers, their services, and offerings. In addition, he is an expert in Compliance and Security Policies for consumers protection in this sector.
With InvestinGoal, Filippo's goal is to bring as much clarity as possible to help users navigate the world of online trading, forex, and cryptocurrencies.
How To Open an Admiral Markets Demo Account
Related Guides
---
Keeping you better informed
Find and Compare the Best


Online Brokers for You