Connect with us
Trading forex with any broker, one of the key things to look out for is anything that can make your journey easier, particularly as a new trader. This is also true with eToro.
Through our full eToro review, you will have noticed mention of the eToro popular investor program. Here we will take a more in-depth look at exactly what this program is and how it can be used to benefit you particularly if you are new to eToro, interested in copy trading, and particularly in making trades to be followed by others.
What is the eToro Popular Investor program?
First off, let's introduce the eToro popular investor program. It is one of the core elements of copy trading at eToro and although the broker has evolved over the years, eToro copy trading remains at the core of the company as they are still the best copy trading broker around.
Within this copy trading offering then, the eToro popular investor program is key. As the name suggests this program recommends the best traders that you can copy from. This is really the heart and soul of copy trading with the broker and helps you to identify the most suitable traders to copy. Although it may be most popular among new traders, there are still many benefits to be had if you are a more experienced trader interested in copy trading.
eToro Popular Investor Program Tiers
Now let's take a brief look at each level
Cadet: The Cadet tier of the popular investor program is the entry-level if you are looking to get started in the program.
Champion: After a minimum of two months, you may be ready for a move to the next tier depending on your situation. This is the Tier where traders start to earn money.
Elite: Moving up to the Elite level, you will start earning proportionally to the amount of copiers you have.
Elite Pro: If you keep going, it is possible you will reach the highest tier of the program, Elite Pro. Same Elite benefits, but with higher base earnings.
How to become a Popular Investor: Requirements needed
Becoming a popular investor with eToro is not as difficult as you may think. You do not need to be a professional trader at all. The program is very objective and is simply based on your statistics as a trader. If you are a good performer then, you can join the program.
There are a few requirements that you need to meet but these are quite simple and easy to attain. The first thing is that you should deposit at least $1,000 since this is the amount of equity you need to be in the program.
Aside from that, you will need to make sure your profile is verified and with sufficient detail. This means you must have a profile picture and a description of your trading in the bio so that potential copiers can get an understanding of your trading.
You also need to make sure that your risk score does not exceed 6/10. This can be found on your stats page and is updated daily by eToro. You also need to make sure you meet all of the leverage requirements. These differ for each market on offer.
Within each tier, of which there are 4, you will also need to meet certain requirements when it comes to minimum equity in your account, minimum AUM (Assets under management), and the number of copiers. Along with this, each tier comes with different benefits attached.
Here we will look at the requirements and benefits of each tier in more detail.
eToro Popular Investor: How to climb the Tiers
There are 4 eToro Popular Investor levels: Cadet, Champion, Elite and Elite Pro.
To join at Cadet level you will need to have a minimum eToro account equity of $1,000 and at least two months of trading history. You will also need to have at least $500 of Assets under management at this stage and a minimum of one person copying your trades. You should also know that you can't have any copy trades open to be accepted into the program. In order to advance to the next tier, you must be at the Cadet level for at least 2 months.
At the Champion level, you will need to have a minimum of $5,000 in account equity combined with at least $50,000 in assets under management from at least 10 copiers. In order to advance to the next tier, you must spend at least 4 months at the Champion level.
At the Elite tier, you will need to have an account equity of at least $25,000. This will need to be matched by a $500,000 assets under management amount as well as having at least 10 copiers. You will need to remain at this tier for at least 2 months before you can potentially advance. You must also agree to the "Declaration of strategy and exclusivity" agreement put forward by the broker
Lastly, at the Elite Pro, you will need to have an account equity of at least $25,000. This will need to be matched by a $500,000 assets under management amount as well as having at least 10 copiers. You will need to remain at this tier for at least 2 months before you can potentially advance. You must also agree to the "Declaration of strategy and exclusivity" agreement put forward by the broker.
To give you a clearer sight on the matter, here's a comparative table which highlights the requirements for each level.
| Requirements | Cadet | Champion | Elite | Elite Pro |
| --- | --- | --- | --- | --- |
| Minimum AUM | $500 | $50K | $500K | $10M |
| Minimum Equity | $1,000 | $5,000 | $25,000 | $50,000 |
| Minimum copiers | 1 | 10 | 10 | 10 |
| Minimum time on level | 2 months | 4 months | 4 months | N/a |
eToro Popular Investor Income: How do eToro Traders earn money?
An eToro popular investor earns money directly from eToro depending on their activity and the tier they belong to. Within the cadet tier there is no payment, the champion tier pays up to $800/month, the Elite tier pays 1.5% – 2% of the AUM per year, and the Elite Pro tier pays between 2% – 2.5% of the AUM per year.
Of course, eToro Popular Investors do not only get an Income from the broker, but they also get benefits.
Cadet level popular investors though they do not earn any passive income, they are allowed to be featured on the "copy people" page which is a good step in getting more copiers.
Champions can access to other benefits like free withdrawals, invitations to exclusive events and conferences as well as a subscription to the Financial Times.
Elite tier traders, along with the benefits of other tiers, have access to a range of online investment videos and a weekly video call with the popular investor team.
Finally, there's the Elite Pro level, which is the ultimate eToro popular investor level. At this tier, you can expect all of the same benefits as previous tiers, but augmented AUM Income.
| eToro Popular Investor level | Cadet | Champion | Elite | Elite Pro |
| --- | --- | --- | --- | --- |
| Monthly Income | N/a | $400 or $800* | 1.5% or 2%* | 2% or 2.5%* |
*Starred income refers to whether average monthly AUM grew 1% in the previous month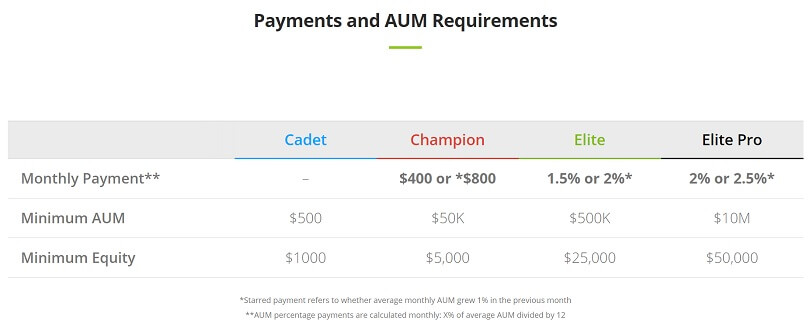 eToro Popular Investor Levels Benefits
In this table below, you'll find an overview of the most important info about the benefits that come for each level
| Benefits and Payments | Cadet | Champion | Elite | Elite Pro |
| --- | --- | --- | --- | --- |
| Priority Customer Service 24/6 | Yes | Yes | Yes | Yes |
| Featured in eToro Marketing | Yes | Yes | Yes | Yes |
| eToro merchandise | No | Yes | Yes | Yes |
| Fee-free withdrawals | No | Yes | Yes | Yes |
| Complimentary tickets to online/offline events, conferences, sports events/concerts | Yes | Yes | Yes | Yes |
| Financial Times, The Wall Street Journal subscriptions | No | Yes | Yes | Yes |
| GuruFocus Premium subscription | Yes | Yes | Yes | Yes |
| Investment book reimbursement up to $100 | No | Yes | Yes | Yes |
| eToro Debit Card | No | Yes | Yes | Yes |
| SeekingAlpha Premium subscription | No | No | Yes | Yes |
| Client Relationship Manager in Popular Investor Team | No | No | Yes | Yes |
| Invitation to eToro global offices | No | No | Yes | Yes |
| Investor Relations: Conference calls with top copiers and investor fact sheet | No | No | Yes | Yes |
How to make yourself known
Making yourself as known as the best eToro Traders is always a challenge. You can do it though through a number of simple and consistent steps.
It is important that you continually post useful information in your feed that can be beneficial to traders. This means everything from investing tips to market insights and a variety of other content. Also helpful here is to link any blogs or social media content you have to share with your Popular investor profile.
Some will even have their own dedicated websites and blogs to interact with and advise traders. The important thing to make sure of is that you are always adding value. This means meaningful, helpful content, and absolutely no spam that can result in you getting banned from posting for periods of time.
Getting your first copier
The first step can often be the biggest. The same is true when it comes to getting your first copier in the program. The only rule here is that it cannot be a member of your family. The best practice is that you try to be as responsive as possible and engage traders in your feed to increase your chances.
Other than that, traders typically like consistency in performance. This takes time, but make sure you stick to your strategy. Don't be tempted by short term risks that can compromise your long term goals.
Copy People Section
The copy people section is the area you will be added to once you meet the requirements to join the cadet tier of the program. This section lists all of the popular investors. Within this section, there is another area called the "Editors Choice" section. This is reserved for the best traders of all kinds to be featured with that choice being made by eToro.
The section itself is further divided into other categories. These include the most copied, the top investors, and those with low and medium risk scores. You can also filter popular investors by a number of criteria including the country, markets they trade, performance, and risk score. This is all aimed at making sure traders get access to the best people to copy that match their needs. Moreover, eToro has created the eToro CopyPortfolios to help clients improve their performance, by giving the opportunity to simplify the diversification process and the strategic process, as you can get in our eToro CopyPortfolios guide.
In general, the more copiers you get, the more you will be featured in this section. It is also worth noting that when a trader clicks on your profile through the Popular Investor page they will automatically be redirected to your feed. In that case, it is a good idea to keep this feed as active as possible.
If you want, there is our detailed eToro guide, which covers the 'copy people section' and other features that can really help you.
Qualities you should have as a Popular Investor
Ultimately, to be successful as an eToro popular investor there are a few key qualities that you need to possess. These are as follows:
Be an excellent communicator, both with your copiers and in general.
Have a good knowledge of the markets you are trading and be willing to share this knowledge.
You should not be trying to chase losses. This helps show you are measured, experienced, and can be trusted in the long term.
Managing your level of risk well. This is important to traders and it means no reckless, high-risk trading.
With these basic qualities and core values in place, you can go a long way toward making an already rewarding eToro popular investor program be even more beneficial for you and your future in the industry.
eToro Popular Investor FAQ
How do you become a popular investor on eToro?
If you already have an account, you should deposit at least $1,000 and trade for two months. While trading, keep a risk score lower than 7 and abide by the leverage restrictions. Try to attract copiers by having an active feed and verified account.
How do you get followers on eToro?
You should first of all show that you are trustworthy. Verify your account and complete your profile with a bio and a profile picture. Keep your feed active and always reply to people. Interact with the community but remember not to spam.
What are the AUM levels on eToro?
AUM is "Assets under management". This is the total market value of all the financial assets managed by an individual (could be just their assets or also their copiers').
---
About the Author
Filippo Ucchino
Co-Founder - CEO - Broker Expert
Filippo is the co-founder and CEO of InvestinGoal.com. He has 15 years of experience in the financial sector and forex in particular. He started his career as a forex trader in 2005 and then became interested in the whole fintech and crypto sector.
Over this time, he has developed an almost scientific approach to the analysis of brokers, their services, and offerings. In addition, he is an expert in Compliance and Security Policies for consumers protection in this sector.
With InvestinGoal, Filippo's goal is to bring as much clarity as possible to help users navigate the world of online trading, forex, and cryptocurrencies.
---
Keeping you better informed
Find and compare the best


Online brokers for you