Connect with us
If you are thinking about opening an account with Oanda then you have likely already taken a look at our in-depth Oanda Review. This provides great detail on every aspect of the broker to help you in making your choice.
Here we will take a much closer look at one particular aspect of the broker that is very important to you and many traders. That is the Oanda minimum deposit requirements. You will get to know all about how much is required, the funding methods you can use, and much more.
With that in mind, let's go ahead and get started.
What is the Oanda Minimum Deposit?
The Oanda minimum deposit you will find is 0 USD regardless of the account type offered. There is one exception though, and that is for the Oanda Premium account which requires a quite high minimum deposit. However Oanda accepts only USD as a base currency so it is likely to incur a conversion fee even though you may deposit in other currencies.
| Oanda | Features |
| --- | --- |
| Minimum Deposit | $0 |
| Deposit Fees | No |
| Withdrawal Fees | No |
| Base Currencies | USD |
Oanda Deposit Bonus
At the moment, there are no deposit bonus offers in place from Oanda on any of the account types. This complies with the regulatory requirements of the bodies which oversee the broker and while it may be disappointing to some traders it does show a positive image of a highly compliant and trustworthy broker.
However, there are some brokers that offer some bonus and you can check what are the best by reading our forex brokers with free bonus article.
How to deposit funds into your Oanda account: Steps to follow
Making a deposit with Oanda is actually no different from making a deposit with many of the top brokers and should be a relatively easy process to follow. Here are the best-recommended steps for you to get started easily:
If you are a beginner in trading, or just very new to Oanda then you can easily avail of their free trial by opening a demo account. This requires minimal information, recreates a live trading environment perfectly, and has no obligation for you to make a real deposit. It is the perfect way to get to know more about trading and the broker. The best thing is the Oanda demo account is completely unlimited. Even though Oanda doesn't make it in our best forex demo account top ten it still remains a very good demo account for every trader.
As a more experienced trader, you are perfectly welcome to skip this step and open a live account right away. You will just need to follow the registration steps which include verifying your account. To do this you will need a proof of residence and a proof of identity document. The most convenient documents are usually your passport and a recent utility bill showing your address.
You are almost there at this point. You just need to make your first deposit once your account is verified, taking note of the Oanda minimum deposit which in this case could be very low, and once this deposit has been processed you are free to trade. Having a low minimum deposit is a good starting point for traders and should you want to know more you may also check our selection of the best low no minimum deposit brokers.
In all, the entire process from signing up to starting to trade can be done in less than an hour if you have all of your verification documents ready, though it could take a little longer depending on the situation. You can definitely be done within 24 hours.
Oanda Funding Methods (+ Withdrawals)
Moving on to how to get money in and withdraw money from your Oanda account. There are a few main deposit methods available to you. These are making a wire transfer from your bank, using any major credit or debit card that is Visa or MasterCard, or making an eWallet deposit through PayPal. You check here for our PayPal forex brokers guide if you want to know why this payment method is so popular and find other PayPal forex brokers.
As you would expect these deposits can be processed pretty quickly depending on the method you choose. Typically though a bank wire transfer can take a little longer. In any case, the usual waiting time to clear any of the methods is 1-2 business days though this may be faster after your first deposit.
Oanda Deposit Fees
Oanda deposits are usually fee-free. The only exception here where you may encounter some fee is if you deposit a currency that is different from your base currency. You would then have to pay a conversion fee. You can avoid this fee though as you will see in the next section.
Oanda Withdrawals
Making an Oanda withdrawal is an easy process. Once you have deposited any money then you are free to withdraw it whenever you like. Again the withdrawal process is usually free when you have a matching base currency.
Considering withdrawal time, the standard here is up to 2 business days to complete your withdrawal. Another point to note here is that only you are allowed to withdraw your funds. This means you can't have anyone else making withdrawals on your behalf or vice versa.
Oanda accepted deposit currencies
Making a deposit with Oanda you should know that there are several currencies that they accept for deposit. These are the GBP, EUR, USD, AUD, CAD. This means you can deposit any of these currencies.
An important point to note on this is that the accepted deposit currencies do differ from the accepted base currencies. The only Oanda base currency available is the USD. This is the currency you trade in. In that case, this also means that any deposit you make which is not in USD will attract a conversion fee since it has to be converted to US Dollars for you to trade. It is something to keep in mind and it might be worth depositing and withdrawing in USD to avoid any conversion fee.
If you still can't avoid the conversion fee, Oanda has a currency converter for you to use that may come in handy.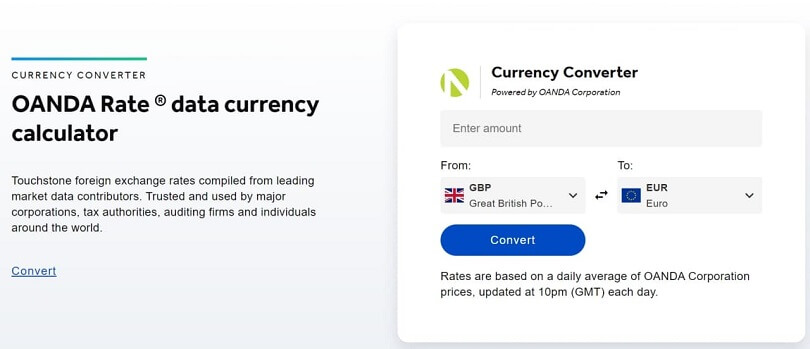 Oanda Minimum Deposit vs Other Brokers
Here is how the Oanda minimum deposit and available methods stacks up against some of the other top trading brokers:
WARNING
CFDs are complex instruments and come with a high risk of losing money rapidly due to leverage. Between 74-89% of retail investor accounts lose money when trading CFDs. You should consider whether you can afford to take the high risk of losing your money
| Feature | Oanda | Forex.com | eToro |
| --- | --- | --- | --- |
| Min. deposit | No minimum deposit | $50 | $200 |
| Wire Transfer | Yes | Yes | Yes |
| Credit Card | Yes | Yes | Yes |
| PayPal | Yes | No | Yes |
| Number of dep. methods | 6 | 7 | 9 |
| Account currencies | USD | EUR, GBP, USD | USD |
Oanda Minimum Deposit Pros and cons
Of course, even with a top broker like Oanda, there are areas to work on. These come alongside many things they do great though. Here are some of each that we have found.
Pros
Oanda has no minimum deposit to worry about besides the premium account. This means it is highly accessible to all.
The unlimited demo account is a great opportunity for you to try the broker before making a deposit or trading for real.
They offer a good range of deposit and withdrawal options catering for several different methods.
Cons
Having only one base currency in the USD can be limiting for some and mean a higher chance of conversion fees for international traders.
The two days it can take to process deposits and withdrawals could be considered a little long.
Oanda Minimum Deposit FAQs
What is the Oanda minimum deposit?
No Oanda minimum deposit is required. The only exception to this rule is if you would like to open a Premium account. If this is the case then you will have to make a large minimum deposit of $20,000.
Is Oanda regulated in South Africa?
Oanda is not regulated in South Africa. This is something to consider as a South African trader although the broker is very well-regulated elsewhere. Moreover, you will find that the only account base currency available is the US Dollar. This could leave you with a conversion fee if your deposit or withdrawal currencies do not match.
---
About the Author
Anthony Gallagher
Broker Expert
Anthony is a financial journalist and business advisor with several years' experience writing for some of the most well-known sites in the Forex world.
A trader turned industry writer, he is currently based in Shanghai with a finger on the pulse of Asia's biggest markets.
He is a keen golfer with a very high handicap so when not helping you find the best broker for your needs, you may find him on the course or just as likely following any number of sports from the comfort of his sofa.
---
Keeping you better informed
Find and compare the best


Online brokers for you