You probably have heard about OctaFX Demo Account and wonder what the account is all about. Well, OctaFX is out to assist new members of its trading platform with learning trading tricks without investing their money in the training process. This guide puts you through how to open and use the Demo Account.
You can learn more about this topic by checking out our OctaFX review. For a complete list of other account types offered by the trading platform, read our OctaFX Account Types article.
OctaFX Demo Account Opening Tutorial
Opening the Demo Account is the first step towards using it. Follow the step-by-step guide discussed below to open the account.
Step 1 – Getting Started with Your OctaFX Demo Account
Start the account opening process by visiting the OctaFX homepage. Then, you can choose either of these options:
Click on the "Open an Account" button on the homepage to proceed or scroll down the page until you locate the "Practice" button and click it to initiate the account opening process.
Step 2 – OctaFX Demo Account – What Documents/Information Do You Need?
You don't need a lot of information for the Demo Account. Hence, a valid phone number and valid email address suffice.
For identity verification, you must provide valid proof of address such as a utility bill and anything else. Valid identification is also required, most significantly, a government-issued or any valid ID.
Step 3 – Fill in the Registration Form
When filling the Registration Form, input the personal information in Step 2 above. More so, it will be helpful if you create a password for accessing the platform. Alternatively, you can sign up with either your Google or Facebook account.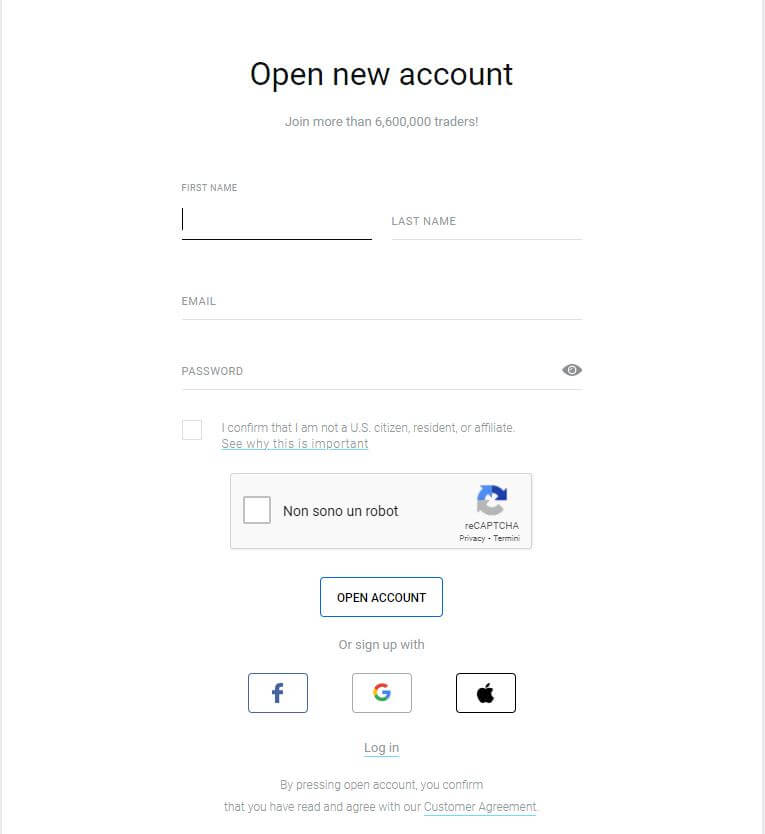 Step 4 – Confirm the Account via Telephone or Email
Your account creation isn't complete without confirming your personal information via email or telephone. The trading platform will forward a verification link to your email address. Click the link to confirm the validity of the email account and complete your registration.
They may also send a unique code via telephone to confirm your telephone number. The account confirmation is necessary because, without it, you won't have access to the account.
Step 5 – First Login into the Demo Account
After your account verification, you can proceed to the homepage and login into your account for the first time. Your dashboard will come up as soon as you log in.
From your dashboard, you can download the trading platform if you wish. Alternatively, open the web version and start experimenting.
Step 6 – Choosing Your OctaFX Demo Account Platform
OctaFX offers its traders multiple trading platforms to allow them to make their choice. For ease of trading, it provides MT4, MT5, cTrader, and OctaFX Mobile trading platforms.  You can choose any of these platforms for trading.
After making your choice, an email will confirm your registration and furnish you with your login details, including your username and password.
OctaFX Demo Account Review
What Types of OctaFX Demo Account are Available?
OctaFX is a regulated broker. Saint Vincent, Cyprus Securities and Exchange Commission (CySEC), and Grenadines are three regulatory bodies that regulate its activities. Thus, you will have access to a wide range of trading accounts, depending on your location.
OctaFX Demo Account Features, Restrictions, and Differences with Live Account
The Demo and Live accounts are two of the multiple account types provided by OctaFX. These accounts have distinct features and some differences.
It is noteworthy that both accounts provide similar trading experience. However, while the live account is prone to risk, the demo account is risk-free. With the aid of this account type, you can test your bots and strategies. You can also experiment with different order types while honing your trading skills.
You can try all the platform's features on both account types. The trial enables you to become accustomed to their features and understand their possible impact on your trading. Slippage is a possibility when trading on the live account. With a demo account, slippage is something you shouldn't worry about because it can't happen on it.
You only trade with virtual money on demo accounts while you trade with real money on live accounts. OctaFX will provide real trading signals for you while trading on either account.
OctaFX Demo Account Contests
OctaFX conducts some contests for its users. The two common contests are:
OctaFX Champion
This is a 4-week long contest. To join this contest, you are required to create a new account.
Participants trade under the same trading conditions. They also have the same permission to use all the trading techniques at their disposal.
The participant that amasses the highest balance automatically wins the contest. The prize for the contest ranges between $500 for the winner and $50 for the 4th runner up.
cTrader Weekly Demo Contest
Participants in the cTrader Weekly Demo Contest are governed by the same rule for the OctaFX Champion contest. The difference between the two is their prize ranges. The one-week long contest offers a prize range between $25 and $150 for the winners.
Before you participate in either of the contests, familiarize yourself with its terms and conditions. Read these terms before you sign up for the contest; don't go into any contest blindly.
UK and US traders are not permitted to participate in these contests. Traders from some jurisdictions can't participate in them too.
Advantages of Trading with an OctaFX Demo Account
There are several reasons why trading with an OctaFX Demo Account is advantageous. For a start, rest assured that you will be trading with a trusted and regulated broker.
More so, you can choose from the long list of platforms the trading platform provides. That is aside from learning some trading tricks from the OctaFX Demo Account.
What about testing your strategies and abilities? There are no better testing options than through the Demo Account. The Demo Account also allows you to test your trading skills and strategies without risking your money.
Demo Account Reactivation
Sometimes, you may need to reactivate your account, especially if you lose your password. The recovery process is straightforward. Click the "Forget Password?" button when login into the account.
Supply your email where the trading platform will send an email with a restore link. Click the link to create a new password in place of the lost one.
Closing Remarks
There are no better ways to get used to the OctaFX trading platform than through its Demo Account. As soon as you open this account, you can start learning the rudiments of trading. Gradually, you will replace your inexperience with the knowledge you need to succeed as a trader.
---
74-89% of retail CFD accounts lose money
About the Author
Filippo Ucchino
Co-Founder - CEO - Broker Expert
Filippo is the co-founder and CEO of InvestinGoal.com. He has 15 years of experience in the financial sector and forex in particular. He started his career as a forex trader in 2005 and then became interested in the whole fintech and crypto sector.
Over this time, he has developed an almost scientific approach to the analysis of brokers, their services, and offerings. In addition, he is an expert in Compliance and Security Policies for consumers protection in this sector.
With InvestinGoal, Filippo's goal is to bring as much clarity as possible to help users navigate the world of online trading, forex, and cryptocurrencies.
---
Keeping you better informed
Find and Compare the Best


Online Brokers for You