So, you have decided on opening a Plus500 demo account?
That is great news and one of the Plus500 account types which could really help bring your trading skills to the next level prior to opening a Plus500 live account.
Here we will take the opportunity to run you through each step of the process in opening your new forex demo account.
The process should already be quite easy, though we hope to remove any remaining difficulty by including images along each step.
Plus500 Demo Account Opening Tutorial
Already read our Plus500 review? Then let's get started with our Plus500 demo account tutorial. The following includes each step in the process.
Step 1 – Getting Started With Your Plus500 Demo Account
The very first stop on your Plus500 demo account opening journey will be the Plus500 homepage. As you can see from the image below, once you are here, simply click on the button which is directing you to try a demo account as highlighted.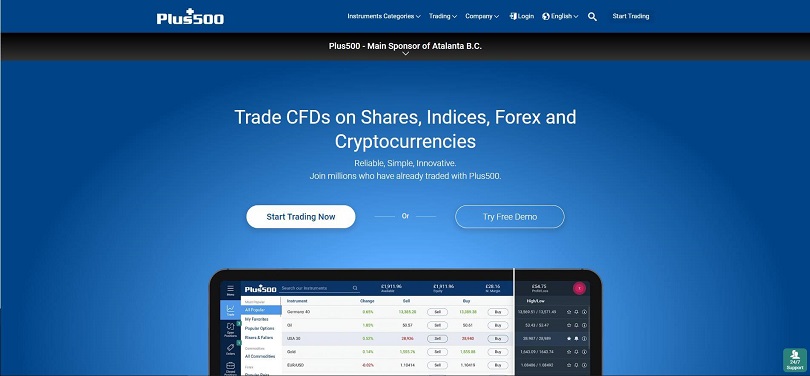 Step 2 – Plus500 Demo Account – What Documents/Information do you Need?
Opening any demo account with a major forex broker is a relatively stress-free task. With that said, opening a Plus500 demo account seems to be even more so.
By way of documents required, you will not require any to specifically open your Plus500 demo account. Of course this will change when you decide to switch to a live account.
All that you really need is an email address which you can confirm at some point, and you are almost ready to get started.
Step 3 – Fill in registration form
The Plus500 demo account registration form which greets you from the outset is one of the simplest forms to be filled from any broker. As you can see from the image below, all that you will need is your valid email address, and a password.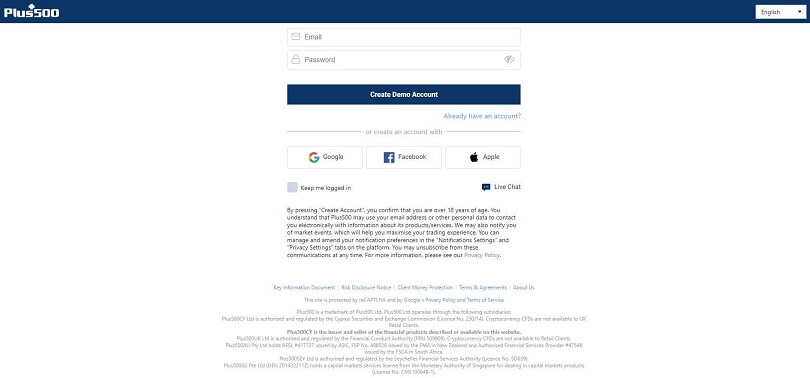 This process can also be completed via your social accounts through Facebook or your Google account to make the process even easier.
Whichever method you decide on, the result is that you are just a couple more simple steps away from placing your first trades through your Plus500 demo account.
Step 4 – Confirm the account via email/telephone
Through the Plus500 demo account opening process, you will need to enter an email which is valid in order to receive your confirmation email. This email should look something like the image below.
Once you have received this email, you can simply click on the "lets go" button to confirm your demo account registration. You should then be directed back to the Plus500 login page where you can enter the email and password you just registered in order to begin demo trading with Plus500.
Step 5 – First login into the demo account
Once you have verified your email credentials, the first log-in to your Plus500 demo account should be no problem at all.
Simply complete the email and password field as you did during the registration process, or use your Facebook/Google account to log-in. You will be immediately directed to the Plus500 Webtrader and informed of the available demo funds.
The Plus500 Webtrader and initial screen you are greeted with, should look just like the image here:
Step 6 – Choosing Your Plus500 Demo Account Platform
Plus500 make it very easy to choose your demo platform. That is because the choice is one.
You will be trading on the Plus500 Webtrader platform. This is also where you are immediately directed once you log-in to your Plus500 demo account.
Plus500 Demo Account Review
Now that you know how to get started with your Plus500 demo account, let's take a look at some of the features which will need to know about during your time operating the account itself.
What Types of Plus500 Demo Account are Available?
The only type of account offered by Plus500 in live form is a retail account. This, then, also extends to the offering of Plus500 demo account. Only a standard retail demo account is available.
Disappointed with only one choice? Consider that Plus500 is still among the best forex demo platforms.
Plus500 Demo Account Features, Restrictions and Differences with Live Account
All in all, you can expect all of the same benefits and features from a Plus500 demo account as you will receive from a Plus500 live account. There are very few points of differentiation, and this in itself is key to making sure you get to know the account and experience a smooth transition when the time comes.
Another point to note here is that the demo account does not expire like some others do. You can also operate multiple demo accounts simultaneously, although if you need to do so, it is best to contact support for approval.
As with almost all demo accounts, slippage should not be an issue. This slightly differs from having a live account where it may occur.
Advantages of Trading with an Plus500 Demo Account
As with any demo account, the key advantage to Plus500 demo account trading is in the risk factor. That is that there is no risk involved.
Through any demo account, you are trading with virtual funds in a manner which gets you accustomed to trading through the platform. This is another key advantage, the fact that Plus500 perfectly replicates real market conditions (aside from possible slippage as mentioned). This makes it the ideal practice ground prior to opening a Plus500 live account.
Want to know even more about the possibility you have with this broker? Then read our detailed Plus 500 review.
Plus500 Demo Account Management
Finally, we will address a couple of points on the management of your Plus500 demo account and issues you may encounter along the way.
Expiring Time
Unlike some accounts, with the Plus500 demo account, you need not worry about expiration time. The account is unlimited in time and therefore acts as the perfect place to learn and continue to test your theories in relation to forex trading. It also means you are never having to rush the learning period.
Restoring expired demo accounts
As mentioned above, the Plus500 demo account never expires. This means that, really, you should never face a situation where you need to restore your Plus500 demo account.
In the event that you do lose your password or log-in credentials, the best course of action you can take is to contact Plus500 support and they will be glad to assist you.
---
74-89% of retail CFD accounts lose money
About the Author
Filippo Ucchino
Co-Founder - CEO - Broker Expert
Filippo is the co-founder and CEO of InvestinGoal.com. He has 15 years of experience in the financial sector and forex in particular. He started his career as a forex trader in 2005 and then became interested in the whole fintech and crypto sector.
Over this time, he has developed an almost scientific approach to the analysis of brokers, their services, and offerings. In addition, he is an expert in Compliance and Security Policies for consumers protection in this sector.
With InvestinGoal, Filippo's goal is to bring as much clarity as possible to help users navigate the world of online trading, forex, and cryptocurrencies.
Plus500 Demo Account Review
Related Guides
---
Keeping you better informed
Find and Compare the Best


Online Brokers for You