Trading with a top forex broker like XM is a forward step in the trading career of anyone looking to break into the sector.
Our XM review details exactly what is on offer with this broker providing extensive access to a wide range of markets.
Here we will take a closer look at the financial side of things.
The XM minimum deposit to be exact.
This is something which can certainly influence how you trade so it is well worth noting.
We will look at the minimum deposit for XM by funding method and account type to make sure that we cover all traders.
XM

Regulated: ASIC, CySEC, IFSC
Platforms: MT4, MT5
Min. Deposit: $5

Regulated: ASIC, CySEC, IFSC
Platforms: MT4, MT5
Min. Deposit: $5

Open Your Account!

69.75% of retail CFD accounts lose money
XM Account Base Currency
As with most top brokers, XM accounts are available with many several base currencies. The XM base currency is the one that you trade with and effectively depends upon which account and regulatory type you fall under.
If you have an XM standard or micro account, you can look forward to choosing every major currency as your XM base currency. Also included are PLN and HUF as other options as well as ZAR and SGD.
Russian RUB is available only if you are located outside of CySEC and FCA regulatory areas.
If you are an XM Zero account holder, you can access USD or EUR as base currencies with JPY available under global market regulation.
XM Ultra-Low account holders can select between five base currencies. These are EUR, USD, GBP, AUD, and CHF.
If you are an XM Shares Account holder, USD only is available for trading with.
XM Funding and Deposit Methods
Again there is a range of XM deposit methods available to traders. These will depend on the country in which you live and not the regulatory jurisdiction you fall under.
Wondering for example if you can make a minimum deposit in ZAR?
The answer is yes, you can deposit in any currency, this includes ZAR. These funds will then simply be converted into your base currency for trading on your account.
Wire Transfer
XM deposit by wire transfer is, of course, available and widely used. This funding method is available to traders worldwide and there is an minimum deposit of $60 in place here.
With that said, you will incur a fee if the wire transfer you make falls below $200. If the deposit is above this amount, then not only will XM waive any fees they charge, they will also cover any fee you would usually incur from your own bank side. Therefore, although it is not explicitly required, it is in your best interest to deposit more than $200.
Credit Cards
Credit card deposits are available through both Visa and Mastercard at XM. These are accessible to traders around the world with a minimum deposit amount of just $5.
There are no fees associated from the broker side, but again if your financial provider does levy a fee, this will be covered for anything over a $200 deposit by XM.
eWallet
Again, the minimum XM deposit through an eWallet is only $5. This can be made through Neteller, Skrill, Perfect Money, or a host of others dependent upon your country. At this time XM PayPal deposits are not available.
Cryptocurrency deposit in the form of Bitcoin is available but again this will depend on your location to determine if this option is open to you or not. There are no fees from the broker side for deposits through these methods.
Other XM deposit options
Other XM deposit options available include both Western Union and MoneyGram although these will depend on your location and fees may be applied for these services although not from the broker side.
Various local methods and local bank transfer deposits may also be open to you depending on your area. These minimum deposits will vary.
XM Minimum Deposits
As with most low deposit forex brokers, beyond the funding methods, the XM broker minimum deposits may also depend on the account type you are holding. Here is a rundown of what to expect depending upon the account type you have.
Standard Account
The XM Standard Account is available under every jurisdiction and with a very good value $5 being the minimum deposit here, it is easy to see why many choose to trade with it.
Islamic accounts are also available if you should require them.
Micro Account
Again, the XM minimum deposit on their micro accounts is suitably small at just $5. These accounts facilitate trading in micro lots at excellent rates and are available to all traders in every regulatory area. Islamic traders are also catered for.
XM Zero Account
Changing things up slightly, we arrive at the XM Zero Account. This account type is available under CySEC, FCA, and most of the countries regulated under the XM Global Market regulatory framework.
The spreads here are unbeatable starting at 0 pips although commissions are charged on trading. The XM minimum deposit for trading on these accounts is still just $100. This represents good value since you can also have access to your own VPS. Again Islamic, Shariah Law compliant accounts are available.
Ultra Low Account
This XM Low spread account type is available to traders based in Australia and within the XM Global Market regulatory framework. This account comes with extra low spreads and no commission to worry about.
The minimum deposit on this account type is $50.
Shares Account
Finally, the XM Shares Account which focuses on shares trading is available only within the XM global market regulatory area and with a $10,000 minimum deposit.
Related Guides:
Deposit Bonus
XM bonus amounts and XM deposit bonuses are available though not to those regulated under CySEC or FCA rules. Also, although you can receive bonuses under certain circumstances with XM, the bonus amounts themselves are typically not eligible to withdraw, though any profits derived from them usually are.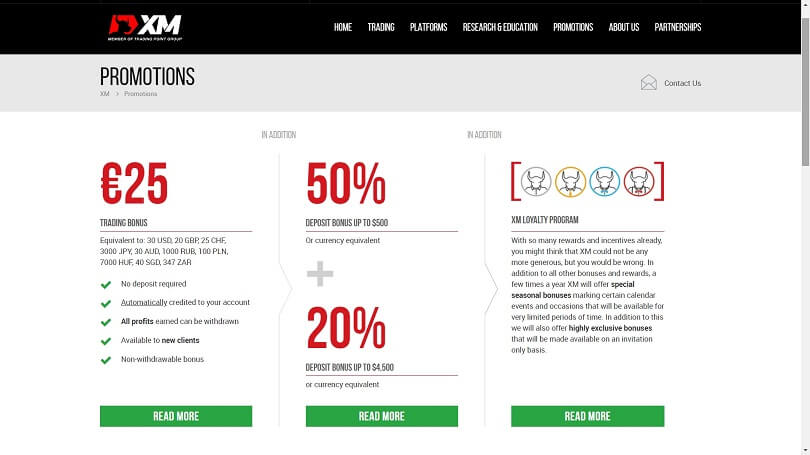 No Deposit Bonus
Unlike many brokers, an XM no deposit bonus is available. This means you can effectively start trading without any real money. While you cannot withdraw the bonus funds, you can withdraw any profits made from them.
This XM bonus amount is in the form of a $30 welcome bonus or the equivalent amount based on your account.
XM Bonus Program
An XM bonus program is in place. This program provides for a 50% deposit bonus up to $500 and then a further 20% deposit bonus on amounts up to $4500. This can be redeemed through trading with the broker. The only exception with this is that it is not available with XM Ultra-Low Accounts.
XM

Regulated: ASIC, CySEC, IFSC
Platforms: MT4, MT5
Min. Deposit: $5

Regulated: ASIC, CySEC, IFSC
Platforms: MT4, MT5
Min. Deposit: $5

Open Your Account!

69.75% of retail CFD accounts lose money
---
Keeping you better informed
Find and compare the best


Online brokers for you