Plus500 Live Account: Opening & Key Information (2023)
Thinking of opening a Plus500 live account? Excellent news!
Opening a Plus500 live account as with any major broker, represents a big step in the progress of your career as a forex trader. It is a milestone without doubt.
For this milestone of opening this Plus500 account types, there are many things which you need to consider.
The process is fast and convenient, but still requires a few steps. This is where we come in with some expert help.
Following this tutorial guideline should see you achieve each and every step required to open your Plus500 live account without delay.
Let's get started with some of the first things you need to consider in the process.
Plus500 Live Account Review – Things to consider first
As with everything you do in life and in forex trading, there are a few critical things which you should analyze and consider. Opening a Plus500 live account is no different.
Here are some of the key things which should come to your mind prior to opening a new live account:
Consider Opening a Plus500 Demo Account First
This may be a step that you have already completed. If not though, it is certainly one which you should consider.
Opening a Plus500 demo account is a very simple and fast process. Our Plus500 demo account tutorial shows you exactly what you need to do.
Having a demo account is one of the best ways in which you can learn much more about the trading platform and broker overall. This gives you a good idea of how things work before you start trading. While this is not a fool-proof way to ensure profit, it will definitely help you and provide some valuable lessons which you can apply to your Plus500 live account.
Therefore, if you have not already done so, you should really have a think about opening a Plus500 demo account first.
Things You Should Prepare Before Opening a Plus500 Live Account
As with opening your live account with any broker, there are a few key documents which you will need to have ready.
Preparing the following documents is necessary but also will help to decrease the amount of time it takes to get your Plus500 account up and running.
Proof of Identity document – This can be your passport, drivers license, or other government issued photo ID although your passport is the best and most convenient choice.
Proof of Residence document – This can be a utility bill or bank statement with your current address which you have also used to register your Plus500 live account.
Where is Plus500 available?
Plus500 is internationally regulated and available broadly around the world. The broker is regulated by CySEC (Europe), FCA (UK), ASIC (Australia), FSCA & FMA (Global), and MAS (Singapore).
With so many areas covered, as you can imagine, there are not too many countries where Plus500 is not available. Of these though, the broker is not available if you are located in Canada, USA, or Japan.
There would naturally be a few more places where the broker is not available. If you have any doubt about availability in your country, you simply need to contact Plus500 support and they will let you know.
Base Currencies
Plus500 is available with a wide range of base currencies to suit you trading needs wherever you are trading from. In fact, every major currency is available as a base currency with Plus500, all you simply need to do is ask them to match your base currency with the country where you live.
The accepted base currencies include South African ZAR and Singapore Dollar.
A final note on base currency is that if you do happen to deposit in an unsupported base currency, you will incur a conversion fee.
Plus500 Live Account Opening Tutorial
With some basic information on Plus500 covered, here is our step by step tutorial in how to get going with your Plus500 live account.
Step 1 – Completing Your Personal Information
The very first step in getting started with your Plus500 account is to head over to the Plus500 website. Here you should click the "Start Trading" button as shown below.
This will then direct you to a very simple registration page as shown below.
All that is required at this point is your valid email address and password, though more information will be needed in the following steps.
Once you have completed this information, simply choose real money from the next screen and you will be ready to start filling your Plus500 live account profile.
Step 2 – Completing Your Plus500 Live Account Profile
The next step in setting up your Plus500 live account is to complete your account profile.
This can be completed in a few steps and you will need to choose "verify account" from the left side dropdown menu which is on your dashboard. From here, your first step will be to confirm your name and date of birth as shown.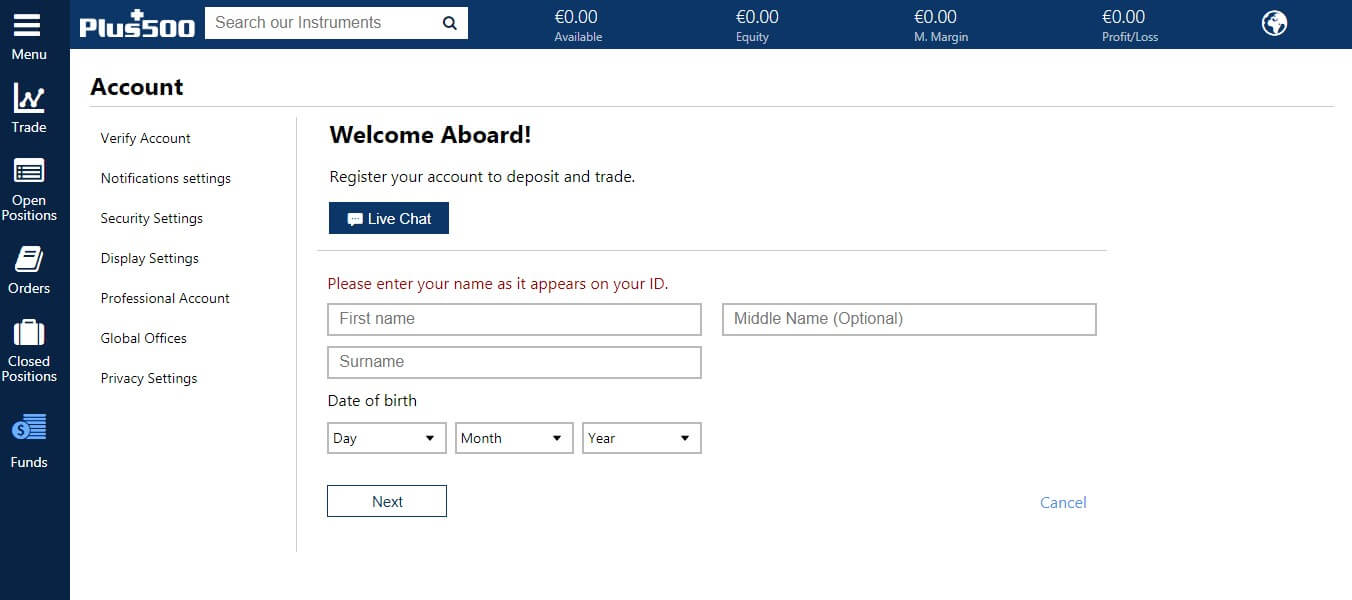 On the next screen as you can see below, you will have to choose the account type which corresponds to your region.
We followed along with the EU based, CySEC regulated account type.
As per the regulator, you will then be greeted with the following screen where you need to confirm some personal financial info and answer some very simple trading related questions.
This confirms your appropriateness for trading with Plus500 and should be no problem to complete.
This should be the final step in completing your live account profile and you should be simply left to upload your verification documents to begin trading freely on your Plus500 live account.
Step 3 – Choose Your Trading Platform
This step which is required with many brokers is actually not a problem with Plus500.
This is due to the fact that Plus500 only use their own proprietary trading platform. This is automatically chosen and loaded for you when you register your new account.
Step 4 – Uploading Your Documents to Verify Your Plus500 Live Account
One of the final steps after completing your Plus500 live account profile is your Plus500 verification.
You will see the screen below after you have completed your live account profile.
As you can see above, in order to verify your Plus500 account, you will need 4 submissions.
The first two of these are your ID and address verification. Once you click the button to verify these you will be directed to upload them electronically. Typically these are quickly confirmed with a maximum waiting time of 24 hours.
Next you will need to verify both your email address and telephone number. For both of these you will receive a code which you can then enter on the screen to verify. Although we waited some time to receive our code, this should generally be instant.
Step 5 – Verification Pending: Your Plus500 Live Account is Almost Ready
Once all of your documents are submitted, they should be quick to verify. This will then leave you completely free to trade on your Plus500 account.
From our experience, you can still deposit when your verification is pending, but in order to withdraw and open full functionality of your Plus500 account, your verification should be complete.
Verifying Your Plus500 Live Account Faster
The best ways that you can make sure your Plus500 account verification processes as quickly as possible is to ensure you have all of your required documents ready to hand when starting the process. Some of the following steps may be helpful:
Make sure your document pictures are clear and showing all corners of the document
Ensure that your ID document is in date and not expired
Your residence document should match the type required and be within 3-months old. This date should be displayed on the document together with the same address you used to register your account.
These few points should make sure that your Plus500 account is verified without delay.
Our opinions on Plus500 Live Account
Now that you know exactly the path to follow in order to open your Plus500 live account, lets analyze in more detail some of the key highlights of Plus500.
Advantages of live trading at Plus500
There are a few important advantages to consider when trading with Plus500.
European and non-European traders can essentially enjoy the same platform conditions and with all of the same features. This uniformity can be of benefit to many traders who value the consistency across the board which is offered.
Highlights of Plus500 as a broker
As mentioned above, one of the key highlights of choosing Plus500 is the level of compliance with which they operate around the world. This is a coveted quality within any broker you may choose.
The fact that Plus500 offer services to traders in most countries of the world, and with very competitive rates on fees and charges is an additional benefit.
The fact that even though you may open a Plus500 live account, you can also retain your demo account which does not expire is also a final highlight.
This can help you throughout your time trading with Plus500 to test strategies and get to know the proprietary Plus500 trading platform in even greater detail.
Plus500 Live Account FAQs
Is Plus500 real-time?
All Plus500 prices are provided in real-time.
How much does it cost to open a Plus500 account?
A Plus500 demo account is available and free to open. A Plus500 live account requires a minimum deposit of $100.
---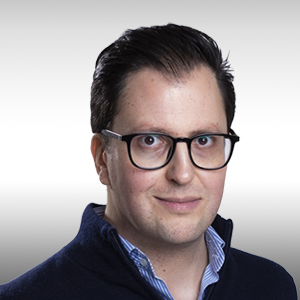 About The Author
Filippo Ucchino
Co-Founder - CEO - Broker Expert
Filippo is the co-founder and CEO of InvestinGoal.com. He has 15 years of experience in the financial sector and forex in particular. He started his career as a forex trader in 2005 and then became interested in the whole fintech and crypto sector.
Over this time, he has developed an almost scientific approach to the analysis of brokers, their services, and offerings. In addition, he is an expert in Compliance and Security Policies for consumers protection in this sector.
With InvestinGoal, Filippo's goal is to bring as much clarity as possible to help users navigate the world of online trading, forex, and cryptocurrencies.
Plus500 Live Account: Opening & Key Information (2023)
Related Guides
---